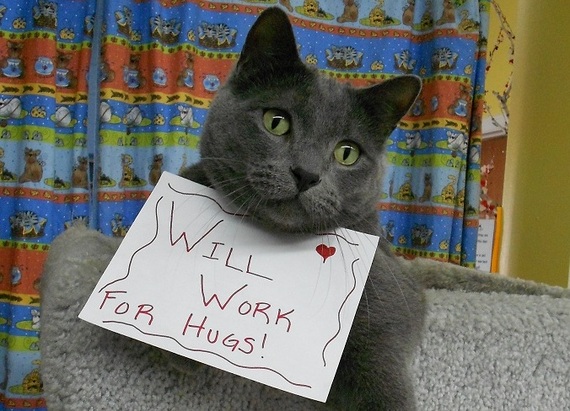 If you're like me, you love a good underdog story. It's a big reason I'm a pet writer. I am constantly inspired by the stories I hear from the rescue world. There are so many people working tirelessly to help homeless pets, and so many animals whose lives are transformed by the love of these good folks and the families that adopt them (and yes, a single person with a pet absolutely constitutes a family).
So in honor of National Pet Week, which celebrates the roles pets have in our lives, I thought I'd share one of my favorite underdog stories. It involves a cat (undercat?) named Jake, a rescued feline who now works as a therapy cat and an ambassador for Fort Collins Cat Rescue & Spay/Neuter Clinic (FCCRSNC).
The grey kitty (possibly a Korat) was 6 months old when he was picked up by animal control officers in Fort Collins, Colo. in 2010. Because of his loving personality -- he likes press his head into anybody nearby -- he was quickly adopted. But he was returned a few weeks later because of a problem that lands so many cats back in shelters: inappropriate elimination (a.k.a. not using the litter box). Fearing he would be euthanized for being unadoptable, shelter employees contacted FCCRSNC since they are a "limited admission, adoption guarantee shelter" -- they can't take in every cat, but the ones they do will be trained to be adopted.
Jake instantly proved popular at FCCRSNC, where he almost always used the litter box. He was adopted by two more families; both returned him for inappropriate elimination. So Sarah Swanty, executive director of FCCRSNC, and a few other staff members decided that Jake should become their resident shelter cat. A board member volunteered to have him certified as a therapy cat with Pet Partners (formerly Delta Society), and now Jake visits nursing homes, children in reading programs, people with disabilities, survivors of domestic violence and hospitals. He also makes public appearances at community events like baseball games and fundraisers, and Girl Scout camps.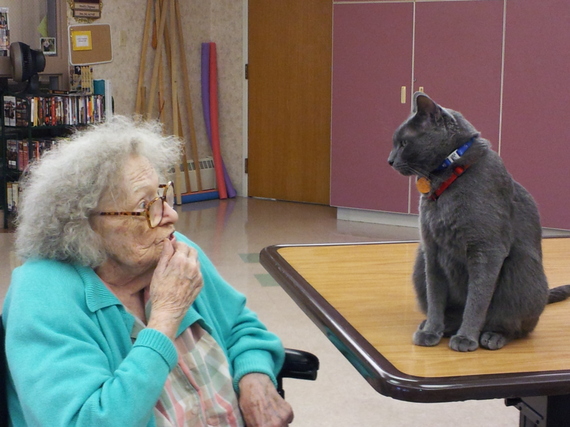 "He's just such a sweetie -- he definitely makes people smile," Swanty told me. "Nobody wanted him and now everybody loves him. He's almost famous in parts of our community."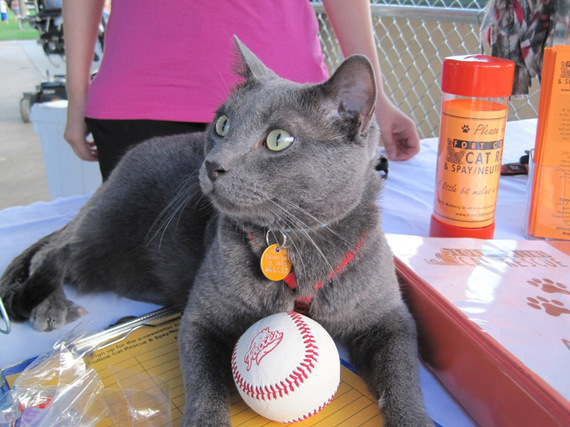 Jake's role as the organization's official ambassador helps spread awareness of the plight of homeless cats and the work of FCCRSNC. Jake is one of over 6,000 cats rescued by FCCRSNC since Swanty and Anna Neubauer founded the nonprofit in 2006. Both women were working as veterinary technicians and wanted to save 17 cats who were at risk of being euthanized. At the time, there were plenty of rescues for dogs, but none in the region for cats, so calls about homeless cats started pouring in. But Swanty and Neubauer weren't content just to rehome cats -- Swanty says they also wanted to prevent them from becoming homeless in the first place.
"The reality is there are more homeless animals in shelters than there are homes willing to adopt them. So we asked, 'How to we keep animals in homes and out of shelters?' That's our big focus."
To that end, FCCRSNC started offering free spay/neuter services to low-income people, as well as a free kibble program. Since then, they've sterilized over 27,000 dogs and cats, and distributed over 62,000 pounds of free kibble (!). They also offer low-cost vaccine clinics at least once a week, perform TNR (trap-neuter-release) with feral cats, and have a dedicated staff member who acts as a sort of community case worker and talks to people in the area about ways to keep their pets at home when they are in crisis.
Speaking of crisis, last year when devastating floods in the region left many cats stranded, the FCCRSNC team grew alarmed when emergency evacuation efforts seemed to focus on humans and dogs, but not cats. Working with another nonprofit, Northern Colorado Friends of Ferals, to save cats who were stranded in Evans after two mobile home parks were obliterated, the folks at FCCRSNC soon found themselves with about 300 homeless cats -- too many for its 3,000-square-foot facility to handle. So they opened a second location in Loveland, Colo. for the feline evacuees. (Can I get a woohoo?)
Today FCCRSNC has 27 employees and over 350 volunteers working to help homeless cats, and hopes to keep expanding to eventually offer low-cost veterinary services -- and be able to accommodate even more cats. So far, every cat that has come through their doors has been adopted to a new home -- except, of course, for Jake the Therapy Cat.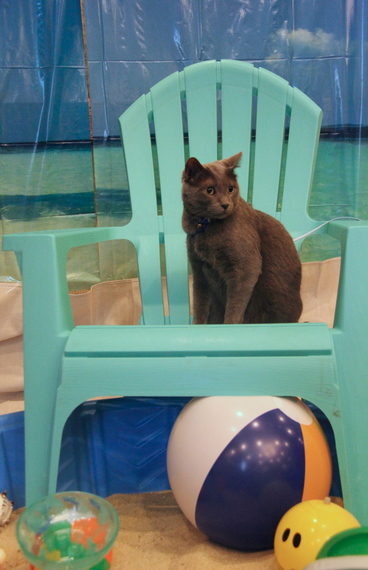 Swanty says there are lots of cats like Jake just waiting to be adopted at shelters around the country. (The Humane Society of the United States offers a sobering estimate that 6-8 million cats and dogs enter shelters each year, and 3-4 million of them are euthanized.)
In fact, National Pet Week is happening the same week as the American Humane Association's Be Kind to Animals Week, and she says adopting a cat from a shelter is a key way to be kind to animals.
Naturally, people often want to adopt Jake himself, but since he still has some elimination problems, staff members help them find cats with similar temperaments instead. And of course, he's already found happiness in his unconventional "forever home."
"He struts around like the king of the castle," Swanty told me with a laugh. "He's a really cool cat. I just think it's so great that he knows this is his home."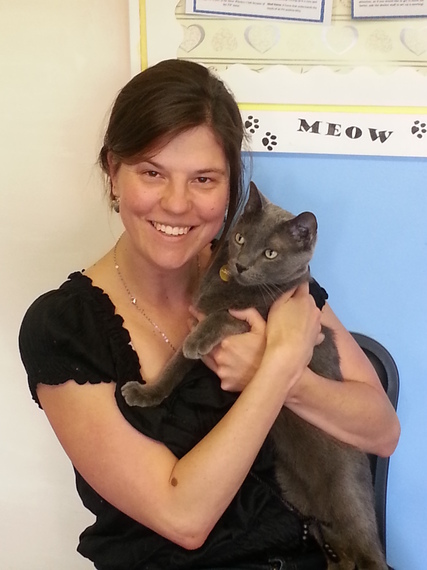 Calling all HuffPost superfans!
Sign up for membership to become a founding member and help shape HuffPost's next chapter