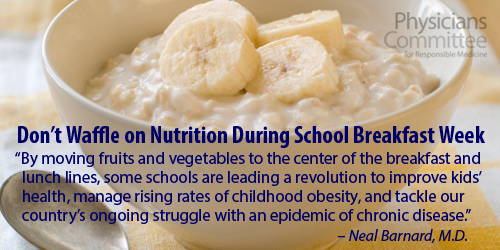 This week, schools across the country are celebrating National School Breakfast Week, and there's a lot to celebrate. Recently, students in Washington, D.C., started their day with warm bowls of peach cinnamon oatmeal with bananas, while students in California's Novato district enjoyed vegetarian breakfast burritos served with locally grown produce. At one Baltimore elementary school, students can visit a colorful smoothie bar to blend up nutrient-packed breakfasts with spinach, carrots, cucumbers and berries.
By moving fruits and vegetables to the center of the breakfast and lunch lines, these schools -- and many others -- are leading a revolution to improve kids' health, manage rising rates of childhood obesity, and tackle our country's ongoing struggle with an epidemic of chronic disease.
Preventable chronic illnesses now account for seven out of every 10 deaths in the United States. More than one-third of children are overweight or obese, while 20 percent of teens already suffer from elevated cholesterol. If nothing changes, one in three current school-aged children are projected to develop type 2 diabetes at some point in their lives.
So we should celebrate that fresh fruit and vegetables have become staples of the National School Lunch and Breakfast programs. But adding health-promoting foods to our kids' plates is only half of the solution: We also have to stop serving them foods that are making them sick.
Processed meat products -- that means sausage, bacon, lunch meat, hot dogs, and pepperoni pizza - are still dished out daily on many school lunch lines, despite clear evidence that they harm kids' health and may even hinder cognitive performance. Just one serving of processed meat per day can raise colorectal cancer risk by 21 percent. And according to the World Cancer Research Fund, no amount of processed meat is safe.
Many schools also continue to serve large quantities of milk and other dairy products, even though they are a top source of saturated fat -- which increases the risk for heart disease -- in Americans' diets. Dairy products have also been linked to various types of cancer.
But by simply moving the meat and milk off of lunch trays, schools can go a long way toward helping children get healthy. In just one month, obese children who follow a vegan diet show improvements in weight and heart disease risk factors, according to a recent study in the Journal of Pediatrics.
Fortunately, some schools across the country are taking this message seriously. Later this year, MUSE School is set to become the nation's first fully vegan school, with a menu featuring meals like tomato-basil-peach salad using organic produce grown on-site by the students themselves. Across the country, Peck Slip School just became New York City's second vegetarian public school, recently announcing a plant-powered menu featuring kale salads and lentil chili.
These schools are proving every day that students will embrace healthful meals and thrive on plant-based options. Last year, Robert Groff, principal of The Active Learning Elementary School (TALES), raved about his school's transition to a plant-based menu, citing increased energy levels, attendance, and test scores since the switch. Nearly 80 percent of TALES students opt to participate in the vegetarian lunch program, and Principal Groff reports that some of his students are so enthusiastic about healthful options that they ask their parents for brown rice and broccoli outside of school. Parents, too, are on board: A poll earlier this week found that 72 percent of people would embrace plant-based options in their children's schools.
By replacing the bacon and sausage with oatmeal and fruit and ditching the chicken nuggets and burgers for salads and vegetable chili, these schools are paving a path toward health starting with the lunch line.