I was first introduced to the films of legendary silver screen star Olivia de Havilland back in 1974. My family had been dining out and my brother was working at the establishment to help finance his college expenses. His bartender uniform consisted of a white ruffled shirt with large loose sleeves befitting that of a pirate. A singer, prior to her performance, stopped at our table and said, "Your son is a double for Errol Flynn." My mother smiled with pride and my father laughed. "That ruffled shirt does look like something he'd wear in one of those swashbuckling films," my father said.
The following day my mother explained who Errol Flynn was to me and, as if Kismet had stepped in, TV Guide spotlighted the actor in a week of "Errol Flynn on the Late Late Show." I informed my brother and we instantly planned to watch all five of the movies to be aired.
I remember the first movie in the line up for the week was Captain Blood. It's one of Errol Flynn's early films. We were both happily surprised when Flynn appeared in his pirate garb looking very much like my brother. It was an engaging story for a young girl pleased by the romantic interest and her older brother thrilled with the exciting sword fighting. "What's on tomorrow night?" my brother asked and I quickly pulled out the TV Guide. Robin Hood, I replied. "That should be really neat," he said. As I fell asleep that night the movie danced across my mind. Mostly, I was caught up in the lovely face of his co-star, Olivia de Havilland, and Flynn's gallant ways of attempting to capture her attention. This is when I first began to understand the term Hollywood referred to as "on-screen chemistry." There was no doubting the attraction in their sparkling eyes, gleeful expressions, and enticing kisses. Without a doubt, they were meant to be together at the end of every movie. (When I discovered they were never together in real life, it saddened me. Errol Flynn's passing decades earlier stifled any hope I had of them ever being together in their "golden" years.)
After watching five nightly Flynn movies, my brother walked around much like the silver screen movie star he'd been compared to, with a prankster demeanor. Since I idolized my brother it only served to put him higher on the pedestal. Soon he returned to college, but I continued to watch the Late Late Show. My mother shared her favorite matinee idols with me -- Montgomery Clift, Tyrone Power, Rita Hayworth, Bette Davis and Susan Hayward to name a few. Though I found myself enjoying their movies, none of them appealed to me as much as Errol Flynn and Olivia de Havilland had. I watched a few Flynn movies without Ms. de Havilland in them. His later movies weren't as thrilling as the earlier ones with his on-screen love's big brown eyes and angelic face lighting up the screen. However, I did find myself engrossed in Olivia de Havilland's movies, many dramatic roles, and several that earned her Hollywood's highest honor, the Academy Award. The Heiress, an outstanding play I'd read in high school, starred both de Havilland and Clift. After viewing the movie I went to the public library (before Wikipedia) and found a book entitled, The Films of Olivia de Havilland. I was not surprised to discover she'd won the Academy Award for playing the part of the homely heiress. However, I was disappointed she'd only won one other Academy Award. Certainly her portrayal of an unwed mother forced (given the times) to watch her son's life from afar in the film To Each His Own was an outstanding performance. But, what about the part she is perhaps best known for playing, Melanie in Gone With The Wind? Only Ms. de Havilland could play such a tender and giving portrayal of Scarlett's one and only girlfriend. And there are other deeply dramatic roles, like that of a woman driven mad in Snake Pit, or a woman driving her sister mad in Hush, Hush Sweet Charlotte and so many more diverse roles she took on over the decades of the '40s, '50s and '60s with ease and believability. I wanted to share my enthusiasm for her talent with this extraordinary actress, especially since the more I read about her the more I admired her. In 1943 she won a lawsuit with Warner Brothers that still sets a precedent for actors regarding studio contract restrictions.
At my desk where I had an antique but working Royal typewriter, I pecked away my admiration for her work in a letter to Ms. de Havilland. "I haven't seen all of your movies yet. I can't wait until next month when they are featuring a week of your movies on the Late Late Show. I saw three of them, The Heiress, Snake Pit and To Each His Own, but can't wait to see Lady in a Cage and Strawberry Blonde." I told her my age and how I was first introduced to her work when someone had told my brother that he resembled Errol Flynn, which led us to watch Captain Blood. At the end, I asked her to send me an autographed photo. Mostly, I wanted to hear from her and thought if she did send a photo at least I'd know she'd received my letter. Now was the hard part, finding her address. I had read that she lived in Paris, France, I told my mother. She suggested that I send it to the Post Master General in Paris. I hand wrote a note asking him to please forward my fan mail to Olivia de Havilland. I sealed it and my mother took me to the post office in early September. Approximately six weeks later I received an envelope marked "Par Avion" from Paris, France. I remember tearing open the envelope with such excitement that I nearly ripped the onionskin thin paper. Within seconds, my heart fell. The entire letter was written in French. My brother, aka Errol Flynn's double, took French in high school but he was back in Texas attending his final year of college. Once again, my mother had another great idea. "The Avon Lady, Yvette is French. She's coming by this afternoon. I'm sure she'll translate the letter for you." My mother and I did manage to decipher that the letter was from the Postmaster General of Paris, France. My heart pounded in anticipation of "Avon calling."
Yvette happily agreed to translate my letter from the postmaster. "This is very nice. He said your letter to Olivia de Havilland has been delivered to her residence in Paris." I remember my heart beating fast, overjoyed to know she would be getting my letter. Yvette kindly agreed to help me write a thank you note to the postmaster. When she read the note back in French it sounded exquisite.
I'd grown more anxious to hear from Ms. de Havilland with the confirmation that the letter had indeed been delivered to her. In the new year, I thought perhaps Ms. De Havilland went away for the holidays and would now have time to read her fan mail and answer it. It was 1975 and much of her stardom had fizzled by then. She did do some interviews on Dinah Shore and Phil Donahue and acted in a very popular and highly acclaimed TV mini-series, North and South. Any of her appearances that I caught her in brought a smile to my face. Six months had passed and I'd stopped running to the mailbox only to have my hopes thoroughly dashed. But one day in mid-March, my mother asked me to put a letter in the mailbox. I'd returned telling her, "You missed the mailman, but I got today's mail." I went through it and then screamed with unexpected delight. "Mom, I got a letter from Olivia de Havilland." I read the letter a hundred times or more. What struck me most about her letter was the kind and thoughtful sentiments she so eloquently expressed. There was no doubt in my mind that she had been the one who actually wrote the letter (perhaps someone typed it for her, but the words were hers). Having seen her in so many interviews, I felt like I'd come to know the legendary actress. Her personal correspondence to a young and very appreciative fan added an untapped amount of joy to my life.
"Many, many months ago you wrote me a charming letter," she began. She'd read my letter! "Of course I will be happy to send you a photo as you requested..." She sent me a photo, and it was signed, too! Immediately, I framed that first letter along with her photo, knowing nothing would ever scar or tatter this very special correspondence. What I didn't know then was that my correspondence with this legendary movie star would continue for decades. Even as I became an adult, married and had children, I kept her abreast of my life, always telling her when I came across another film or public appearance of hers that I "so enjoyed."
Ms. de Havilland and I corresponded for twenty-five years. I shared with her all of my pivotal milestones, including high school graduation, college awards and graduation, my wedding (I invited her and she sent back a reply with a handwritten "regrettably will not attend"), and the birth announcement of our first daughter born in 1995. Ms. De Havilland sent her quickest response ever, within a month, and wrote, "Many, many congratulations on the birth of Valerie Ann and much, much happiness to all of you." Through our correspondence, I found her to be more than a glamorous and sophisticated Hollywood actress. Her words revealed her to be genuine, kind and caring, too.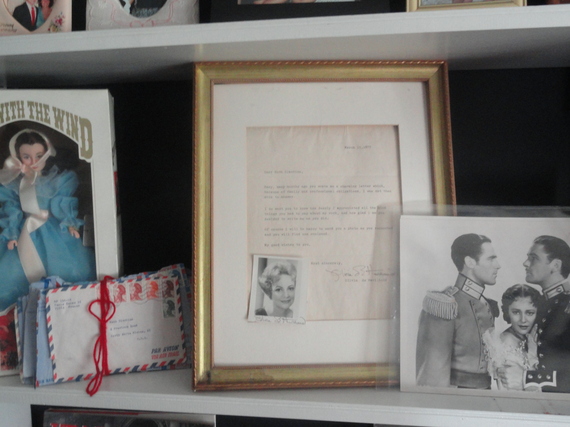 All of her letters to me are tied in a ribbon and sit on the shelf in my office/library next to a Melanie commemorative doll. I can choose to read any of her letters and still get that amazing joyous feeling through her beautiful and kind sentiments. She shared some things in her life and expressed interest in mine. Her letters ceased ten years ago, but I understood, she'd entered her late 80s. Every year I sent her a birthday card, but that too ceased in recent years with my correspondence done via email. Certainly, she is in my thoughts every July 1st (her birthday) and any news of her making a public appearance still puts an ear-to-ear smile on my face.
With the anticipation of her 100th birthday nearing (July 1st), I'm pleased to discover various news and in-depth interviews (recently in Vanity Fair) revealing that she is in good health and remarkably aware. Currently, I'm engrossed in Kate Alcott's latest novel, A Touch of Stardust, a story that pays tribute to the classic Hollywood era. It's like having a backstage pass to the making of Gone With the Wind.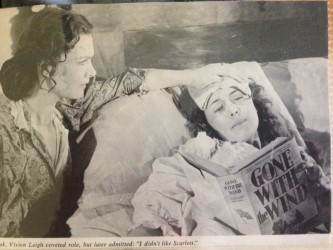 At times, I'll watch Robin Hood, Gone With the Wind, or The Heiress selections from my video library, and am still moved by her performances. When I think back to the young girl captivated by a Hollywood actress' talent and eloquence, I'm forever thankful to Ms. de Havilland for taking the time and a sincere interest in our correspondence. Though I've never met her, I've always wanted to tell her how much her letters meant to me and how our correspondence over the many years added to my own personal growth and achievements. Unlike Scarlett, I knew early on what an amazingly giving woman Melanie had been from the first moment she entered Tara. I'm forever grateful to Olivia de Havilland for giving a starstruck young girl an unexpected abundance of joy for many years to come.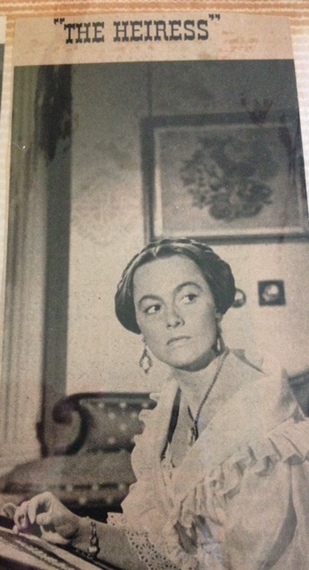 My treasured autographed photo.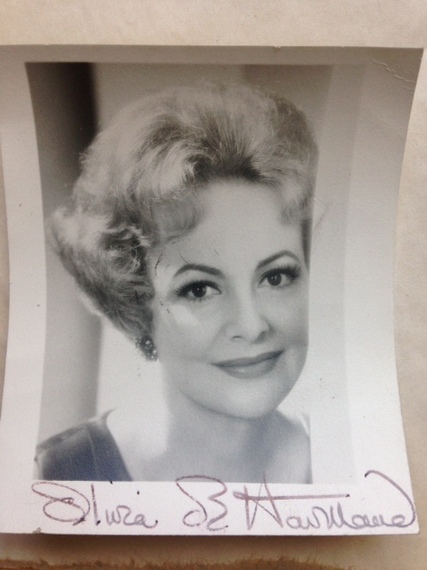 REAL LIFE. REAL NEWS. REAL VOICES.
Help us tell more of the stories that matter from voices that too often remain unheard.