Here at Schools for Sustainability (S4S), we are jumping for joy as we celebrate the first anniversary of our organization. In merely one year, what began as a fledgling dream has manifested into a blazing force set out to improve millions of lives. In order to graciously thank our staff and supporters, we hosted a traditional Dominican fiesta, fit with an abundance of healthy Dominican food, friends, and family. As a team, we happily embrace this year's accomplishments as we continue full-speed on the voyage ahead.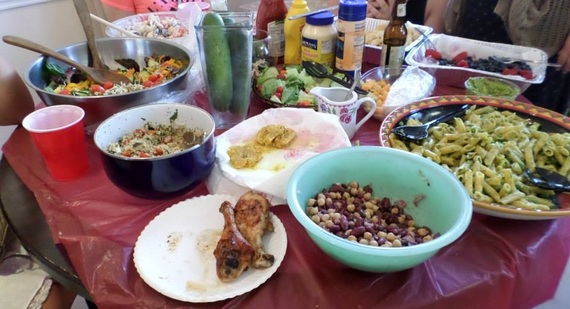 At S4S, we are building environmentally sustainable high schools in impoverished areas that afford students the skills to grow organic food, manage waste, harvest and purify water, and build renewable energy technologies. These efforts will simultaneously combat climate change, alleviate poverty, improve access to education, and increase food security. Our first destination: the Dominican Republic.
Our organization now happily claims 501c(3) nonprofit status, a fantastic pro-bono staff of 60 talented individuals, and political support. Yet, as with many endeavors of this magnitude, our journey to this point has not been an easy one.
Just one year ago, in August 2013, S4S was simply a dream. For 9 years, Alyssa Ramos Reynoso, Executive Director of Vision, imagined a school in which children could concurrently live, gain an education, learn the skills to establish financial independence, and protect the planet. Upon sharing this vision with Adrienne Redd, Executive of Strategy, and Jacqueline Crutchley, Executive of Administration, the fundamental goal of transforming this dream into reality materialized. With intense drive, there was fervent eagerness to embark on new frontiers. However, three challenges stood in the way: no office, no funding and tight time constraints.
We determined that people are the most valuable asset to any organization. We believe that skills, networks and connections can yield many things that currency cannot, as social capital is infinite, imaginative, dynamic, and renewable. Heeding this mindset, S4S was founded on core principles such as compassion, respect and love. With these tenets guiding our actions, S4S has developed a culture that flourishes with acceptance, dedication and benevolence. Due to this environment, this organization has attracted a team of 60 socially-minded individuals. After investing countless hours, S4S can boast many successes.
To commemorate our members, their hard work, and the rich history of our first destination, we celebrated S4S's birthday with a Dominican fiesta. We served traditional Dominican food such as rice and beans, tostones (known as fried plantains in English), organic meat, organic salad, and gluten-free desserts. Our goal of this barbeque was to honor one of the primary indigenous societies of the Caribbean, the Taíno.
The Taíno established settlement in Hispaniola (Haiti and the Dominican Republic) between 1200 and 1500 AD1. Culturally, they were resourceful, imaginative and generous. They created ornate pottery, developed an herbal medicine system and shared many indigenous crops such as yucca and maize2. In 1492, upon Christopher Colombus' arrival, Spaniards colonized Hispaniola, igniting the decline of the Taíno civilization. Taíno women fell prey to sexual violence, and men and women alike were debased into slavery. Eventually, the spread of infectious diseases such as smallpox and measles claimed the remaining majority of the Taíno2.
Taíno customs have greatly influenced American culture. They introduced concepts such as the hammock, the canoe, and the barbeque. At S4S, we pay respect to those who endured slavery and oppression by offering services to grant hope, love and compassion. At our barbeque, we acknowledged the legacy of the Taíno; and in our service to the Dominican Republic, we exercise deep cultural appreciation.
Our accomplishments are a testament to the fact that a great deal can happen in one year. With enough dedication, anything is possible. Here at S4S, we aim to maintain a balance of humility and tenacity as we work toward a bright future on the horizon.
References
1. History of the Taino Indians. (2004). Retrieved August, 2014 from http://www.fjcollazo.com/documents/TanioIndRpt.htm
2. Poole, R. (2011). What Became of the Taino? Smithsonian Magazine. Retrieved August, 2014 from http://www.smithsonianmag.com/people-places/what-became-of-the-taino-73824867/?no-ist
This article was co-written by Director of Efficiency and Administrative Supporter, Kimmy Weller, earned her B.A. in Psychology from the University of Delaware and her Master of Science in Public Health and Certificate of Environmental Health from the Johns Hopkins Bloomberg School. In graduate school, she focused on program planning and evaluation. She and a group of students implemented a school-wide campaign to encourage students to reduce exposure to toxins by avoiding plastics for food and beverage storage. In her research, Kimmy completed her Master's thesis on climate change and its public health impact. As an undergraduate, she completed an electric vehicle market analysis, which she presented at the American Psychological Association national conference. Professionally, Kimmy has worked at the Philadelphia Eagles stadium to expand the Eagles' Go Green environmental campaign. She coordinated a plastic film recycling process, and led sustainability training for managers at sports stadiums countrywide. Kimmy is excited to apply her passion for sustainability as a member of the S4S team!
REAL LIFE. REAL NEWS. REAL VOICES.
Help us tell more of the stories that matter from voices that too often remain unheard.