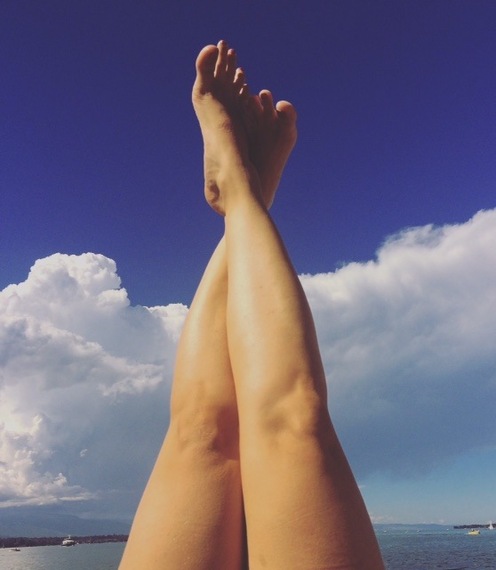 Time to spend time outdoors, chase the sun and all the summer goodness.
The only thing we need for a rad summer is our bodies and some good vibes.
I decided to embrace my body and honor my life by not giving a f*** on how my body looks like. It's imperfectly perfect. Forget the bikini body and all the rules we're supposed to follow before showing up at the beach. Joy is the true beauty. What matters is not the size of our thighs or flat stomach, it's about feeling awesome and vibrant.
When I think back of my early 20s, I feel a bit of sadness about the times I would judge myself on photos thinking about my love handles or unflattering pictures. Because those times were actually filled with belly laughs, loving moments, spontaneous adventures, dancing under the stars, sky-diving, backpacking, hiking, wake board and surf sessions and this intense feeling of aliveness which make glorious memories.
So I won't waste another minute degrading my body who lets me do all those cool things, who makes me feel strong and flexible, feminine and badass. My body rocks and so does yours. What matters is our soul and kindness. I realized the more I accept my body, the more I let go of the outside noise, the more I create space for being real. I nourish myself with whole and fresh foods most of the time, I move my body, I meditate, I play and that's what I'm aiming for.
Everything that you do -- from working out, to your thoughts and what you eat- let it be from a place of love rather than a place of fear or hate. Life is meant to be cherished and enjoyed. We spent enough time at war with our bodies already. Let's use our energy and time to follow our hearts, work on passionate projects and soul-filling activities. No more hiding. There are too many places to explore, oceans to swim, trees to climb, mountains to hike, waves to surf, picnics to have, hugs to give, and wild-hearted moments to create.
Close your eyes and place your hands on your heart. Take a deep breath in. Breathe out. Promise yourself that you won't let life pass you by because you think you're not enough. You are more than enough. You are golden. Your body is an amazing piece created by the Universe and a vehicle to do some epic things in this lifetime. Let's be grateful for what it enables us to do.
Now go pick up your colorful bikini and head to the nearest beach to enjoy every minute of it. And don't forget to enjoy your gelato... everyone needs gelatos during summertime.
Let's celebrate our bodies and precious crazy lives and embrace our uniqueness.
And I leave you with my favorite quote.
Oh my god, what if you wake up some day, and you're 65, or 75, and you never got your memoir or novel written; or you didn't go swimming in warm pools and oceans all those years because your thighs were jiggly and you had a nice big comfortable tummy; or you were just so strung out on perfectionism and people-pleasing that you forgot to have a big juicy creative life, of imagination and radical silliness and staring off into space like when you were a kid? It's going to break your heart. Don't let this happen. -- Anne Lamott
Marisa Ribordy is a Yoga Teacher and Health & Wellness Coach. She is passionate about guiding women to explore their wild dreams, to connect with their bodies and create a life with purpose while embracing a vibrant lifestyle. You can find her on www.wildhappyheart.com and Facebook.