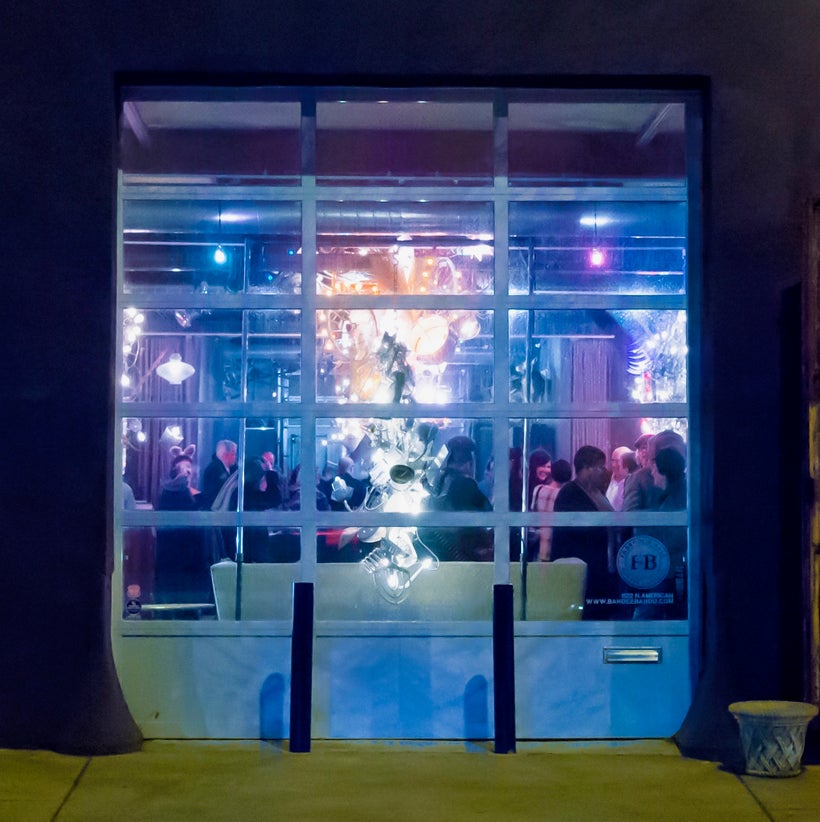 A Birthday Bash at Philly's Extraordinary Bahdeebahdu (Photo, Amanda Stevenson)
I love writing about the breathtaking resurgence and energy of Philly, not the town of my birth, Baltimore, but the town of my life and devotion for many years. If you have followed my blogs, you know I urge you to visit, not only to experience the roots of America's spellbinding history, but also to become involved in a quality of art, culture and neighborhood expression you will find in no other city.
Two weekends ago my husband and I, neither artists nor design leaders, were invited by design advocate, Hilary Jay, to join 150 guests deeply involved in the arts for a never-to-be-forgotten birthday celebration of three women, each with March birthdays, three years and five days apart, who met in Philly over thirty years ago. In recent years, I have witnessed Hilary's capacity for this quality of deep, loyal connection. I have also seen her instinctive appreciation for what I describe as "the art of letting go," which I see as vital for adult fulfillment.
In addition to Hilary, who consults with cities and non-profits on design strategy and implementation and adores creating pop-up places for fun, the celebrants were Missy Moyer and Yvonne O'Gara. Missy, whose apartment was the site of the party scene for the pivotal film, Philadelphia, recently moved back from LA to work in real estate. Yvonne, who now lives in New Mexico, combines hand-cut silk velvets and antique kimonos to create one-of-a-kind home accessories and clothing. Philadelphia artist John Wind also contributed star presence to this gathering. He and Hilary met at the University of Pennsylvania decades before.
The location of the celebration, locally tagged Port Fishington, is a glowing illustration of the hope and effervescence coursing through Philadelphia's neighborhoods. Port Fishington can best be described as a shape shifting community comprised of Kensington, Port Richmond, and Fishtown, Rich in early 20th century warehouses from the days when Philadelphia was known as "The Workshop of the World," it has attracted millennial and developers and now overflows with cafes, fitness facilities, bars, boutique hotels, funky shops and pop-up events. Go online and have fun planning two days of joy in this area extrodinaire. I promise that a weekend here will restore your energy and help you cope with the current depleting Washington, DC mentality.
The Birthday Women's extravaganza was held at Bahdeebahdu, a renovated warehouse (one of several brimming with activity) in Kensington proper (1552 N. American Street). By day Bahdeebahdu is the over-the-top interior design and lighting design studio of RJ Thornburg and Warren Muller. By night, it morphs into a glamorous, immersive space that welcomingly calls out, "Outré."
Once inside the striking birthday scene, we were updated: Hilary is presently working with Drexel University's Lindy Institute for Urban Innovation and the City of Philadelphia preparing our bid for UNESCO's Creative Cities Network City of Design designation. If successful, we will be the second American City of Design (the first is Detroit) connected to Berlin, Bilbao, St Etienne, Montreal and 17 other global stops.
"Define design," I asked Hilary. "Why is it important?" "Design is the single thread uniting us all," she explained. "Design is everything we touch, feel, see, hear, and experience -- as simple as a paper clip, as complex as an urban plan, as political as a country's flag and as critical as emergency room flow." She continued, "All of us design ourselves every day -- the clothes we wear, our hairstyles, our paths, our choices of flatware, bill payment, filing system, and study habits. " At that moment, I thought of the state of my desk, realizing that I needed an immediate 'Hilary consult,' as she explained further, "Design is what I know. Curating is what I do. Connecting the unlikely is how I do it."
While a student at the University of Pennsylvania, Hilary met fellow student John Wind. Upon graduation, John, awarded Penn's prestigious Thouron scholarship, moved to London to study at the Slade School of Fine Arts, while Hilary worked in marketing stateside, Hilary and John reconnected in London, where, in John's words, "Unexpectedly, I found myself making 'flea market chic' jewelry, and it struck a nerve."
Hilary goes on to describe the birth of an artistic collaboration she never saw coming. "One morning in the early 1980s, John's telephone rang. Alana, the lead singer of the rock band, The Thompson Twins, had received some jeweled bauble brooches John made. Now, she wanted earrings, necklaces and belts for the band's world tour. A magical request! John turned to me with a deep grin: 'Wanna make some jewelry?' he laughed."
Back in Philadelphia, Hilary and John created the global jewelry and watch company, Maximal Art, and a fashion trend was born. John defines an amazing coincidence: "Our first studio was three blocks from Bahdeebahdu…It was raw and edgy, not at all hipster or millennial. That would take 30 years!" Hilary continues with more graphic description: " The neighborhood was scary. Prostitution ran rampant. Street corner drug traffic was everywhere. Chickens and pigs ambled around ramshackle homes. 40,000 lots sat trash strewn and vacant."
Later, in personal communication, John reminisced: "We had an incredible run of about five years before fashion went from Maximal to Minimal." John stuck with jewelry, creating John Wind Modern Vintage and in the last decade developing his 'first true love,' his studio art practice as well. Hilary left hands-on designing to become an outspoken advocate for "everything design," first as a national journalist, and then as founder and director of Philadelphia University's Design Center. In 2005, she and The New School design professor, Jamer Hunt, produced DesignPhiladelphia, the first American design festival uniting all design disciplines from architecture to fashion design, industrial design to urban planning. A decade later, Hilary retired from her executive director post and DesignPhiladelphia became part of in The Center for Architecture+Design.
Today, as evidenced by her passion to achieve the UNESCO bid, Hilary continues to promote design appreciation and healthy living by spotlighting its vital impact in medicine, business, technology, sports, cities. She beams with pride, explaining, "Philadelphia has become a laboratory for uncovering how urban life can prosper by design."
Hilary, Missy, Yvonne, John, Bahdeebahdu -- – each committed to the creative arts, each logging onto their lives with passion rather than passwords. Their goal is to awaken all of us from daily monotony, ignite our senses, and revel in human possibilities.
Has there ever been a time that this is more important?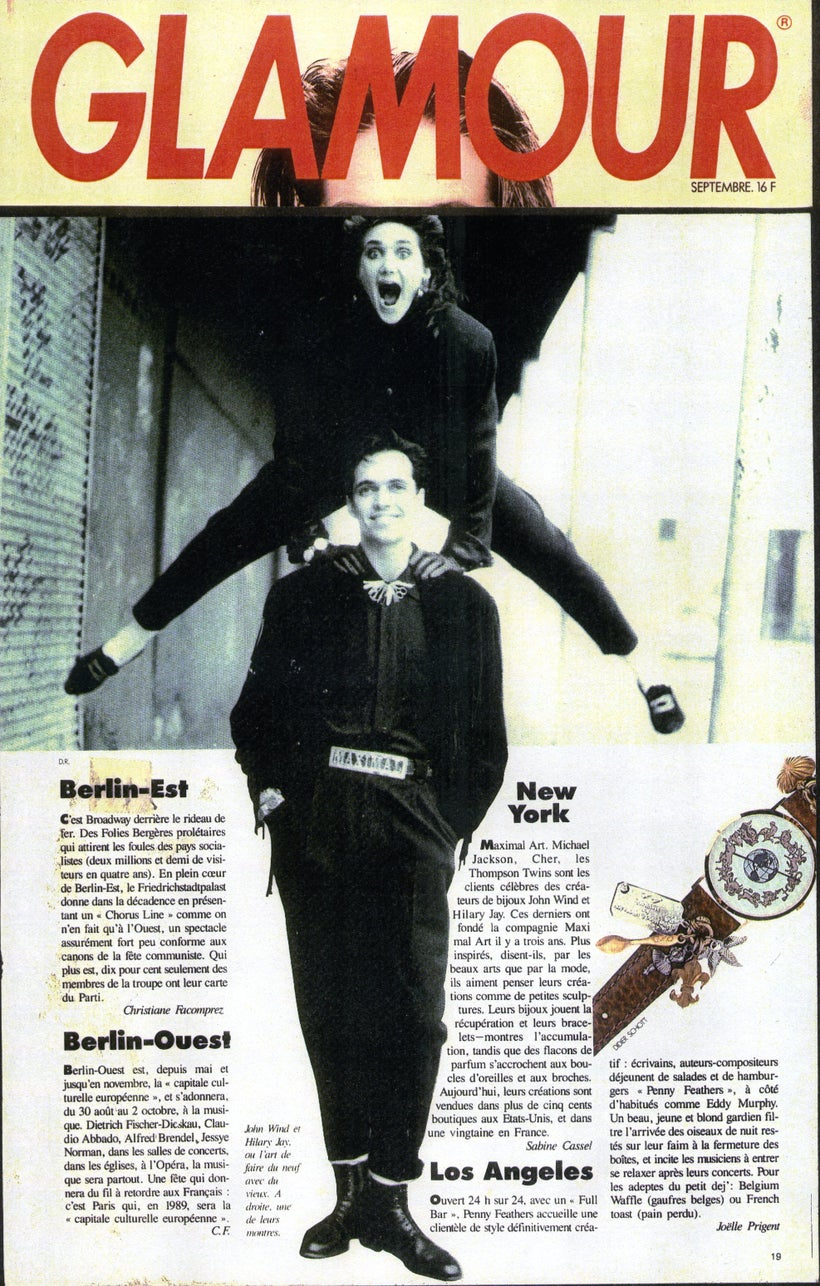 Hilary Jay and John Wind, French Glamour magazine, 1990
SaraKay Smullens' (www.sarakaysmullens.com) latest book is Burnout and Self-Care in Social Work: A Guidebook for Students and Those in Mental Health and Related Professions
Calling all HuffPost superfans!
Sign up for membership to become a founding member and help shape HuffPost's next chapter
This post was published on the now-closed HuffPost Contributor platform. Contributors control their own work and posted freely to our site. If you need to flag this entry as abusive,
send us an email
.