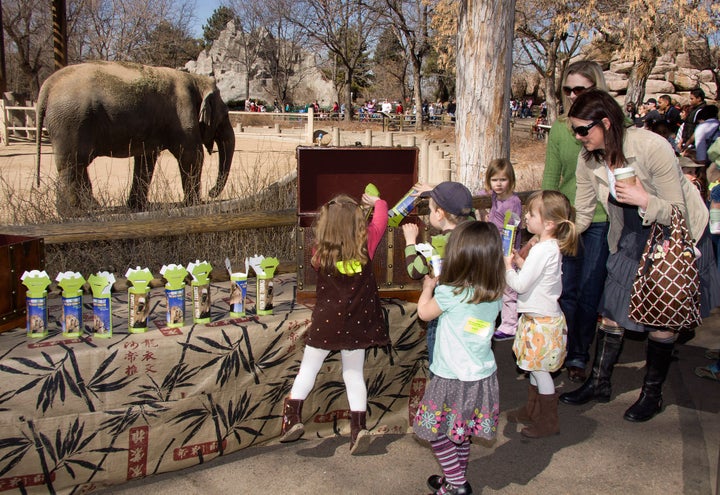 The largest exhibit ever undertaken by the Denver Zoo is getting an encouraging push from some of its smallest benefactors--kids. A fundraising effort by the zoo called the Asian Tropics Kids Campaign launches this Sunday in celebration of Thailand's National Elephant Day and ends just in time for Elephant Appreciation Day in September.
On Sunday kids can start picking up their "ele" banks (decorated with photos of Denver Zoo resident Asian elephants Mimi and Dolly) to save money for the 10-acre exhibit, and turn them in by the first of September.
Starting at 10 AM, the zoo will be hosting elephant-educational presentations until 11:30, when Mimi and Dolly are publicly treated to a traditional buffet of fruits and vegetables.
Asian Tropics is a $50 million exhibit that will give Denver elephants 7 times the space they currently occupy in the zoo. For visitors, perhaps the most exciting feature of the Tropics will be "The Preserve," a walkway that offers panoramic viewing tours of animal life spanning 3 island habitats. According to the plan, gibbons can swing through the treetops over vistors' heads, and elephants and Indian rhinos can interact will be able to interact a more natural setting.
"With the status of elephants in Asia in continuous decline, there is a serious need to create insurance populations in accredited zoos. Our zoo will support this effort by providing much-needed space for bulls," says Denver Zoo President/CEO Craig Piper.
The zoo is seeking LEED certification for this exhibit, plans to house up to 12 elephants, and is on schedule to open in Spring of next year.
Currently, there are less than 35,000 Asian elephants and 3,000 Indian rhinos left in the wild.
What: Thai National Elephant Day
When: 9AM-5PM
Where: The Denver Zoo
Cost: $8-$13 (children age 2 and under are free)

Calling all HuffPost superfans!
Sign up for membership to become a founding member and help shape HuffPost's next chapter