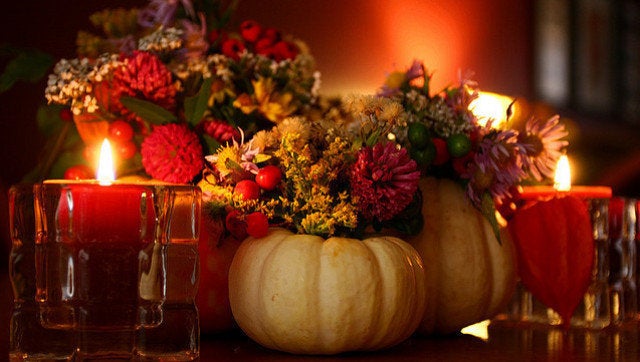 As a mother, imparting tradition on my children is one of the most meaningful ways of teaching them core values that I learned from my own parents and grandparents. When my family and friends sit down for the Thanksgiving meal, I feel grateful knowing we're honoring this American tradition that inspires generosity and a sense of community.
My husband and I host Thanksgiving at our home in Greenwich, CT every year. My parents fly in and close friends are invited. I'm from the South, so I always incorporate a little southern flavor into my recipes, including our favorite cheddar cheese sausage balls.
The holidays are a communal effort where my husband and sons play co-hosts. Now that my sons are older (ages 9 and 12), they enjoy helping with the table setting and music selection. I'm a fan of mixing iconic and emerging artists so my sons mix and match my iPod playlists which typically include The Tanlines, Santigold and Mumford & Sons. We keep this on repeat from the minute I start cooking until our final guest has said goodnight. My husband Frank is in charge of mixing the pumpkin pie martini, his signature Thanksgiving cocktail. It's a nice taste of dessert before dinner.
On my playlist this year:
"I Wish I Was a Girl," by The Vaccines
"The Keepers" by Santigold
"Brothers," by Tanlines
"Lay Me Down," by Graffiti6
When setting my table I keep a few things in mind:
1) Fresh flowers are a must: I recommend a festive fall palette of aubergine calla lilies or burnt orange dahlias.

2) Make your table pop: dress it up with mini pumpkins, colored leaves, small clusters of votive candles and napkins tied with raffia string.
3) Always keep a bottle opener on hand: the push-button corkscrew wine opener from Crate and Barrel makes opening bottles a cinch.

Once we're seated, family tradition kicks in and each person takes turns sharing what he or she is thankful for. My sons don't always take this seriously, but I think it's a heartfelt and nice tradition they'll like someday. Next up is dessert with my pumpkin cheesecake cupcakes and my mother's traditional apple crisp a la mode.

Of course, there will be plenty of picture-taking, so my outfit for the day needs to be stylish and comfortable enough to accommodate a long day of cooking. I recommend a soft, relaxed sweater and a favorite pair of jeans. When choosing the perfect sweater, play with all of the great textures from this season, like techno knit and neoprene. Leave your heels in the closet and go for a feminized version of a men's loafer or brogue.
Happy Thanksgiving I hope you and your family enjoy celebrating one of America's most beautiful traditions!