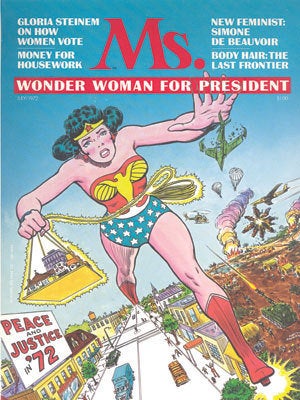 You can't judge a book by its cover. But you can absolutely judge a magazine that way -- because the cover is a good indication of what the magazine cares about. And that is precisely, why 40 years ago, women everywhere began grabbing up Ms. magazine with both hands. From the start -- and continuing today -- those covers have instantly told you that Ms. cared about what women cared about. With an editorial team staffed by revolutionaries, Ms. not only had the wisdom to imagine the perfect combination of image and cover line to capture the concept of an important issue, it also had chops to bang out the story.
Today, as Ms. is being honored by the City of New York (its birthplace) on the occasion of its 40th anniversary, I remember how thrilled I was to see that first issue on newsstands. It was 1972 and the cover exploded with the bold-faced headline, "Wonder Woman For President" -- and just below it, the colorful, iconic picture of that powerful superhero. It was an image that never would have appeared on any other women's publication. And it said loud and clear: this is definitely not your mother's magazine.
From its birth Ms. was a conversation among women about changing our lives and the world in which we found ourselves. It was more than a magazine because it was part of a movement that was stirring in the hearts of women and girls across the country. Each story in the magazine brimmed with new ways of thinking about our lives; and once that energy was uncorked, there was no way it was going back in the old bottle. Like thousands of other women, I remember sharing every issue with my sister, my mother and every woman I knew.
Catharine R. Stimpson, Professor and Dean Emerita of New York University, describes the arrival of Ms. perfectly, calling it "a blessed earthquake. The tectonic plates shivered and moved. Culture -– and our sense of possibility — opened and let the sunshine in."
Story Continues Below Slideshow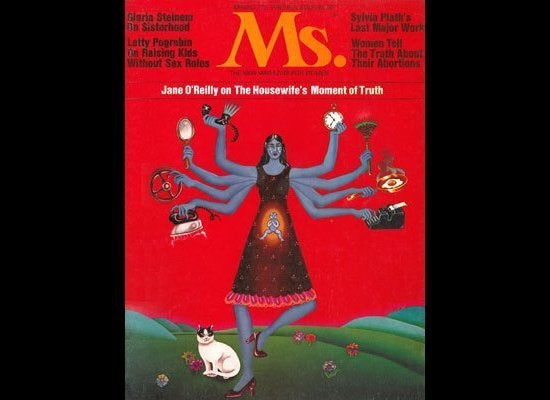 Ms. Magazine: 40 Years of Covers
The early days of Ms. were shaped by editors whose lives and experiences acted as inspiration for its groundbreaking articles. They reported on women at speak-outs on abortion; small "CR" groups talking about their bodies; their dead-end jobs; domestic violence; and the newly recognized women's plight of juggling two jobs -– motherhood and career. From this compelling and authentic coverage, a Ms. philosophy quickly evolved: "If something is happening to one woman, maybe it's happening to other women, too."
Girls raised on Ms., like Marianne Schnall, author and founder of Feminist.com, were often given the magazine by their mothers: "My first consciousness of feminist thinking was when my mother showed me her copies of Ms. when I was a teenager in the '80s. I remember proudly dressing up as Wonder Woman that Halloween. Ms. is still as important and inspiring as ever."
Letty Cottin Pogrebin summarizes the social and historical impact of the magazine: "A world without Ms. would be a world without feisty, fabulous, trouble-making, truth-telling women. For the last 40 years, wherever I go, women have told me how grateful they are to Ms., how reading it changed their lives for the better, inspired them to demand their rights, broaden their aspirations, feel less isolated, and speak truth to power. I'm proud to have been one of the magazine's founding editors."
But not everyone embraced Ms. Co-founder Gloria Steinem recalls that some distributors in the south did not want to sell copies of the magazine with a black woman on the cover, as was the case when Gloria wrote a cover story about Rep. Shirley Chisholm (who was black) and Texas Governor Sissy Farenthold (who was white), and their announcement of their candidacy for the Presidency and Vice Presidency. The issue was not displayed at many newsstands.
Others objected to specific content. In Bennington, Vermont, Ms. was removed from library shelves because of an Erica Jong article which included the now legendary words: "zipless f**k." Ms. editors immediately went to Bennington, spoke at a community meeting and convinced them to put the magazine back in the library.
For the last decade, Ms. magazine has been published by the Feminist Majority Foundation, led by Ellie Smeal, its president and founder. Formerly the twice-elected president of the National Organization for Women, Ellie is among feminism's most widely respected activist and leaders. Today, Ms. has extended its reach on the internet, and in college and university programs across the country. It also continues its investigative reporting and feminist political analysis of today's most pressing women's issues.
There are those who think that the young women of today are not feminists. They need to read the Ms. magazine blog -- it will be an eye-opener. The range of issues being tackled by young feminists around the globe proves that feminism's future is in secure hands. What a fitting anniversary gift!
Happy Birthday to all of us!

Related
Popular in the Community