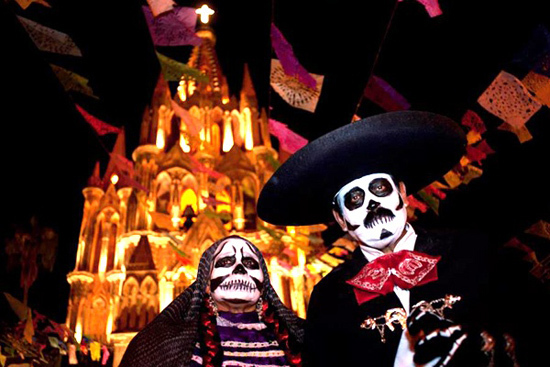 The faces of La Calaca. Photo: Courtesy of Veronique Pittman.
By Veronique Pittman for Fathom | Throughout Mexico, people will be celebrating Dia de los Muertos, the Day of the Dead, a celebration that incorporates the Catholic traditions of All Saints' Day (November 1) and All Souls' Day (November 2). (See our great photo essay.) Our friend Veronique Pittman debuted La Calaca in 2012, a citywide arts and culture festival in San Miguel de Allende. This year's festival runs from from October 31 to November 3, 2013. Here's her story, a great one about death and rebirth, about maintaining old traditions in modern times, and ultimately about remembering, respecting, and celebrating loss.
SAN MIGUEL DE ALLENDE, Mexico – The idea for La Calaca was born during a conversation with my friend and co-producer Klaudia Oliver late one night at my house in San Miguel. What began as a plan to do a Day of Dead theme camp at Burning Man turned into a four-day event, this year from October 31 to November 3, that we hope will help re-invigorate San Miguel economically, socially, and artistically.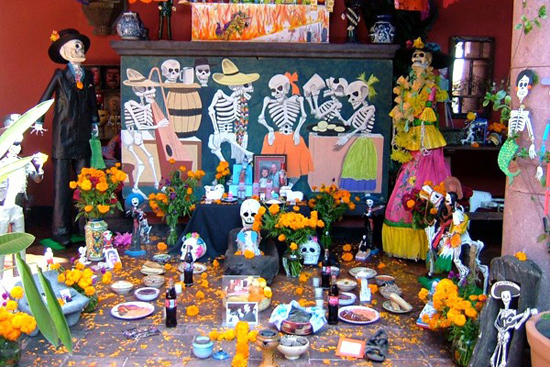 I worked with a small group of wonderful young people on the event (I'm at least ten years older than all of them) who, in the three months leading up to the festival, put their lives and jobs on hold. Our entire $17,000 budget was raised through Indiegogo.
We harnessed the goodwill of locals and folks from nearby towns, who are participating for little or no money. Why? Because they understand that the festival will bring attention not only to their work but also to the areas in Mexico that uninformed tourists are no longer visiting because they think it is too dangerous. (Which it is not.)
We also want to prove that robust festivals can be created without all sorts of tacky sponsors and logos everywhere, and that the town itself should not be spending tax revenues on a festival but rather on helping the poor and building infrastructure — recycling, water purification, services to the poor, maternal health, education, and so on.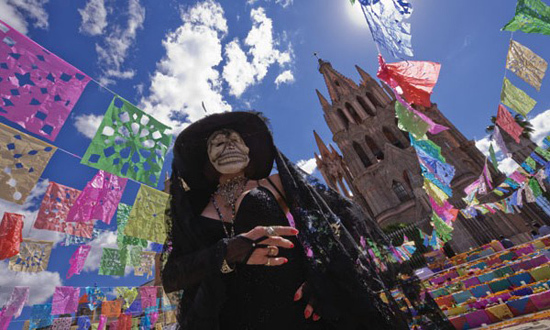 La Calaca ('the skull') is about re-inventing the traditions of Day of the Dead by making it more participatory, bringing together different communities that don't always do things together, and tourist-friendly. I also think that Halloween (my birthday) could use a reinvention to inject it with more meaning. So the dream is to import the concept into the United States and merge October 31 and November 1 into a two-day holiday to pay respect to our deceased ancestors.
Ambitious? Perhaps. But with the United States population on track to be 40 percent Latino in 20 years, this isn't just a fantasy. Cinco de Mayo isn't celebrated in Mexico but is observed in the United States. Why? Because beer and tequila companies invented it to boost sales.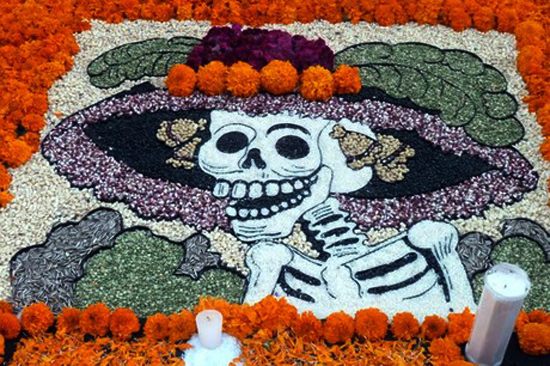 We started planning the festival in August, and, perhaps not surprisingly, most of our Facebook fans are 13- to 18-year-old kids from Mexico City. They love us because we are making a tradition that probably is a bit dull ("okay, honey, today you need to go to your grandfather's grave and decorate it and spend the day there listening to stories about him...") and making it hip and exciting. And they must feel some pride that a bilingual Facebook page is promoting the exciting art that stems from this tradition.
The skull is a universal icon, but one that the Mexicans feel they have a special claim to. But there is a huge disconnect between all these Day of Dead fashions and a true understanding about what the tradition is all about. Day of the Dead is a profound day in which the line between the living and the dead virtually disappears. We are meant to evoke the presence and memories of our deceased relatives by drinking their favorite drinks, eating their favorite foods, and telling stories about their lives.
Imagine if in the United States we celebrated Halloween with the kids and on the next day went to cemeteries to decorate the tombs of our loved ones and be together as a family. When I tell my kids that we have to drive to Cornwall, Connecticut, to lay flowers on my father's grave, it's a depressing prospect to them. But I think a new tradition might change their minds.
IF YOU'RE LUCKY ENOUGH TO GO
Fathom reinvents the travel website by mixing inspiring stories and practical destination guides with the best travel resources and products. Follow Fathom on Twitter, tell us about your travels on Facebook, and sign up for our weekly wanderlusty newsletter.
Related