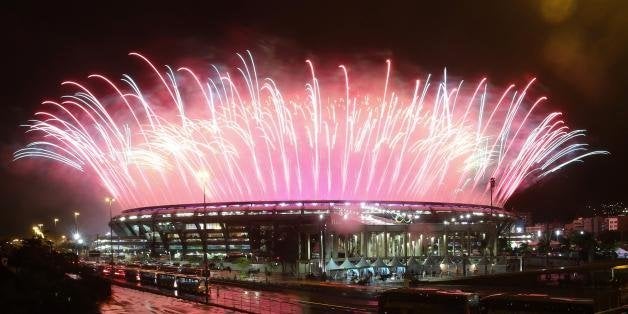 Brazil was already celebrating the victory of its men's soccer team against Germany in a game full of grit and tenacity, but also luck and the saving hand of Weverton Pereira da Silva, a goalkeeper born in the state of Acre.
But Rio 2016 was delightful for both the eyes and the heart. Maicon Siqueira, former bricklayer and waiter, won the most unexpected medal for Brazil in these Olympic Games. Siqueira's victory in taekwondo came just 5 seconds before the end of the fight, when he turned the match around in a moment.
Brazil saw many of its athletes overcome personal and political obstacles to achieve great results in the host country's Olympic Games. Maicon was the icing on the cake of a successful Games for Brazil, which ended up with 19 medals -- 7 gold, 6 silver, and 6 bronze.
Bernardinho's volleyball team also managed to remain calm when danger was impending and noble when victory was imminent. A single name was on the tongues of the winning team and their coach: Serginho. The athlete is retiring after a great career as the libero for Brazil.
As he heard the chanting "Serginho is our king," the libero left his jersey on the floor for posterity. Wallace de Souza, another player with an excellent performance during the campaign, recalled the Brazilian leader's inspiring words.
"What he said touched us deeply: he said he wouldn't have another opportunity and we would. This title is entirely dedicated to Serginho."
During Rio 2016 it was extremely gratifying to follow the Brazil that Serginho embodies: The athlete was raised in Pirituba, faced many difficulties, such as hunger, and overcame many other obstacles along the way. "I said 'man, I am feeling as if I were in an ICU, so I am fighting for my life at this Olympic Games, I will try to survive and you will help me get out of this ICU.' And they did exactly that, they understood my situation. It was my last Olympics, my last opportunity to became a two-time Olympic champion. Most of them have another Olympic cycle," said Serginho after winning his second gold medal.
When asked what it is like to be one of the greatest athletes in the history of volleyball, the legend responded in his typically humble manner. "Nothing changes. On Monday I will have my Tubaína (a soft drink consumed mostly by the lower classes). Everything will be the same," he answered before the final match against Italy.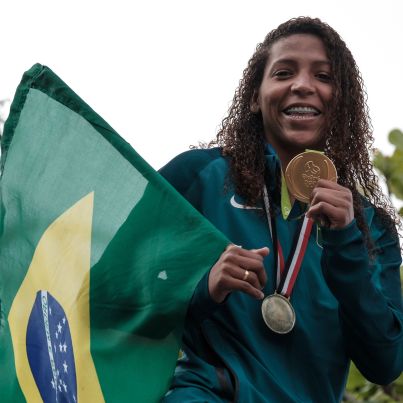 Judoka Rafaela Silva surprised her hometown and the world when she took a medal in this summer's Olympic Games.
Rafaela Silva, our first gold medalist in the 2016 games, was the athlete that touched me most. The judoka was born in the City of God neighborhood and demonstrated one of the most outstanding personal turnarounds in recent memory. After being disqualified in the 2012 London Games for an illegal hold, she returned valiantly to the world stage four years later, winning a gold medal in Rio, and setting in motion a successful campaign for Brazil.
We must also talk about canoeist Isaquias Queiroz, the Brazilian athlete who won 3 medals in a single Olympics. Ubaitaba, the city of canoes in the Tupi-Guarani language, forged the talent of our biggest and most promising star for the 2020 Tokyo Olympics. Isaquias was strong, he was brave, he was intense. And he has a charisma and a hairstyle that resembles a Disney cartoon.
We could also mention the many other great athletes who didn't medal. What about Formiga, the midfielder of the Brazilian women's soccer team who plays every match as if it were the last one of her life? She showed extreme commitment on the pitch, giving every ounce and fearlessly pursuing every ball. At nearly 40 years old, this was her sixth Olympic Games.
"If the girls didn't win the gold medal, too bad for the gold medals," read one comment on my Facebook timeline. Losing is, after all, part of sports. But your heart still goes to pieces when you watch those who devoted all their time and energy fail to medal.
Flavinha Saraiva, Martine Grael, Robson Conceição, Diego Hypólito, Thiago Braz, Mayra Aguiar... so many good memories. We witnessed history being made.
It was also thrilling to watch Simone Biles, Katie Ledecky, Usain Bolt, Michael Phelps, and many other amazing athletes defy all earthly expectations.
The Olympic Games may be headed for Tokyo in 2020, but if the torch had a life of its own, it would probably decide to stay here and enjoy the party a little longer.
This post first appeared on HuffPost Brazil. It has been translated into English and edited for clarity.
Calling all HuffPost superfans!
Sign up for membership to become a founding member and help shape HuffPost's next chapter