Once in a rare while, we are privileged to know an individual with a drive and effectiveness at changing the world that astonishes and humbles us. Steve Kamanja Muthee was such a man.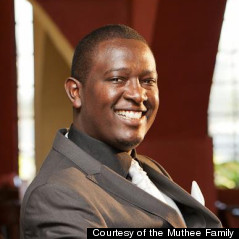 I met Steve Muthee in 2010 just as our company, Digital Divide Data, was making plans to start operations in Kenya. Steve, just 28 at the time, greeted me warmly and welcomed us to do business in Kenya. This in itself was remarkable, as we might have been seen as a competitor, but he clearly didn't see it that way.
Steve showed me the extraordinary work his company was doing, delivering business services to global clients, while employing young men and woman from very poor families. After DDD launched operations in Nairobi in 2011, Steve became a close colleague. We partnered with others around the world to raise awareness about the ways our companies were using business to create social change.
Born in Kenya, and raised there with nine siblings, Steve worked tirelessly to create dignity and opportunity in the lives of thousands of young men and women from poor families in Nairobi. The enterprise he founded and led for eight years, DaproIM, employed them in a variety of digital work tasks, commonly referred to as business process outsourcing (BPO).
Steve was a pioneer of a rapidly growing movement within the BPO industry called Impact Sourcing, offering meaningful jobs to struggling students and single parents in his enterprise. At its peak, DaproIM employed 580 staff, with clients in Kenya, and also in India, the USA and UK.
Steve's work was supported in part by the Rockefeller Foundation. The program officer who worked most closely with him, Wairimu Kagondu, shares, "Steve was driven by a deep seated belief in the power of entrepreneurship to drive opportunity and transformation for Africa's youth. He led by example -- creating an enterprise that employed hundreds of young Kenyans and empowered thousands more. The Impact Sourcing community has lost a great champion but one who has left a tremendous legacy."
More than a business entrepreneur, Steve was a dynamic social entrepreneur who used business as his canvas to transform lives. Motivated by a deep Christian faith, Steve worked to create social change -- and to make his country a better place.
His faith-based convictions inspired Steve to engage with others around the world to create change more broadly. He was a co-founder of the Impact Sourcing Collaboration, an industry association with members in Africa, Asia, North America and South America, that builds awareness about the opportunity to source business services in a socially responsible way. In that role, he passionately defended the importance of creating work opportunities for the poorest. He was also a board member of the Kenya BPO and Contact Center Society, which has now become the Kenya Information Technology and Outsourcing Association (KITOS), and is the premier private sector association for the BPO industry in Kenya.
Bill Drayton, the founder of Ashoka and a leader of the social entrepreneurship movement, has remarked, "Entrepreneurial quality -- is by far the toughest criterion for a social entrepreneur. For every one thousand people who are creative and altruistic and energetic, there's probably only one who fits this criterion, or maybe even less than that. By this criterion...we do not mean someone who can get things done. There are millions of people who can get things done. There are very, very few people who will change the pattern in the whole field." Steve was among those few.
Steve's openness and down-to-earth nature enabled him to captivate the attention of people around the world. In our conversations together, he often expressed unwavering determination and eternal excitement about building a sustainable future.
Steve's emails frequently included a Russian proverb at the end, "The future belongs to him who knows how to wait." Sadly, Steve left us on November 23, 2014 at the age of 33. His friends and colleagues dearly wish he could have lingered longer among us. We will miss him.
REAL LIFE. REAL NEWS. REAL VOICES.
Help us tell more of the stories that matter from voices that too often remain unheard.