I couldn't make it to the graduation ceremony for my bachelor's degree. I was working full time and life got in the way. When I earned my MBA, I made participating in the ceremony a priority, and I'll always be glad I did. I felt a sense of pride in what I'd worked hard to accomplish and taking that moment to look back on the journey and celebrate it was a special day in my life.
Even today, when I see newly-minted college graduates walk up on stage to finally receive their hard-earned credential, I can't help but share in their pride at their achievement and their eagerness for what's ahead. They are taking important steps to crossing the bridge to opportunity that a quality education provides.
There's also a sense of relief in taking those final steps because students know that completing some type of education beyond high school has become essential to securing a well-paying job and making it to the middle class. In fact, a report out this week from New America shows that four out of five Americans agree that it's easier to succeed with a college degree than without.
But the findings of that report also show that despite the promise of what higher education can make possible, it's currently falling short of its potential. Only 25 percent of Americans believe higher education is fine the way it is.
And given the ever-rising costs of going to college – both in terms of students' time and money – it's no wonder that 57 percent of Americans believe that colleges and universities should be responsible for assisting in the success of their students.
So how can we get higher education to work better for more students? At the foundation, we believe a big part of the answer is focusing on the students who start—but don't finish—their higher ed journey. All told, roughly half of students who begin college don't reach graduation. This should be a big red flag and source of concern, because we're on track to be at least 11 million skilled workers short of what our economy will need by 2025. A strong future economy depends on us having the talent and qualified candidates to fill those jobs.
The reality, though, is that we're being held back by an outdated image of the students going to college today. Most students in 2017 are no longer 18- to 22-year-olds who live on campus and are full-time students. Instead, they're likely to be older, attending college part-time while also balancing a job or a family, and often transfer between institutions. Increasingly, today's college students are the first in their family to go to college, are students of color, and may come from low-income backgrounds. As the day-to-day experiences of college students have changed, the challenges that reduce their chances of making it to graduation have changed, too.
Fortunately, leading colleges and universities are evolving to be more student-centered. They are taking the time to truly understand the needs of their students, identify the most common barriers keeping those students from graduating, and implementing solutions to help keep them on track.
Innovations like accessible and timely financial aid, improved advising, new tools that tailor content to individual students, and making transferring easier make a massive difference—particularly when implemented in concert.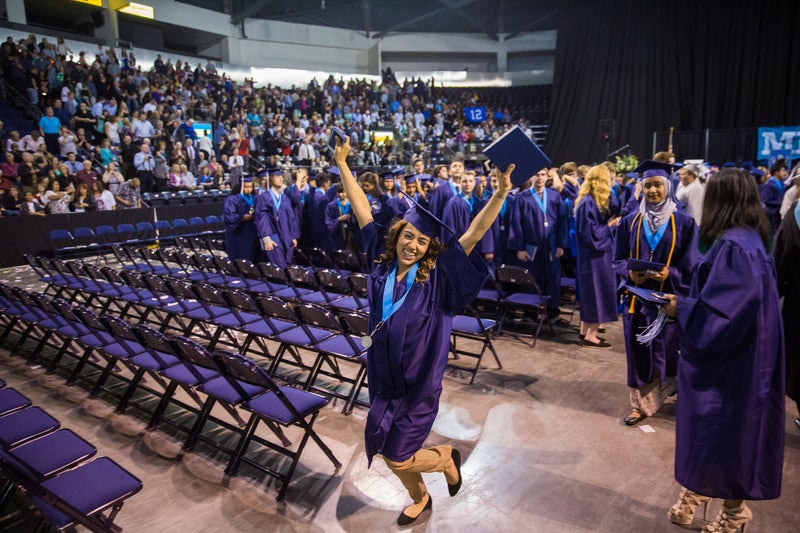 Accessible and Timely Financial Aid
For example, the benefits of financial aid—and being able to count on it in advance—reap rewards long before a student even enrolls in college. The reason is that when students and their families know that higher education is financially within reach, they are more likely to take the courses necessary to prepare for college, and to make the most informed decision about the institution that's the best fit. And—once enrolled—we've seen that even a few hundred dollars' worth of emergency financial aid can prevent an unexpected car repair or health cost from causing a student to be unable to pay tuition for a semester. These "breaks" from college, even when intended to be temporary, often permanently stall the drive to a degree. Colleges like Georgia State University have done impressive work making emergency aid available to help keep students on track to earn their degrees.
We also see again and again what a difference a good roadmap from enrollment to graduation makes. At innovative institutions like Sinclair Community College, online tools and dedicated advisors work together to give students a college GPS of sorts—helping them plot a course toward their academic goals. This GPS even provides early alerts, so when absences or low grades suggest a student may be taking a dangerous detour that could lead to dropping out, administrators and educators can help the student get back on track.
Another exciting solution is the growth of digital learning tools. These tools allow students to differentiate the skills and knowledge they already possess from those they need to strengthen, and then designs a syllabus tailored just for them. The content doesn't change—but each of us learns differently, and it's easier to master the content when it's tailored to our unique learning style. After all, it doesn't make sense for a student to spend the same amount of time on the content they do know as on content they don't know. These and other tools have been a key ingredient to how the University of Central Florida has been able to improve student outcomes while also growing into one of the largest colleges in the nation.
And—with nearly 40 percent of students attending more than one college or university on the way to a degree—we should focus on making it more straightforward to transfer credits. It's rewarding to see when community colleges and four-year institutions join forces to ease students' transitions and to allow them to receive the full benefit of their money and time.
With so many varied backgrounds and paths, each student's journey to graduation is truly as unique as they are. During this graduation season, I hope this year's graduates look back both at the bright spots as well as at the challenges they overcame. That's where the breakthroughs are—the places where we learn new skills and tools that push us beyond what we thought was possible and made us who we are today.
As we continue the work to transform higher ed so that it works for all students, it's up to us to work as hard and as creatively as this year's graduates.
Congratulations and best wishes to the class of 2017!
REAL LIFE. REAL NEWS. REAL VOICES.
Help us tell more of the stories that matter from voices that too often remain unheard.
This post was published on the now-closed HuffPost Contributor platform. Contributors control their own work and posted freely to our site. If you need to flag this entry as abusive,
send us an email
.