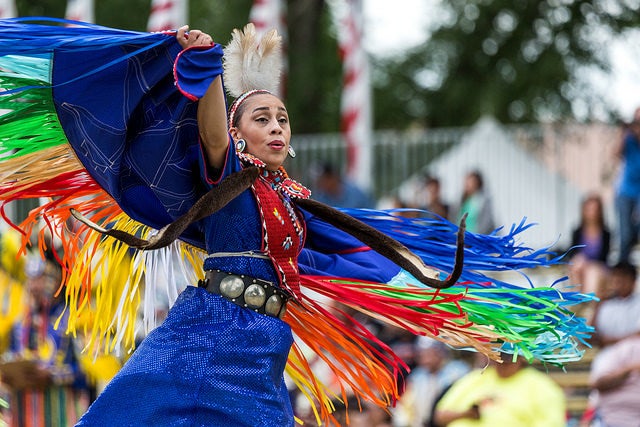 The sounds of booming drums, singing voices, and jingle-jangles of regalia (ceremonial outfits) fill the dancing arena. In Austin, Texas a powwow occurred on November 4, 2017 and our intern Esther attended. Here she shares her observations and we share cultural insight.
Some events in a traditional powwow include pageants, various dance competitions, and of course delicious fried bread. Some events even hold special ceremonies, like the crowning of Miss Indian World in Albuquerque, New Mexico.
The origin of the powwow began with a healing ceremony many years ago. The ceremony's original name is Pau wau, meaning "he dreams" originating from Algoquian Indian language. Usually, a healing man, or shaman, would dream of the medicines for his patients, but this tradition is no longer found in today's celebrations. Now, tribes use this as a time to celebrate their heritage and use this opportunity to keep their practices alive. Three main sections to a powwow are listed below:
Behind the Scenes Usually a Master of Ceremonies (MC) and Arena Director will ensure that the program runs smoothly. While the MC is visiting with the audience,[the MC] they also inform the performers where they must be at certain times, the Arena Director is interacting with the performers, making sure all is coordinated. The director is responsible for taking care of a fallen feather and completing the ceremony that goes with it.
The Grand Entry The Grand Entry is the opening ceremony that occurs before events take place. Usually, the U.S. American flag, Prisoner of War/Missing in Action (POW/MIA) flag, and occasionally tribal flags follow the Eagle staff, which represents honor and integrity for the Indigenous People. These are presented by Native American Veterans. Following the Veterans are tribal chiefs, princesses, elders, and anyone considered Native royalty. Next, there are dancers in the order of men to women and oldest to youngest. During this time, audience members are required to stand and remove hats to show respect.
Singing and Dancing There are two Head Dancers, one male and one female. These individuals can be found in the Native royalty category because of their honorable traditional dancing and their knowledge of their heritage. Once competitions begin, participants are categorized by age and gender, including: tiny tots dancing, fancy, traditional, jingle, grass, and more. However, this wouldn't be possible without the drummers and singers performing throughout the event. A Drum Host is invited to act as a backup in case the current drummers are unable to perform. They ensure the event is able to run smoothly for the duration of the powwow. Keep in mind, there is no powwow without the drummer, they are the heart of the celebration.
Powwows occur throughout the year, with the biggest powwow taking place annually in Albuquerque, New Mexico. While some powwows may be private and exclusive, others are open to the public. Enjoy these elaborate events by checking various sites with powwow information. Happy dancing!
Sharon Schweitzer, J.D., is an award-winning entrepreneur, cross-cultural trainer, and the founder of Access to Culture. In addition to her accreditation in intercultural management from the HOFSTEDE Centre, she serves as a Chinese Ceremonial Dining Etiquette Specialist in the documentary series Confucius was a Foodie, onNat Geo People. She is regularly quoted by BBC Capital, Investor's Business Daily, and Fortune. Her Amazon #1 Best Selling book in International Business, Access to Asia: Your Multicultural Business Guide, (3rd printing), was named to Kirkus Reviews' Best Books of 2015. She's a winner of the British Airways International Trade Award at the 2016 Greater Austin Business Awards.
Popular in the Community