The LA Art Show celebrates twenty years. Attracting established galleries as well as avid collectors, this respected annual art fair has not gone unnoticed by top players in the Hollywood arena.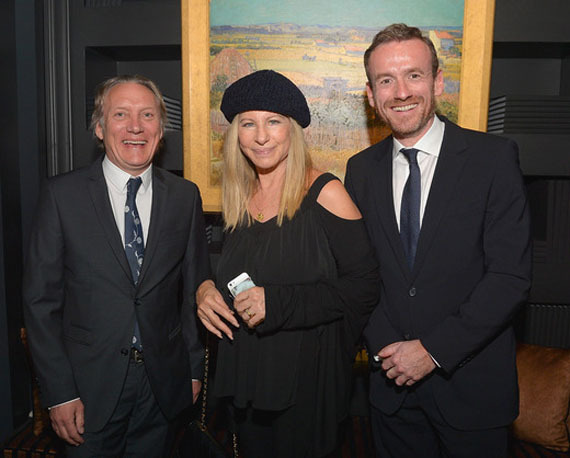 Image courtesy of LA Art Show, Barbara Streisand, with Willem Van Gogh (left) and Alex Ruger (right)

Presented by Palm Beach Show Group, this mainstream event attracted over 50,000 attendees last year with over 7,000 of those being collectors and celebrities. Barbara Streisand and James Brolin were among the celebrity clientele who enjoyed the 2014 opening night festivities along with Mayor Eric Garcetti (who was one of many on the host committee). Leonardo DiCaprio, Jerry Bruckheimer, Henry Winkler, and other well-known personalities were spotted perusing the art throughout the weekend at last year's event.
The 2015 opening night event (taking place on Wednesday, January 14, 7pm) will be hosted by A-list actors Amy Adams and Darren Le Gallo and will benefit St. Jude Children's Research Hospital.
Originally founded by Kim Martindale (now general manager/partner), the LA Art Show has seen a lot of changes throughout the years. "We've expanded from fourteen galleries to over one hundred in that last twenty years," cited Martindale. "We've gone from being a largely regional event to one that has more than one third of its exhibitors from outside the United States. We've outgrown three venues before moving to the world-class Los Angeles Convention Center in 2009." He went on to say that the artwork at the show has always been exceptional, but has become more comprehensive over the last twenty years. Unlike other art fairs, the LA Art Show has consistently been inclusive to diverse genres such as graffiti and street art and has put a spotlight on nonprofit organizations each year. Both emerging and established artists and galleries have participated in the show.
When asked if the type of art collector that attends the LA Art Show has changed, Martindale responded, "I think our show format was and is specifically selected to meet the needs of the LA art market. Our collectors continue to surprise us as well as themselves. For example, a collector may come to the show specifically because they want to view historic works and may have only collected historic works for years, but when they see the diversity of works on view, they then gravitate toward a contemporary piece that they never would have considered before. These "aha" moments have come to be what we are known for and are what collectors expect from us."
Expect to see a broad range of art at this year's event. The Dialogs LA Lecture Series is back with the inclusion of a special designer addition. As always there will be both a Modern & Contemporary section and Historic & Traditional Contemporary section. International art has once again permeated this year's show with galleries from Korea, China, the United Arab Emirates, and Japan. The work of artists from all over the world will be exhibited. Los Angeles galleries will of course be the mainstay of this popular West Coast event.
Galleries such as Artspace Warehouse, Axiom Contemporary, Coagula Curatorial, FP Contemporary, Gallery Luisotti, the G2 Gallery, Jack Rutberg Fine Arts, PYO Gallery, and Timothy Yarger Fine Art, will all return for the 2015 show.
bG Gallery will be participating in the LA Art Show for the third year. Located at Bergamot Station, the Santa Monica gallery has come to this year's LA Art Show armed with the work of an eclectic group of talented artists. "The gallery focuses on artists that bridge traditionally contentious ideologies, particularly cross pollination between so called 'high' and 'low' art," explained gallery director Om Bleicher. "For the show, I wanted artworks that would immediately grab attention from one direction or other and hook people in to learn more about these unique accomplished artists."

Longtime husband and wife team Bob and Marjorie Moskowitz will be debuting some first-time collaborations this year. "Bob is an accomplished figurative painter and Marjorie is an accomplished landscape painter, but their work comes together in a perfect balance of figure and ground that is a style all to its own," marveled the gallerist.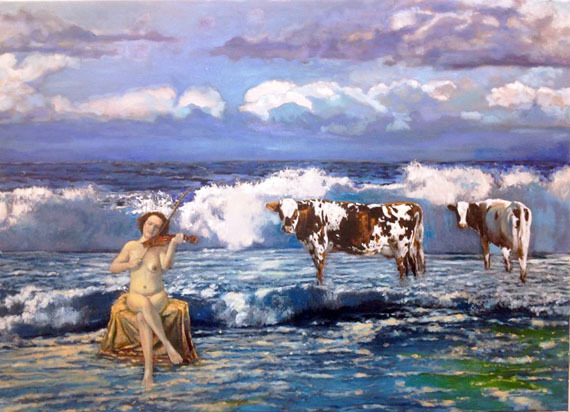 Image courtesy of artists, Bob and Marjorie Moskowitz Two if by Sea, mixed media on canvas 30x40in - on View at BG Gallery's booth (# 827)

Artists set to be featured at bG Gallery's booth (# 827) are: Allois, Dan Busta, Barbara Kolo, Campbell Laird, Nancy Larrew, J.J. L'Huereux, Bob and Marjorie Moskowitz, Christopher Mudgett, Stuart Rapeport, Linda Smith, Gay Summer Rick, and Philip Vaughan.
The Los Angeles Art Association will once again be joining the show. "The LA Art Show has been a great supporter of LAAA's mission for nine consecutive years, encouraging the vision of even the most ambitious emerging artists," stated Peter Mays, Executive Director of LAAA.
Los Angeles Art Association's featured installation (not located at their booth), "The Paradise Circus Los Angeles 2015" by J.T. Burke, evokes childhood memories. Featuring various forms of art - music, photography, collage - the installation stands 16' tall (at its highest point). An adorned teepee of sorts, clad with imagery and costume jewelry, the art piece suggests a crossover from freak show to confessional inviting a passerby in to experience paradise. For more information, see Shana Nys Dambrot's Huffington Post blog post.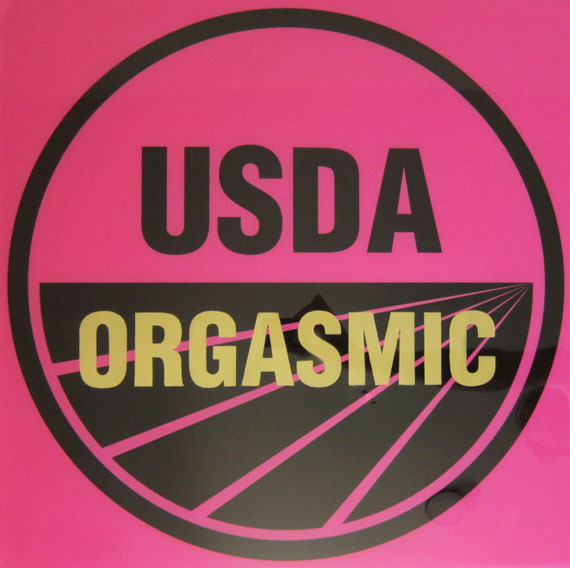 Image courtesy of artist, Andrew Pasquella, US, DA ORGASMIC - paint and resin - part of LAAA's "PING-PONG 2015."

At LAAA's booth (booth # TBA) you'll find a cross-cultural collaborative exhibit titled "PING-PONG 2015." The independent exhibition project was founded in 2007 and features artists from Los Angeles, Miami and Basel. Along with the work of LAAA artists Miquel Osuna, Andrew Pasquella, and Annie Terrazzo will be featured. Additional artists include: Martin Chramosta, Sue Irion, Clare Kenny, Guido Nussbaum, Mette Tommerup, Robert Chambers, Antonia Wright, Rueben Millares and Cara Despain. http://laaa.org/
Tickets for the LA Art Show range from $20 (for one day) to $250 (per person) for a four day VIP experience with entrance to the opening night benefit. Hours: Thursday, January 15 through Saturday January 17, 11 a.m. - 7 p.m.; Sunday, January 18, 11 a.m. - 5 p.m..
The Los Angeles Jewelry, Antique & Design Show will also be taking place this weekend, January 14 - 18, 2015 at the Los Angeles Convention Center, South Hall, 1201 Figueroa Street, Los Angeles, CA 90015. Be sure to check the website for more info: http://www.laartshow.com/
Support HuffPost
The Stakes Have Never Been Higher
Related
Popular in the Community