On a beautiful and breezy early February evening as the setting sun was casting its magical spell, enthusiastic Delhiites flocked in thousands to the grounds of Delhi Public School, Mathura Road to enjoy the city's most popular mushaira, Jashn-e-Bahar, in its eighteenth edition last Friday. The temperature dipped as the evening wore on but the warmth of the verses and the love for the language, kept the audience glued to their seats for the next few hours.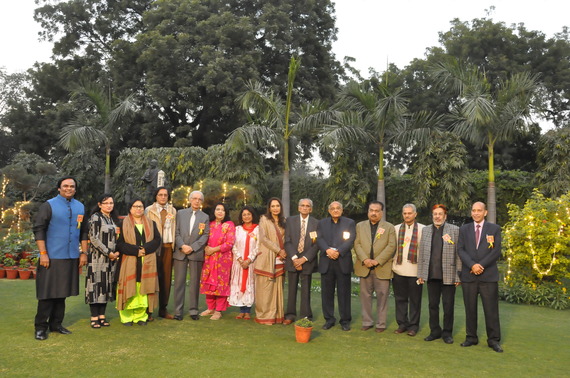 Indian and Pakistani poets ahead of the mushaira
"Urdu is the language of love," says Kamna Prasad, Urdu activist and the dynamic Founder of the Jashn-e-Bahar Trust. "In fact, to restrict it to being just a language is not being fair to Urdu. Urdu encompasses much more. It epitomises an entire culture, a particular tehzeeb. We cannot associate a language with a religion. If one says that Urdu is the language of one community, that community is Hindustan," added Prasad.
She is also of the view that Urdu should not be limited to its rasm ul khat (script). The younger generation prefers to read and write Urdu in the Roman or Devnagiri script but, says Prasad, as long as there are people who write in Urdu, the language will always be alive.
When asked how Urdu can bridge the gulf between nations, the Urdu activist replied that an open mind anchored in spirituality and literature is the only solution to intolerance in a conflict-riddled world.
Waseem Barelvi, the most popular poet of the evening, spoke about conquering hate with love.
"Woh mere chhere tak apni nafratein laya to tha
Maine uske haath chume aur bebas kar diya
(He had brought his hatred close to my face / But I kissed his hand and made him vulnerable)," he said.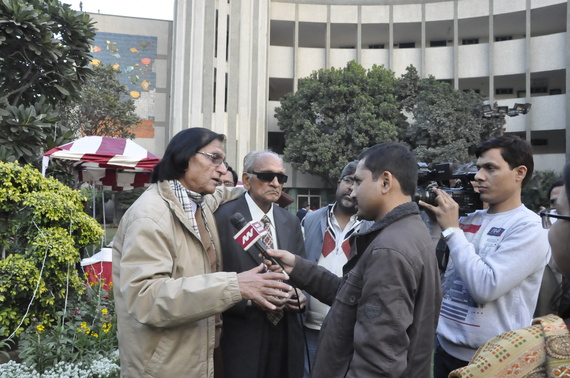 Indian Poet Waseem Barelvi

The presence of senior poets Dr Pirzada Qasim and Ms Rehana Roohi from Karachi, Amjad Islam Amjad from Lahore and Abbas Tabish from Islamabad reiterates the fact that poetry and poets can play a very important role in cementing Indo-Pak ties. This visit is especially significant as it comes in the wake of the recent attacks at Pathankot and the ensuing border tension, earlier Shiv Sena protests over Ghulam Ali's concert in Mumbai and the controversy over the denial of a Pakistani visa to Indian actor Anupam Kher.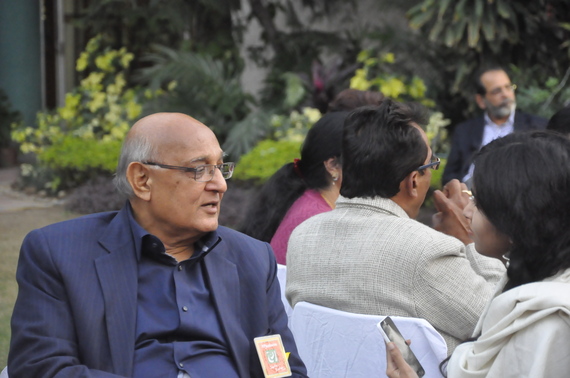 Dr Pirzada Qasim and Amjad Islam Amjad, poets from Pakistan

Other poets who attended the mushaira were Farhat Shahzad from New Jersey, USA; Zamin Jafri from Toronto, Canada and Dr Zubair Farooq from the UAE.
India was represented by Prof Waseem Barelvi, Vijendra Parwaz, Ms Dipti Mishra, Ms Nusrat Mehdi, Popular Meeruthi, Aalok Shrivastav, Ms Naseem Nikhat, Farhat Ehsaas, and Johny Foster.
The mushaira was held in the gracious presence of spiritual leader Morari Bapu, who is as well known for his interest in shaiyri as he is for his globally renowned Manas Katha. "Urdu poetry and the tradition of mushaira have always brought together people from different schools of thought and Jashn-e-Bahar is truly special in this regard. Here, the message of peace and love draws lovers of literature in their thousands," he said.
Also adding grace to the mushaira were Minister of Minority Affairs, Najma Heptullah, NC President Farooq Abdullah, former Lok Sabha Speaker, Meira Kumar and Vice Chancellor, Aligarh Muslim University Zameer Uddin Shah. It is heartening to see the attendance in mushairas these days of a large number of young boys and girls for whom the Urdu language holds a special appeal.
Lucknow-based Dr Naseem Nikhat stressed the importance of the mushaira in playing a role in maintaining communal harmony in the country. Hindustan is a country with so many different religions co-existing peacefully, she said. "The roots of our country are embedded in our ekta (oneness) and making the dais their platform for social reform, poets should work towards maintain this spirit of oneness of the nation. Those who work against this are weakening the very roots of our unity and our culture. We should not write shaiyri which fans intolerance or gives rise to hatred. Such shaiyri should be shunned." Strength in unity is the need of the hour, she empahsied, without which the roots of our nation would weaken. From the manch the message of love and acceptance should be sent forth to the world. Poets hold a great responsibility in spreading the message of love, peace and tolerance through their words. Eminent poet, Mansoor Usmani conducted the mushaira with his customary elan.
The amazingly rich canvas of Urdu poetry of the evening left me feeling enriched and thoughtful. Long after I left the mushaira, Aalok Shrivastav's verses still reverberated in my mind.

Ye sochna galat hai ke tum par nazar nahin,
Masroof hum bahut hain, magar be-khabar nahin
Ab to khud apne khoon ne bhi saaf keh diya,
Mai aap ka rahuunga, magar umr bhar nahi

Kitna jiaiyn, kahan se jiaiyn aur kis liay
Ye ikhtiyar hum pe hai, taqdeer par nahin
Popular in the Community