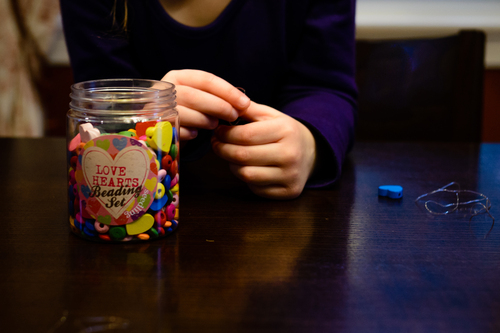 Celebrating Valentine's Day as the parents of young children means passing on a romantic dinner out or even a quiet evening at home. On Valentine's Day babysitters are in high demand and the kids still need to eat. But, that doesn't mean parents need to forego celebrating at all. There are lots of ways to celebrate at home as a family and create a truly special night.
1. Time Together: Even though you may not have reservations at the best restaurant in town make sure to clear everyone's schedule for the night. Resist the temptation to treat it as any other night and calendar an early departure from work or skip other activities you usually have planned.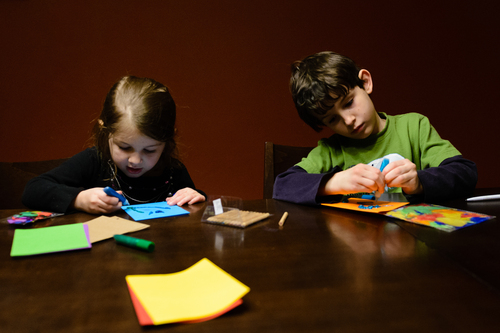 2. Celebrate Each Other: Pass on the sappy trinkets and make home-made crafts to share with one another to create truly meaningful gifts that you put some heart into (pun intended). My family loves Seedling craft kits because they are accessible to kids of varying ages and always come out beautifully. This year, we have already made cards with feathers and glitter paint from the Creative CardMaking kit. We are also using the Love Heart Bead Set to make necklaces and the Create Your own Designer Soap kit to make our own decorated soap. The sentimental part of me always likes homemade gifts. The practical side of me likes these crafts because the beads are reusable and the soap is a gift that we can all use and won't cause clutter. The Dohvinci Flower Tower Frame kit is a great gift that kids can make to show off favorite family photos at home or for a parent to take to the office.
3. Eat Together: Valentine's Day doesn't have to mean an elaborate meal. It's a great night to choose an old stand-by, a favorite meal, or to try a new recipe from one of the many family-friendly cookbooks that have come out recently, such as 100 Days of Real Food Cookbook, which I love for its healthy recipes that my kids and I both like, or the Grain Free Family Table.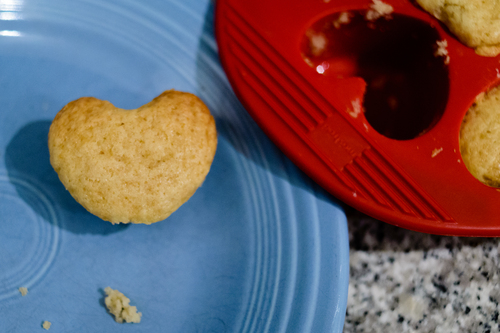 4. Bake Together: I love including my children in baking but don't find time often enough to make it happen. Valentine's Day wouldn't be complete without dessert and we plan on making adorable heart-shaped cupcakes using Mastrad's Heart Cupcake Pan (they also have a heart ice cube tray if you want to go even further with the theme of the night). Because I want to incorporate something healthy into the mix, we will also make apple chips using the TopChips Maker and Mandolin. My kids can help make this treat and always gobble up the chips they helped make themselves. These can also be made in advance if you will be pressed for time on the day itself. No time to bake? Try an easy-to make popcorn bar with a twist. My family recently enjoyed Pop-Secret Cinnamon Roll Popcorn with pecans, marshmallows, and chocolate chips.
5. Play Together: Although the art of playing table games may be in the process of being replaced by playing electronic ones my family still loves the Norman Rockwell-esque moments we experience as a family when we all sit down to play a board game. Many of our favorites include kid-friendly versions of the games I enjoyed playing as a child, including the Junior version of Monopoly. My kids love it when I get sent to jail.
6. Read Together: Reading together as a family is a great opportunity to get in some fantastic cuddling time. Some great books for Valentine's Day are 100 Things That Make Me Happy, In My Heart: A Book of Feelings, Guess How Much I Love You, I Love You Stinky Face, Love & Kisses, and Everything.
7. Get Some Alone Time Together: Even if you celebrate at home Valentine's Day doesn't have to be all about the kids. If you can, make at least a little time to spend one-on-one time with your partner. Ideally this would be after the kids go to bed, but to squeeze in some more time with your partner you may have to rely on a little screen time to keep the kids occupied long enough to have an adult conversation. A perfect app for Valentine's Day is Strawberry Shortcake Bakeshop where Strawberry Shortcake bakes her favorite sweets then gives you the recipe at the end. Another idea is BabyTV, which has downloadable commercial-free content including interactive games.
Life with small children doesn't have to be the end of Valentine's Day celebrations -- it just means making some changes to be able to include the whole family.