This post is the latest in the series "Connecting All the Dots" an ongoing discussion about and across movements. While connecting two dots only makes a simple line, connecting ALL the dots can create a completely different picture that can help provide new insight on the issues of the day.
My mother reached a milestone birthday this year and I am spending this weekend celebrating it with her and my family. I think that our culture often gives us mixed messages about how and why we should recognize our birthdays. On one hand, the tried and true ritual of the birthday party is deeply ingrained in our culture, and while we make particular efforts to celebrate birthdays for children, and for milestone birthdays, it is something that holds true throughout the lifecycle. At the same time however, we treat people very differently at different points along the lifecycle, and ageism can often affect how we celebrate these yearly events. When I was growing up, an interesting message I received was "you never ask a lady her age," which left me with two takeaways: 1) Growing older wasn't something you were supposed to talk about and therefore, was negative; and 2) Negative aspects of aging were somehow even worse for women because we didn't hear this same message about men. I did not mention how old my mother was in order to have a modicum of respect my family's privacy, but I suspect that there is still an element of "not asking a lady her age" at work here. My mother and father are both aging with dignity and style and as someone who has worked on aging policy and with elder communities, I know that this is not something that can be said for everyone. I am eternally grateful for their health and vigor and for the opportunity I have to celebrate it with our entire family this weekend.
In actuality however, my mother's birthday was not this weekend, but last weekend. I was unfortunately not able to be with her on her actual birthday because I was in Atlanta, where I was humbled to have the opportunity to take part in the 12th Annual Who's Who in Asian American Communities Awards Ceremony. As a venue to recognize the accomplishments and the accomplished in our communities, the WWAAC has become a marquee event in Atlanta's social calendar, and one with national prominence. The city's own best and brightest in the Asian American and Pacific Islander (AAPI) community came out to witness student Pauline Ho, Daphne Kwok from AARP, and Susan Jin Davis from Comcast receive 2017 WWAAC Leaders and Legends Awards. Sachi Koto and the team at WWAAC also awarded a special 2017 Spirit of Service, Sacrifice, and Patriotism to the Filipino Veterans of WWII. While 2016 WWAAC Awardee Maj. General Tony Taguba was unable to attend as the National Chair of the Filipino Veterans Recognition and Education Project, I was honored to be part of the awarding of this special recognition on behalf of the organization. Our Regional Board member Bryan Ramos was able to bring Mr. Aniceto Bagley, a Filipino WWII veteran, to Atlanta with his family all the way from Huntsville, AL. Mr. Bagley drew a standing ovation as he gave gracious acceptance remarks. The full segment for the Filipino Veterans of WWII is available online here: https://youtu.be/VVKjc9pooBg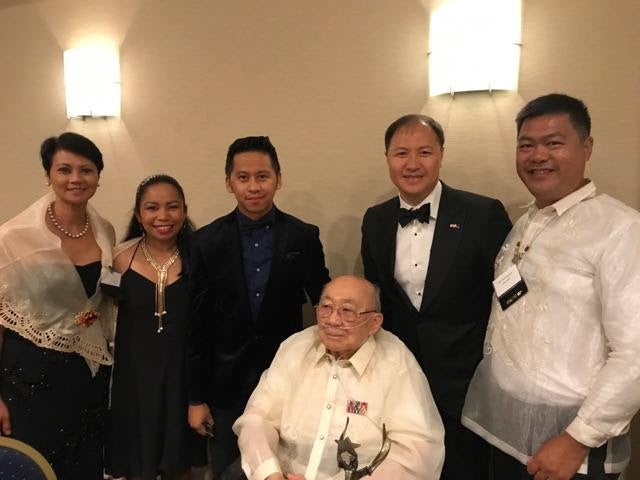 I often joke that as a "Twin American," I have never known what it's like to not share my birthday, and probably have a more communitarian sense of what it means to celebrate the day than most. This weekend, my family got to celebrate an entire slate of birthdays: a belated one for my mother, an early one in anticipation of my brother's and my celebration next week, and we even welcomed a new family as my cousin welcomed a new baby boy this week as well. My mother was gracious as I celebrated her birthday with Mr. Bagley and celebrating the moment Filipino WWII veterans have as they prepare to celebrate the Congressional Gold Medal that they will receive later this month.
As we open Filipino American History Month today, I'm mindful that what is a Birthday season for me and my family comes at a time when we are recognizing and celebrating our veterans. I'm more than happy that Filipino WWII Veterans have the spotlight this time and look forward to the history we will make together all month long.
Ben de Guzman is on the Executive Committee of the Filipino Veterans Recognition and Education Project. This year, he is celebrating his and his family's birthdays by recognizing Filipino WWII veterans. Help us celebrate here: http://bit.ly/BdG45