Kim Kardashian, Katy Perry, Nicki Minaj, Chelsea Handler, Taylor Swift, The Rock, BJ Novak - the list goes on and on. Celebrities are taking over our phones, and it doesn't look like Hollywood is stopping anytime soon.
It turns out celebrity apps have been around as long as there's been an App Store. I talked to the creator of Britney Spears' first app back in 2009. But it wasn't until "Kim Kardashian: Hollywood" smashed its way to the top did the entertainment and gaming industry witness the magnitude of impact a celebrity brand could make on colliding industries. Kim Kardashian's app was a tipping point for other celebrities to follow suit.
Whether it's a "growth hack" or necessity to stay relevant, celebrities often experiment with new distribution channels to further their brands at all cost. What I learned was that the brands behind Kim Kardashian, Katy Perry, Nicki Minaj, Chelsea Handler, and the lot, are key drivers in what we're calling The Celebrity App Industrial Complex.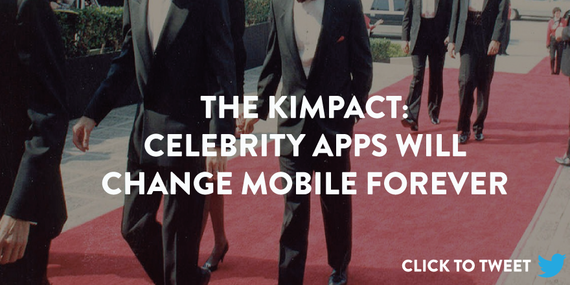 Is Hollywood disrupting mobile distribution, and ultimately the application of Silicon Valley's emerging technology? Completely. In spite of the hubris, using vanity as a product strategy, apps like "Kim Kardashian: Hollywood" illustrate how stars are in cahoots with mobile gaming, driving revenue with new delivery systems and using their celebrity to reinvent promotion in the mobile age.
Here's what you need to know about the Celebrity App Industrial Complex: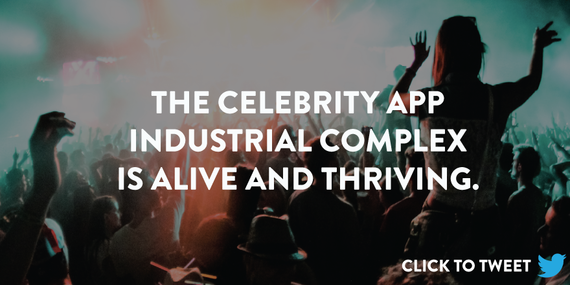 Glu Mobile, the company who produced "Kim Kardashian: Hollywood," positioned itself as the strongest and most proven celebrity studio for mobile gaming.
As their largest title in Q4 2015, "Kim Kardashian: Hollywood" generated $13.6 million dollars in earnings, approximately 24 percent of Glu Mobile's total revenue. But it's important to know, before they stamped Kim Kardashian's brand on the game, Glu Mobile ironed out all the kinks to the addictive game loop with Stardom Hollywood.
 If you play Stardom, you'll notice it's basically the same game as Kim's -- just without the Kardashian overlay. It's as if the studio white-labeled Stardom Hollywood, and then pumped out versions with a different celebrity as the headliner.
What Glu Mobile has shown is that a brand's following and the business model behind the app can be a much more powerful driver of user acquisition and monetization than the actual mechanics within the game itself.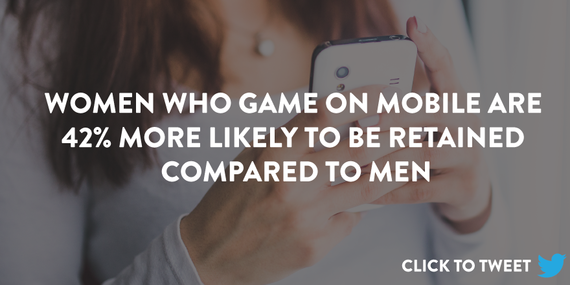 The millions and millions of dollars generated from "Kim Kardashian: Hollywood" with mostly female users prove that women like to game. And the data shows women play longer and will pay more for it than men.  A mobile analytics platform released information that women surpass men when it comes to both time and money spent on mobile gaming.
Not only are women a more receptive audience for downloads and in-app purchases, but women players have a 42% higher seven-day retention on average compared to male players.
What these numbers are pointing to, reports The Mary Sue (a guide to gaming for "geek girls"), is "an underserved market for games specifically geared toward women."
But the The Celebrity App Industrial Complex hasn't just influenced the market of mobile gaming.  Celebrities realize their brand can translate to mobile, and an app can be a new channel to strengthen their ties to their fans, no matter who or where they are.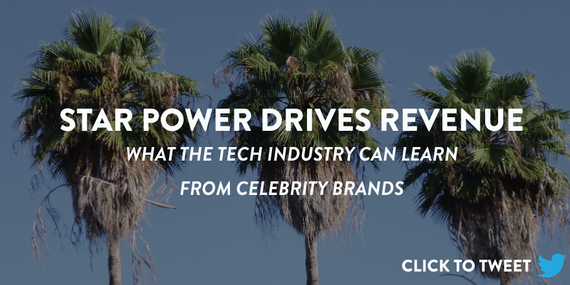 In a crowded mobile marketplace, branded content is vital in order to ensure your product stays alive, remains top of mind in a user's digital routine, and doesn't drop off into the home screen graveyard. 
According to App Annie, in 2015, branded titles represent 21 percent of the Top 100 grossing titles in the games category in the U.S. iTunes App Store.  A year before, branded titles took only 13 percent of the pie.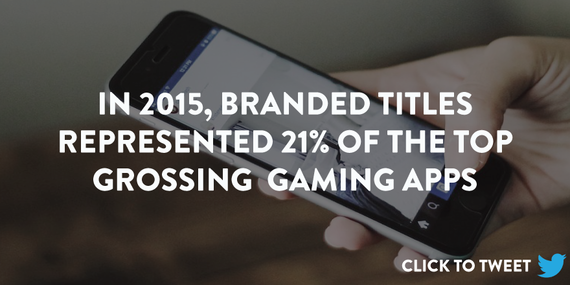 For early developers and entrepreneurs, it's tempting to build an app before the brand is well known. However, the research shows the most prominent apps rise to the top when there's a name someone recognizes.  
The power behind building a brand before an app doesn't just have to do with celebrities. In Silicon Valley, numerous successful companies, like Mattermark, Product Hunt, Uber and more, established their brand before their product, enabling them to preserve their popularity and still change or expand their offerings, shift their markets, and solve new problem sets.
Take theSkimm, for instance. The popular email newsletter rallied its readership of Skim'bassadors because of its wit and daily digest on current events, building and serving its loyal subscribers as the publication's first priority. Once theSkimm acquired 1.5 million email subscribers, the newsletter launched as a mobile app in April 2016, and became the number one iOS News App, trumping reddit and CNN. This is a key example illustrating the importance of building a brand before building an app.
So before even conceiving an app, a good question for a founder, product manager or mobile developer to ask is, "Do we have a built-in user base?"
REAL LIFE. REAL NEWS. REAL VOICES.
Help us tell more of the stories that matter from voices that too often remain unheard.