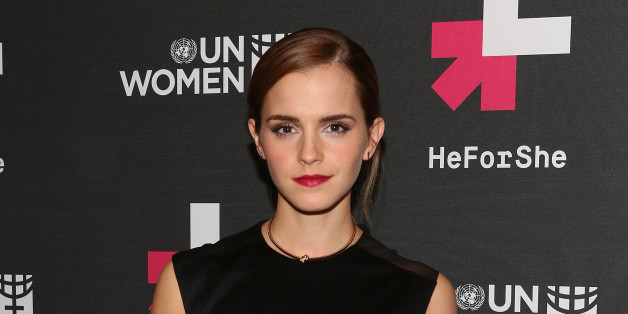 After giving an impassioned, empowering speech at the United Nations about the need for men to take up for the fight for gender equality on Sept. 20, actress and UN Women Goodwill Ambassador Emma Watson found herself the target of nude photo leak threats.
Although the threats thankfully turned out to be a hoax by a "social media marketing firm," they reflect a disturbing notion that violating women's privacy has the capacity to disarm and intimidate them.
Not this time. Celebrities have rallied in response to the threats and the misogynist thinking behind them, tweeting in support of Watson and her work on the HeForShe initiative her speech launched. Watson has retweeted many of them in over the past few days.
"You are impeccable & extraordinary," wrote "Avengers" actor Tom Hiddleston in his tweet. "I stand with you. I believe in gender equality. #heforshe."
Many of the tweets were accompanied by a photo of the celebrities holding a sign reading "#heforshe," as suggested by Watson. Their response was, in a word, incredible. Enough famous faces offered their support that "Girls" creator Lena Dunham thinks that they should be compiled into a "sexy calendar." And hey, what's sexier than supporting equality?
Check out some of the celebrities' HeForShe photos below.
So proud of @EmWatson. From the girl I grew up with to the inspirational woman she is today. I'm with you. #heforshe pic.twitter.com/0j316BBznB

— Matthew Lewis (@Mattdavelewis) September 24, 2014
— Russell Crowe (@russellcrowe) September 24, 2014
.@EmWatson you are impeccable & extraordinary. I stand with you. I believe in gender equality. #heforshe pic.twitter.com/xXQsyJ7WfP

— Tom Hiddleston (@twhiddleston) September 24, 2014
My friend @EmWatson delivered a powerful speech to the UN http://t.co/yWtW3mjqBh I support equality. #HeForShe pic.twitter.com/gCNTK1BNvx

— Logan Lerman (@LoganLerman) September 23, 2014
As a feminist and a human being, I agree with @emwatson (read her speech) @UN_women #heforshe (pic by @amandapalmer) pic.twitter.com/prm1O2LRUg

— Neil Gaiman (@neilhimself) September 23, 2014
#HeForShe is a great cause to get behind! Please check it out. So proud of @EmWatson! pic.twitter.com/lJrUWcmPEo

— Chris Colfer (@chriscolfer) September 23, 2014
Husband to a wife, father to a daughter, son to a mother. You bet I'm on board, @EmWatson! #heforshe pic.twitter.com/5SyIKIbCZo

— Simon Pegg (@simonpegg) September 23, 2014
I am a passionate supporter of gender equality. @EmWatson @HeForShe @UN_Women pic.twitter.com/IpudHsNpu3

— Douglas Booth (@DouglasBooth) September 20, 2014
Proud to support the #HeForShe campaign of @UN_Women pic.twitter.com/BVMoJ4oJph

— Forest Whitaker (@ForestWhitaker) September 20, 2014
h/t Elite Daily
BEFORE YOU GO
PHOTO GALLERY
17 Inspiration Emma Watson Quotes