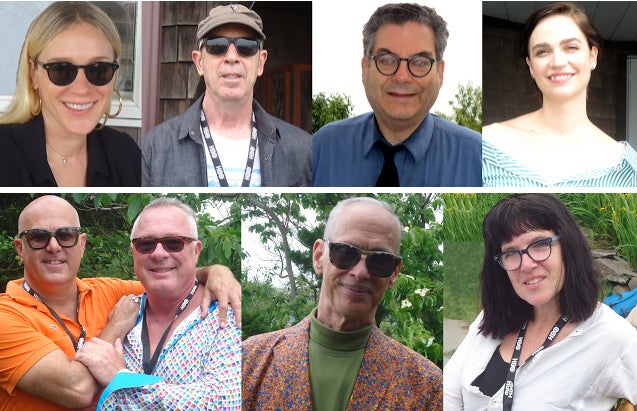 This week I talked with celebrities, filmmakers and activists at the 19th annual Provincetown International Film Festival (PIFF) press luncheon that took place at Lands End Inn Provincetown, Massachusetts. First I spoke with the fabulous Chloë Sevigny who was being honored with PIFF's 2017 Excellence in Acting Award. Chloë talked about receiving the award and directing her award-winning short film "Kitty" based on the Paul Bowles short story about a young girl who finds herself transforming into a kitten as she grows up and slips away from her family which premiered at the Cannes Film Festival and was included in PIFF's 2017 lineup. I also had a chance to talk about some of her upcoming films as well as her spin on our LGBTQ issues. Then I chatted with Jay Critchley a visual, conceptual and performance artist whose work and environmental activism have traversed the globe. Jay was also honored at PIFF for his commitment to PIFF and to Provincetown. We talked about movies he attended at the festival and his newest creative activism directed at resisting the Trump administration. Next I talked with Michael Musto columnist for out.com who was at the festival to conduct the Q&A for the documentary "Susanne Bartsch: On Top" in which he appears. We talked about the documentary and then turned the conversation to politics and LGBTQ civil rights. Then I talked to producer and actor Sarah Wharton whose film "The Ring Thing" had its World Premiere at the festival. The film is about her character Sarah who accidentally proposes to her girlfriend in Provincetown and finds herself at odds with her partner's expectations of their future. The film addresses marriage in a new and refreshing light. Sarah talked about what she would like to accomplish with her work and her spin on our LGBTQ issues in a Trump administration.
I then chatted with filmmakers P. David Ebersole and Todd Hughes about the U.S. Premiere of their documentary "Mansfield 66/67" about the last two years of the legendary "blonde bombshell" Jayne Mansfield's life and career. This is a fabulous camp production that includes dance performance and rare chats with actors, directors, and academics including John Waters, Mary Woronov, Mamie Van Doren, Tippi Hendren and Kenneth Anger. David and Todd talked about their past and future projects and about what it's like working with each other as a married husband and husband creative team. Then I caught up with director John Waters, "Hairspray", "Pink Flamingos" and "Serial Mom" among others who always has something brilliant to say. John talked about his new graphic book "Make Trouble" adapted from the commencement speech that he gave to the graduating class of the Rhode Island School of Design to 'get busy and make trouble'. He also talked about movies and his spin on resisting the Trump administration and his advise on getting through these difficult times. I concluded with director Katherine Dieckmann whose film "Strange Weather" made its New England Premiere at the film festival. "Strange Weather" stars Holly Hunter as she embarks on a road trip through the Deep South with her best friend played by Carrie Coon, who plays a lesbian in an interracial relationship, to uncover the truth about the death of her son. Katherine talked about the complications and challenges that exist for women directors in the film industry. She expressed her perspective that although women producers and directors still struggle for recognition in this predominantly male dominated field, it is getting better for women in film. This year 60% of the Provincetown International Film Festival 2017 line-up were created by women continuing the Festival's long tradition of supporting women filmmakers. Photos by Marilyn Rosen
Calling all HuffPost superfans!
Sign up for membership to become a founding member and help shape HuffPost's next chapter