The day after the inauguration of President Donald Trump millions of women organized in cities around the world on Saturday to express their disapproval of the new administration. From Washington D.C. to Los Angeles, from Chicago to London, from Sydney, Australia, to Paris, France, protesters are marching, united in their shared belief that women's rights shouldn't be ignored.
A long list of politically active A-listers hit the pavement in solidarity with the cause to lend their voices to the growing chorus of citizens who've vowed to resist Trump's presidency. Stars like Amy Schumer, Lena Dunham, America Ferrera, Chelsea Handler, Jessica Chastain and Katy Perry were all in attendance to march under the banner of human rights for women, immigrants, the queer community and more.
Much of the celebrity activity was centered around Washington D.C., where an Artist Table was formed, featuring "a diverse group of celebrities who will participate in and join in solidarity." Ferrera is serving as chairwoman for the group and delivered impassioned remarks to the crowd on Saturday morning.
Perry, who was one of the biggest supporters of Trump's Democratic opponent Hillary Clinton, shared an old photo of herself and sister Angela on social media before joining the crowd in D.C.
"I will not let anyone suppress me, silence me or clip my wings," she wrote in the caption. "For a long time I misunderstood the true definition of being a feminist, but now that I know, I am empowered! I am indisputably a feminist. I am here today to break the cycle of suppression and inequality. I stand with you all!"
Amy Schumer also posted a throwback photo of herself and detailed her reasons for marching in the caption.
"I'm marching for so many reasons. But mostly just to show up and say I will be here next to you all fighting for what's right," she wrote. "So we can all live safely and equally together. We will protect each other. And when tomorrow is over we will realize that it's just the beginning. We will need to show up for each other for years to come and we will every time. I've got your back and you've got mine. Let's march."
Schumer later shared a group shot of her crew for the day of the march, including fellow comedian Rachel Feinstein, with everyone wearing orange NASA jumpsuits, because why the hell not?
Chelsea Handler was on hand to lead a sister march in Park City, Utah, where celebrities have gathered this week for the Sundance Film Festival. She was reportedly joined by Charlize Theron, Aisha Tyler, Connie Britton, Mary McCormack, Benjamin Bratt, Jessica Williams and Maria Bello.
The comedian shared a video from the front lines of the march, chanting, "Love, not hate makes America great."
Take a look below at the rest of nasty women (and men) who came out in support of women's rights on Saturday. If you're marching, keep an eye out for famous faces in the crowd.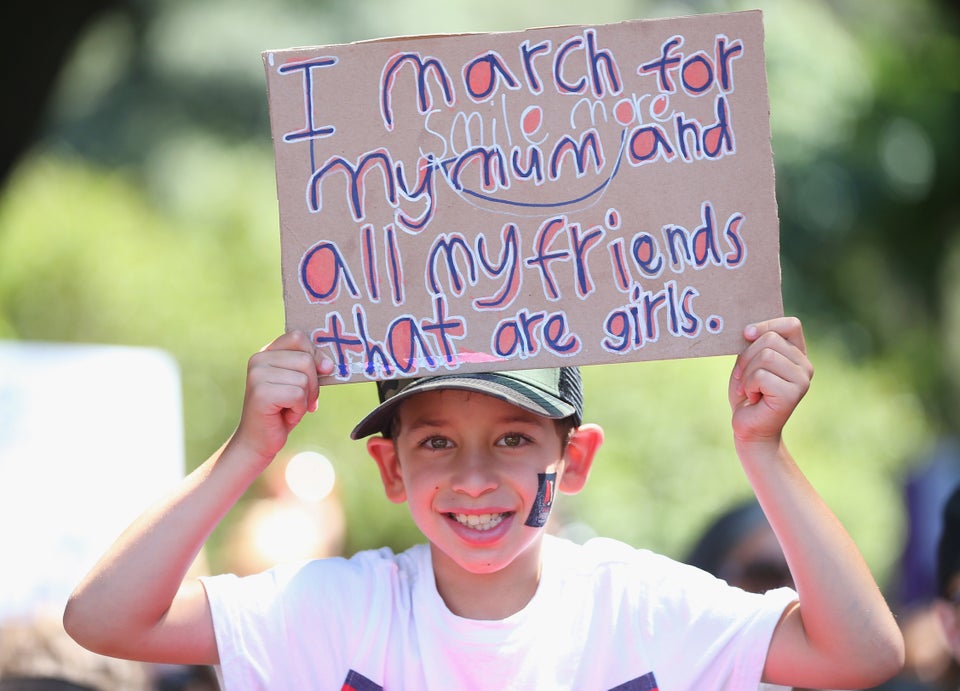 Women's Marches Around The World
Popular in the Community