 Photos of celebrities' babies were once worth big bucks, with rival magazines entrenched in million-dollar bidding wars to get the exclusive shots. These days, however, celebrities have turned to social media and the Internet to release those first sought-after baby photos. Afterall, fans want the photos first and they want them for free.
But this change in the tide may not exactly be the stars' choice, as celebrities often no longer have the option of selling off the first snaps of their beloved babies for millions of dollars. Many magazines aren't willing to spend big bucks on pictures any more. In addition, some fans are starting to think the whole "pay-to-play" system for baby photos is crossing a moral line.
"Magazines simply do not have that kind of cash to shell out because they have learned that it isn't worth it," Cooper Lawrence, author of "Cult of Celebrity," told The Huffington Post. "We all know that the better pictures will be on the celeb's website or on Twitter sooner or later, as soon as they have something to promote. We'll just wait for that."
"Celebs are now releasing their photos on their terms, just like the rest of us do on social media sites," Lawrence added.
"We have been seeing the trend lately of celebs using social media, especially Twitter, as a way to control their exposure to fans and the public," said Dorothy Cascerceri, an In Touch Weekly correspondent. "Social media has given them a voice to say anything they want at any time, and posting personal photos is a large part of that."
The game has certainly changed since the days of the million-dollar photo sales that Brad Pitt and Angelina Jolie were part of just a few years ago.
"In the past, celebs have come under much criticism for selling the photos of their children for millions of dollars," Cascerceri said. "Some celebs donate the money to charity, like Brangelina, who received a reported $14 million for the photos of twins Knox and Vivienne. Others, however, receive a few million and pocket it, egging on critics who believe these celebs are exploiting their children."
Today's trend of using social media to reach out to fans helps celebrities keep a handle on the situation, according to Cascerceri.
"For a power couple like Beyonce and Jay-Z, they decided to take matters into their hands by debuting photos on their terms," she said. "They either don't need the money or their creative control is worth more than what they would receive if they sold the photos."
The 24/7 news cycle, coupled with a shift in which stories some people view as salacious and appetizing, has led many celebrity news organizations to re-check their priorities when it comes to what images they are willing to buy. Celebrity babies happen to be one of the categories that has fallen by the wayside.
"Our tastes have changed and we aren't interested in the first pics as much as we are interested in the mom being caught with another man coming out of a seedy motel," Lawrence said. "Our appetites have changed for what is sensational and the editors know this, so magazines are unwilling to shell out millions for a picture that is no longer exclusive or compelling."
Stars are also offering up their photos for free to cement brand loyalty, as many fans are becoming disenchanted by those who choose to sell their personal photographs to the highest bidder.
"Celebrities like Beyonce and Jay-Z are incredibly smart to recognize that the good will they are getting from their fans for releasing their baby photos of Blue Ivy to the world is worth much more than the million dollars they might have made selling their pictures," said Bonnie Fuller, editor in chief of HollywoodLife.com.
"They are already so wealthy and took so much heat for [reportedly] spending millions to have a private wing at a New York hospital, that the last thing they needed was to appear greedy," she added. "Releasing very personal, authentic and untouched photos to their fans completely eliminated the bad taste that anyone might have been left with after 'maternity ward-gate.'"
Check out photos of celebrities out with their kid below: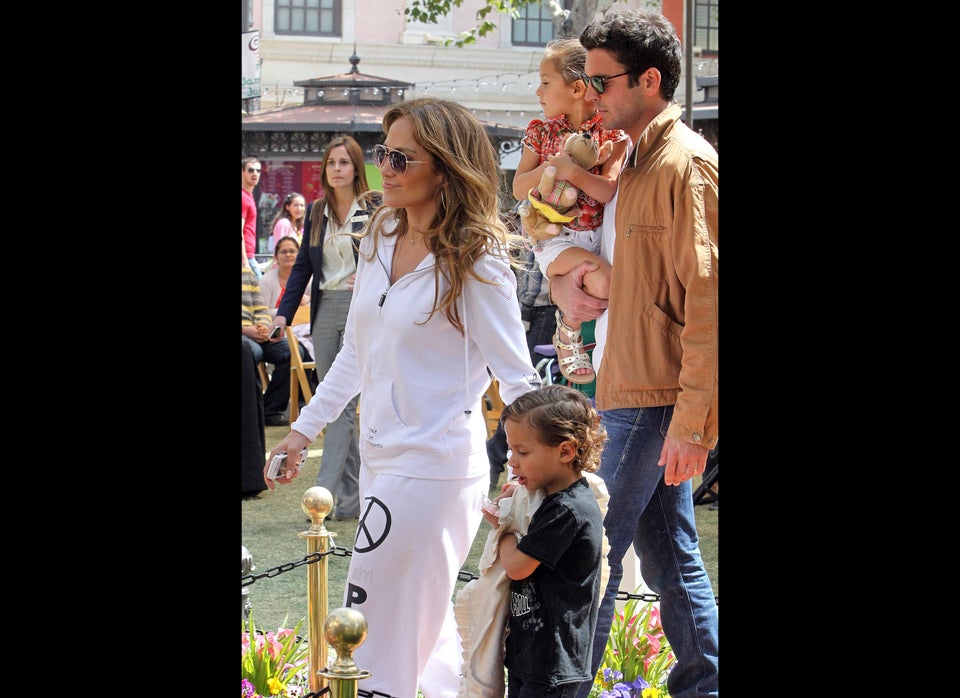 Celebrity Kids: Out And About
Popular in the Community