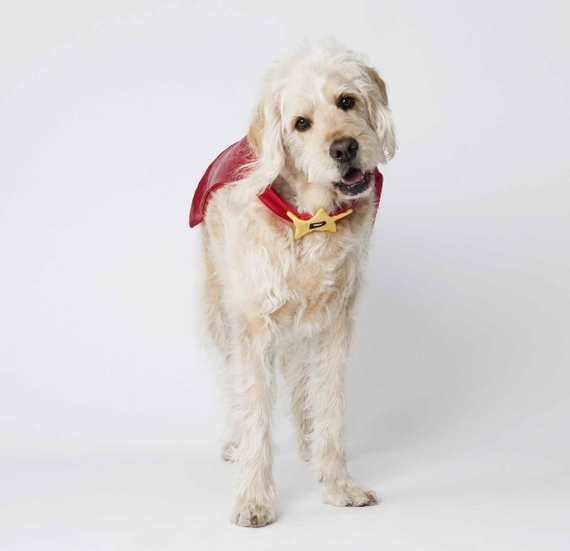 Meet Bocker the Labradoodle: star of screen and print; doer of good deeds; forcer of smiles, and head tilter extraordinaire. (Rumplepimple hopes to be as accomplished as Bocker some day.)
Bocker's mom, Marie Shelto, answered a few questions for me about her furry force of good. But before you read about that you should click here to listen to Bocker's theme song. Bocker's dad Steve Shelto, was a professional musician who wrote the lyrics and performed the vocals.
Bocker is quite the famous pooch! How did he become a model?
From his first day home at seven weeks, I started to see there was something very special going on. He was a typical puppy but always seemed to look before he leaped. His head tilted back and forth at everything we said, as if he was trying to understand each word. Everyone said he should be a model and be in magazines. I searched online for "animal talent agents" and sent off a few pictures. Within a week, he had his first interview. His first job was for Tommy Hilfiger and then Ralph Lauren and on from there.
Bocker appeared in Men In Black 3, Eat Pray Love, and War of the Worlds. He was even featured on The View. How did he transition to screen?
He was always known as being very calm and had the ultimate in patience. So many times I was asked by photographers, "Who is inside that furry suit?" The calls came in pretty regularly.
Bocker has been a therapy dog since he was 18 months old. How did you get involved with that work?
Bocker always made people smile no matter where he went. Children adored him because he was big and fluffy and was tall enough to look right into their eyes.
He even worked with traumatized students at Sandy Hook Elementary school?
A family member was the pediatric dentist in Newtown and 8 of the 20 young children that were murdered were his patients. He spoke to me about having Bocker visit. We got in touch with the library and asked if we could help by having Bocker make an appearance and read his book, Chasing Bocker's Tale. So Bocker first went to Newtown as the "celebrity pup" who was also an author. He was used to being surrounded by children. They would circle around him and all the little hands reached out to pet him. I would see his head peek up and give me a look as if saying "I'm fine mom...you know I love being around children".
Word spread and we were invited to all the town events. His plush toy, book and DVD are carried in one of the stores in town. We feel as if the amazing friendships we made there will last forever and we are honored to be considered part of the community's extended family.
Bocker's website says that you want to "channel his goodness".
I always felt Bocker was here for a reason. I was told by Bocker's first trainer that Bocker is a thinking dog. I feel like he is guiding me all the time with everything we have been involved in. He became a great fundraiser for many causes and lead walks for autism, cancer and Down syndrome. Helping raise awareness and money for shelter animals became another huge part of his life. I think it came across in his book that he wanted to help anyone who wasn't as fortunate.

Tell us about Bocker's fight with lymphoma.
He was diagnosed December 1, 2014. Bocker completed a 25-week chemotherapy protocol and radiation last month. He had his first check up since finishing treatments and everything looks good and he is still in remission.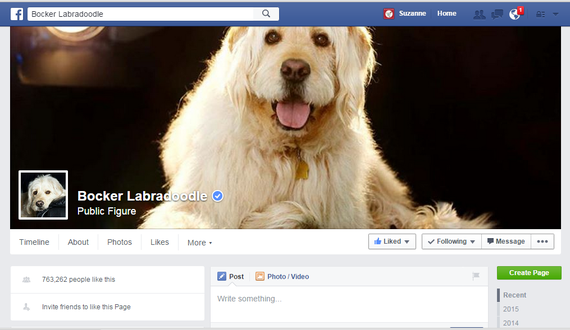 Bocker started having a following on Facebook because of his work as a fashion model for magazines, appearances on TV and movies and his therapy work. He was always ready to lend a helping paw to anyone who asked.
With his bout with Lymphoma, we tried to be as honest as possible that there were good days and not so good days. Everyone stuck by him when he lost his hair during chemo. We hear from people every day about their struggles with their own illnesses who say that first thing in the morning, they look to see Bocker's face and that he has helped them get through each day.
"When I hear how he has affected the lives of others, it brings me to tears. We are doing therapy work without leaving our home."
What does the future hold?
Bocker is 12 and each day with him is a blessing. His new hair growth is puppy hair and he looks like a big Muppet. He does have an issue with arthritis so we go at his pace. We have one daycare center for individuals dealing with Cerebral Palsy, Muscular Dystrophy, and Multiple Sclerosis where they will not let Bocker retire. He does get a huge burst of energy and he makes sure to interact with everyone, whether walking up and down with them in their gait-trainers or giving big Bocker kisses.
Through Bocker's oncologist and the Animal Cancer Foundation we were able to get a list of organizations that help people with veterinary cost for animals in need of life saving treatment. We contacted a number of them and were able to make other individuals in need aware that there is help and that No One Fights Alone.
His work is not done. He's still guiding me down this new path and bringing people and opportunities to help others into our lives. It is an honor for me to follow in his pawprints. A reporter once said "Bocker is an angel and Marie is his wings." Lucky me.
Nope, lucky us, that we get to be inspired by your story. Thanks Marie. And Bocker.
Calling all HuffPost superfans!
Sign up for membership to become a founding member and help shape HuffPost's next chapter