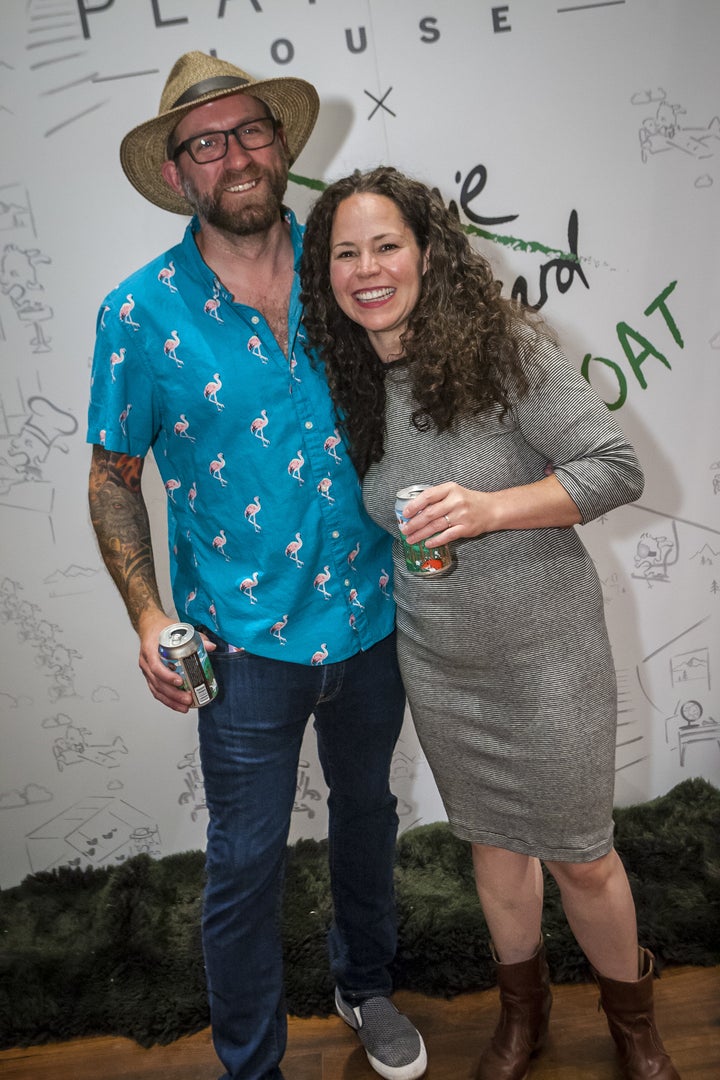 It's 2 p.m. on a bluebird Colorado day in Aspen, Colo., and I'm sitting on the sun-kissed patio of the exclusive American Express Platinum House watching Chicago's powerhouse chef Stephanie Izard in action. In the past 24 hours I've met with or witnessed trailblazing women at the Food & Wine Classic in Aspen. The short list: Top Chef's Gail Simmons, Mary Celeste Beall of Blackberry Farm, Francis Ford Coppola Winery's Associate Winemaker Tondi Bolkan, and cheese expert Laura Werlin. Our national food and wine scene is having a moment, and though the male epicurean elite has traditionally owned the spotlight, the women are currently stealing the scene.
The Amex House is a flurry of action. Guests sample Izard's homage to Chinese cuisine while tasting artisan sips by Hella Cocktail Co. Women primp at a DryBar pop-up. The day was kick started with an outdoor SoulCycle class, while an anticipated panel via the American Express Trade Program with Chef Curtis Stone and entrepreneur Will Guidara, among others, was being staged at Aspen's Hotel Jerome. At the Amex House, attendees congratulate Izard on her culinary homerun in Aspen; some ask for selfies. She remains poised—though it's obvious she's most in her element while slicing and dicing. Herewith, Izard's recipe for success. And, as witnessed during the Food & Wine Classic in Aspen, six women to watch in today's fast-paced national culinary scene.
CHEF STEPHANIE IZARD'S RECIPE FOR SUCCESS:
Ingredient currently obsessed with: Yuzu Kosho
I'm never in the kitchen without: Red Boat Fish Sauce
Chef I'd most want to dine with: Chris Cosentino. He is always the most fun!
Favorite airport restaurant: The Publican at O'Hare. They did great job of keeping the restaurant close to the original in Chicago's West Loop.
Why Chinese-inspired cuisine? I love the challenge of making all the noodles and dumplings! Plus, I think a lot of people always eat Chinese, even just simple Chinese takeout. My hope is that we can introduce them to some regional cuisine and flavor from China they have never tasted before.
CULINARY GPS: SIX WOMEN TO WATCH
Ellen Bennett. Bennett helms an empire out of the small cottage industry of beautiful, super sophisticated aprons.
Jordan Salcito. The owner of Bellus Wines and Ramona Fizz, Salcito is the wine director for Momofuku Restaurant Group with David Chang. A formidable presenter, she's charming while also incredibly wine savvy.
Helen Johannesen. The owner of Helen's Wine Shop in L.A., Johannesen oversees wine programs for five L.A. restaurants. With a no-nonsense approach, she makes wine approachable, and is leading a new generation of top female sommeliers.
Chef Angie Mar. Mar recently bought The Beatrice Inn from Vanity Fair's Graydon Carter and has solidified its reputation as a New York see-and-be-seen hot spot.
Chef Nina Compton. Compton's Compère Lapin celebrates her Caribbean roots while leading the oh-so-tasty New Orleans culinary scene.
Sara Kramer and Sarah Hymanson at Kismet. This dynamic L.A. duo lassoes Mediterranean flavors as muse. Their innovative creations showcase tradition, imagination, and talent.
Related
Popular in the Community