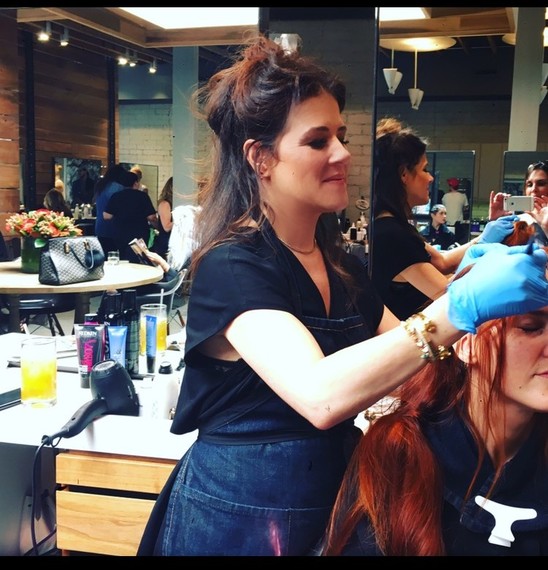 Celebrity colorist and co-owner of Mèche salon in Beverly Hills, Tracey Cunningham, is one of Hollywood's most sought after colorists. Gwyneth Paltrow, Jennifer Lopez and the Kardashians are just a few celeb clients that trust Tracey with their famous locks. Her salon, modern and welcoming, is a reflection of Tracey's own ebullient spirit.
When she's not jetting off to Dubai to attend to her clients there, she's Balayaging (Balayage is a French word meaning to sweep or to paint, allowing for sun-kissed natural looking hair color), her clients into perfection in L.A. Tracey is a rock star colorist who doesn't stop moving in her high-energy salon. She spills her top 5 trending secrets to me while she skillfully works. Here's what's hot in Hollywood right now:
1. Babylights - A highlighting technique. They're delicate highlights created using a very fine hair color technique to mimic the subtle, dimensional hair color seen on children's hair. It makes color look fresh and natural, very complimentary around the face. The result is subtle but beautiful.
2. Sombré - It's the tried and tested ombré style of colored hair but softer. It's somewhat of a grown out summer color look, a subtle graduation from roots to ends. Sombré- the appearance of the ombré dark root - is softer, less harsh and the colors seamlessly blend together. It's low maintenance and very flattering.
3. Shades E Q Glosses - This is a great "pick me up" in between highlight/full color appointments. It refreshes your color, corrects and disguises grays and gives a glaze or a shine to your hair. My clients love this treatment. It's a gentle, no lift formula that guarantees healthy, shiny and amazing hair color. The wheat amino acids in Shades E Q locks in moisture for incredible conditioning and improves shine!
4. Red and Auburn Hues - Cinema influences hair trends. Haley Bennett was taken to a rich red for her movie, Magnificent Seven, and Emma Stone was transformed into a redhead for her film La La Land.
5. Olaplex - This has been my go to treatment since its conception. All my clients are treated with Olaplex #1. I incorporate it when applying coloring, then after color is rinsed out I conduct another Olaplex #2 treatment before I shampoo and condition. Olaplex #3 is a take home treatment you can use two to three times a week to keep your hair as optimally healthy as possible. It's a strengthening treatment which rebuilds the bonds of your hair after years of coloring, blow drying, straightening etc. It's my miracle worker and was once my secret, but no more! Olaplex Bond Shaper is the latest and most amazing treatment that's coming my way. It's in production presently. And yes, I will be the first to use it on my clients, and like the original Olaplex, I'm sure it won't be a salon secret for too long!!!