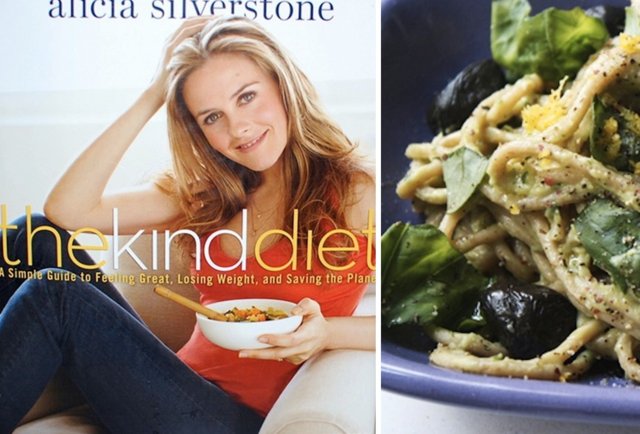 Credit: The Kind Life
Celebrities have many talents: for instance, John Travolta can fly a plane and hear your thoughts from space. But which celeb's gonna be the MVP at a party? Try Coolio. Or General Zod. Or maybe the ghost of Yul Brynner, because those cats can cook for a crowd, as evidenced by these bizarro-world cookbooks "written" by everyone from Ted Nugent to Sinatra. It ain't a party until somebody busts out the squirrel stew...
Alicia Silverstone's The Kind Diet
In an effort to promote healthy eating and trimming the excess baggage that comes with the Unkind Diet of Dorito/bacon smoothies, the actress offers up a massive list of vegan food that, unlike most vegan food, actually sounds pretty good.
Signature dish: Avocado Alfredo, which subs the green stuff for cream but is somehow so delicious that you'll be clueless it's actually good for you.
Cookin' with Coolio: 5 Star Meals at a 1 Star Price
It ain't a gangsta's paradise without the right eats, and Coolio's book -- which springboarded into a web series -- covers all the bases, with chapters covering everything from starters ("Appetizers for that Ass") to meats ("Pimpin' the Poultry", "It's Hard Out There for a Shrimp") to healthy choices for the ladies ("Salad-Eating Bitches").
Signature dish: Coolio Fork Steak, from the "Sinful Steaks" section.
Popular in the Community