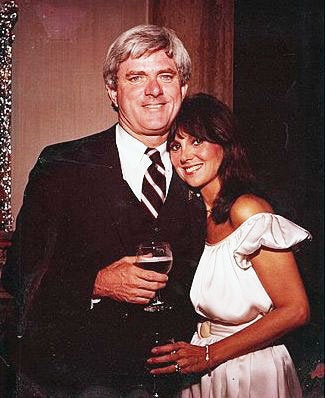 When Phil and I were dating, we took a trip down the Mississippi on the Delta Queen. On board was a small band of elderly men playing Dixieland Jazz. They were all very good, but the clarinet player was in his own world -- completely consumed by the music.
"Are you watching the clarinet player?" Phil whispered to me. I whispered back, "I can't take my eyes off of him!" And to this day, that remains a little code for us: Whenever we see someone who is truly in the zone -- in the moment -- we say to each other "He's a real clarinet player."
Today, Phil and I will celebrate 32 years of our own duet on the clarinet. And all these years later, I'm happy to say, we're still in the zone.


May 21st is our anniversary date, and it's hard to believe that so many years have flown by. It's especially surprising for me since I was very wary of marriage when I was younger. I always thought of it as a confining place for women -- a place where only one person could reach for their dreams, while the other was a kind of support system. But then I met someone who showed me that marriage could be a roomy place for two people -- and, more important, two people's dreams.
And here we are, Phil and me, celebrating more than three decades of love, trust and friendship.

Of course, every marriage has its waves of ups and downs -- and ours is no different. And it's not made any easier when there are two careers in the family. Then throw in living in the public eye -- that just adds to the challenge.
But every couple has their own unique set of challenges, and all of them have to find their own way to keep their marriage strong and the romance alive. I can't speak for anyone else, but I can tell you that for Phil and me, the most important thing is making time for each other -- and of course, keeping the laughter coming. Laughter is the cushion of life -- and certainly of a marriage.
I'm a big believer in romance and I think it has its best chance of surviving if both people are invested in keeping it alive. Like the tango, it takes two. So in celebration of romance and commitment, here's a look at some of Phil's and my personal photos, as well as a collection of celebrity couples who have defied the odds and stayed in the zone.
PHOTO GALLERY
Celebrity Couples Who've Defied The Odds
Calling all HuffPost superfans!
Sign up for membership to become a founding member and help shape HuffPost's next chapter