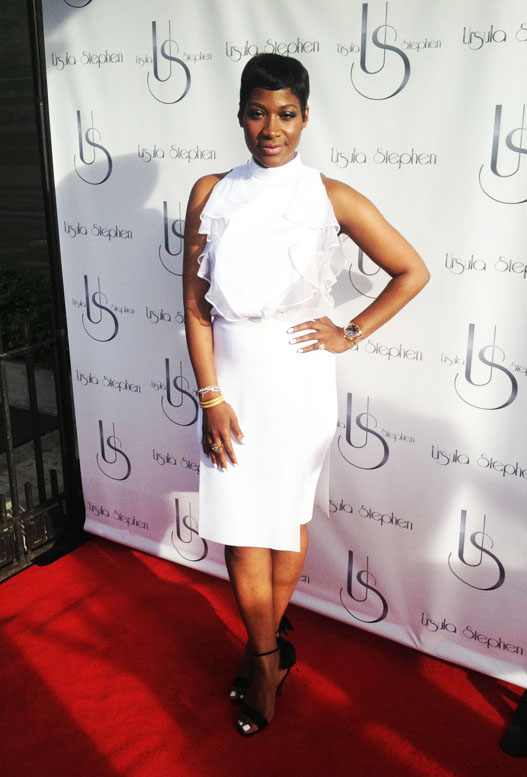 This past Tuesday night, I attended the grand opening of my favorite hair stylist, Ursula Stephen's new salon in Fort Greene, Brooklyn. In her 15+ year career, Ursula has worked with a number of celebrities, including Kerry Washington, Michelle Williams, Keyshia Cole, and most notedly, Rihanna. The Brooklyn native, who created a plethora of iconic styles for Ri, is also the most down to earth gal you could ever meet. I love her personality! I first met Ursula last year at fellow hairstylist, Keith Campbell's book signing and then later at NV Magazine's event this year, where Ursula was honored along with my friend Ty Hunter for their amazing work in the entertainment industry. I had a chance to do a quick interview with Ursie on the red carpet and it was a blast! She talked about which hair stylists she admires, who she'd like to get her hands on next, and what inspiration she took from Tyra Banks' America's Next Top Model when planning her new salon. Here's our fun-filled convo!
JoyLovesFashion: Hi Ursula! So great to see you. I see you're very excited!
Ursula Stephen: Hi! Yes, I'm excited in a calm way. I'm surprised.
JLF: Congratulations on the salon!
US: Thank you, thank you!
JLF: Who are you wearing today?
US: Today I'm wearing Givenchy, honey. All white! I'm praying I get through at least two hours of this event without anything happening [to my dress]!
JLF: Who in the hair industry do you really admire? Who have you always looked up to?
US: I absolutely look up to Edris and Ted Gibson. Two reasons, Edris, I will cry! (her voice cracks.) I look up to her because she was in the meat packing district long before any businesses were there. So, that mean's she's smart. And I think she was there for like over 10 years. And she's a Caribbean black woman! Ted Gibson, too because he has become a household name. And not only is he a household name but he's a stylist that is absolutlely diverse. He does black hair, white hair, all types of hair! I know people look at me like that. And, you know, he's big: salons here, doing tv shows! He's definately a mentor to me. Also, [I admire] the everyday hairstylist that's in the salon till 2 in the morning, because I was absolutely that stylist. So, I look up to them as well becasue for you to do that, you gotta love it. You have to absolutely love it.
JLF: So you mentioned in an interview that you want to have your salon be sort of like a training salon, like America's Next Top Model, where Tyra "trains" her models. Tell me more about that.
US: Yes, absolutely. Not necesarily the whole thing but I want to incorporate that training aspect. A lot of girls look at me or they look at other stylists in the industry and they want to do freelance, but they don't know the behavior to be on set. So if you're gonna be in my salon we're gonna do amazing photo shoots. Everybody's going to have an opportunity to do a photo shoot and put their picture up in the window and at the end of the day, they're going to end up building a book. So in that way, you know what I mean? That's just one aspect of other plans that I have in mind for the salon.
Calling all HuffPost superfans!
Sign up for membership to become a founding member and help shape HuffPost's next chapter