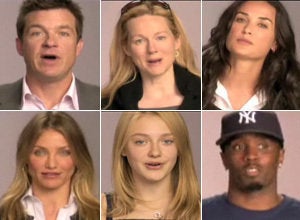 Hollywood heavyweights made their pledges to Barack Obama in the video below. Directed and edited by Demi Moore, it features celebrity pledges by Cameron Diaz, Hayden Panetierre, Laura Linney, Dakota Fanning, Jaime Pressley, Ashlee Simpson, Nicole Richie, Ashton Kutcher, Tobey Maguire, Diddy, Alyssa Milano, Marisa Tomei, Courteney Cox Arquette and David Arquette, and others.
Reflecting Barack's call for change, the film features over 50 of the biggest stars in Hollywood revealing how they plan to personally participate in keeping America strong, proud and green. The clip will be presented to our new President during his inaugural celebration.

"There's an assumption that this one man is going to take on his new job full-time and somehow wave a magic wand of change, and I don't believe that to be true," Ashton tells Reuters. "I think that we have to be the leaders, and that's not celebrities--I think that we as citizens have to be leaders of the movement that we want to create."
Support HuffPost
The Stakes Have Never Been Higher
Popular in the Community