To emphasize the egregiousness of it all, we bring you the chop jobs of some beautiful women that you know quite well. Here are 9 obvious Photoshops, intended as a reminder that even celebrities can't live up to a digitally enhanced perception of the female ideal.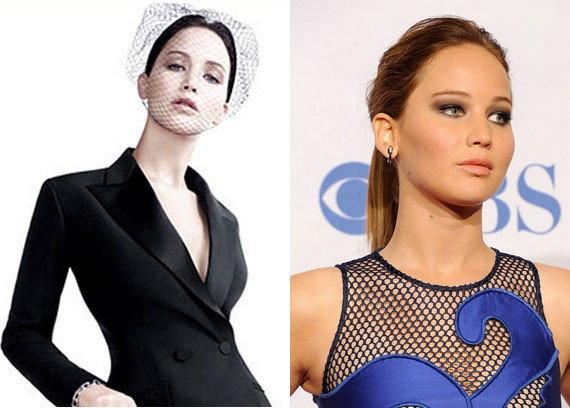 No, Dior, we don't believe that absurd drawing of a neck is attached to J.Law's head ... and neither does J. Law. As America's BFF told "Access Hollywood" of the February 2013 ad campaign, "That doesn't look like me at all. I love Photoshop more than anything in the world. Of course it's Photoshop, people don't look like that."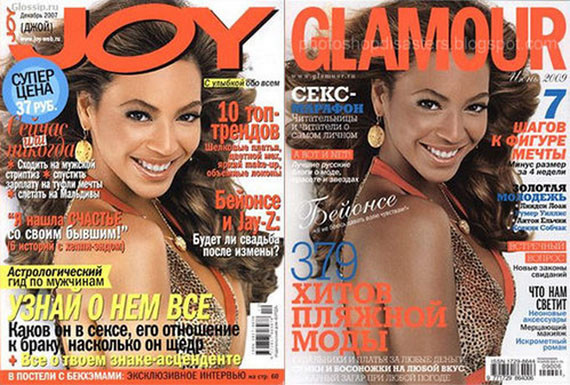 If the Queen of the Universe needs Photoshopping, there's definitely no hope for the rest of us. The June 2009 issue of Russian Glamour yanked a photo from the December 2007 Joy magazine and basically turned Beyonce into a completely different person, shaving off her back and providing quite the tan with contrast changes.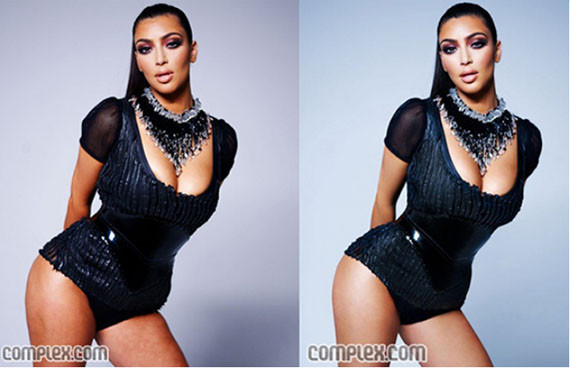 In March of 2009, Complex accidentally ran an untouched photo of Kim on their website. Though it was soon replaced by the photoshop masterpiece on the right, readers did not miss the mistake. Accustomed to scrutiny, Kim responded brilliantly on her website, writing:
"So what? I have a little cellulite. What curvy girl doesn't? How many people do you think are Photoshopped? It happens all the time! I'm proud of my body and my curves, and this picture coming out is probably helpful for everyone to see that just because I am on the cover of a magazine doesn't mean I'm perfect."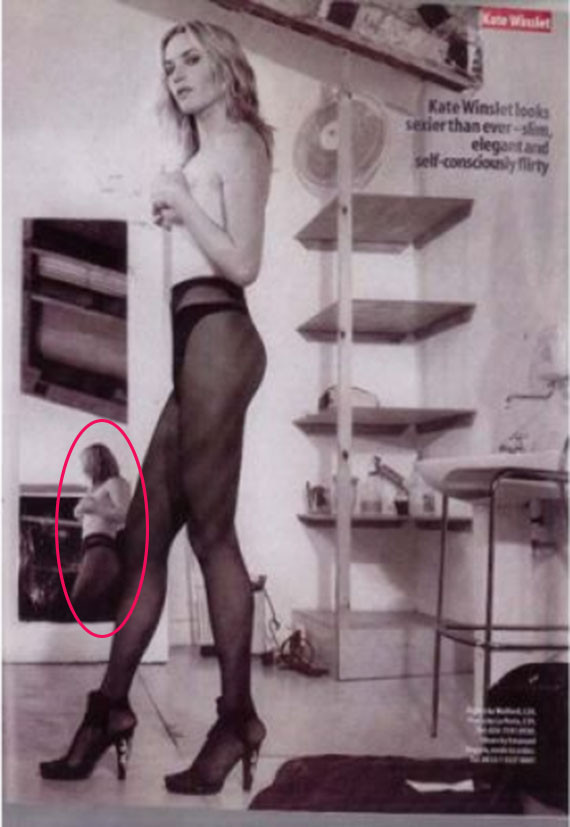 Kate is known to be proud of her figure, and rightfully so. Leonardo painted her like one of his French girls, dammit! Alas, that did not stop GQ magazine from chopping off her curves in this 2009 photo shoot. Too bad they left her unaltered image in the mirror.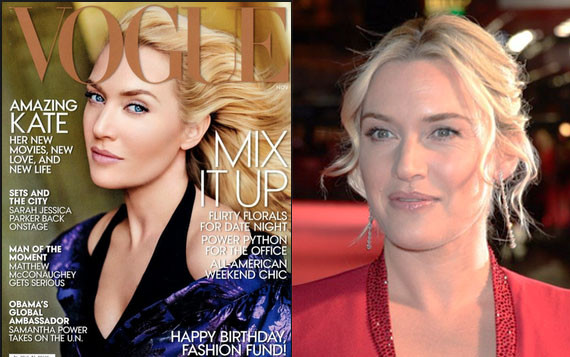 More recently, Winslet's November 2013 U.K. Vogue cover looks like a literal painting. Her eyes are so absurdly blue there should be a Crayon color named after them, but just look at that skin! Kate Winslet is a stunning 38-year-old woman. Not even newborn infants have faces that unblemished and smooth. Oh yeah, also her mole is gone.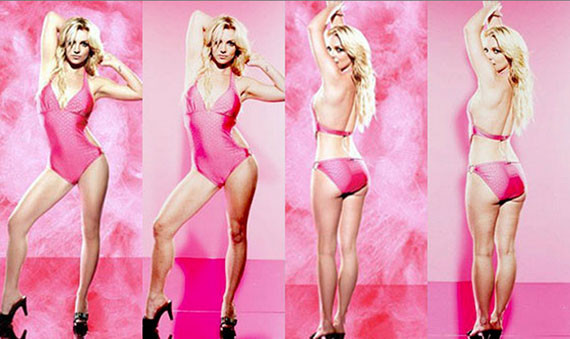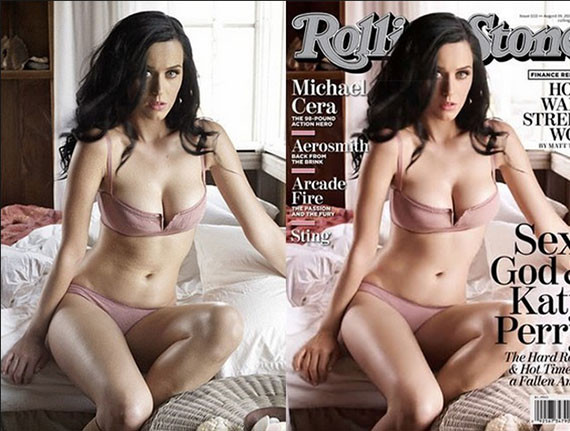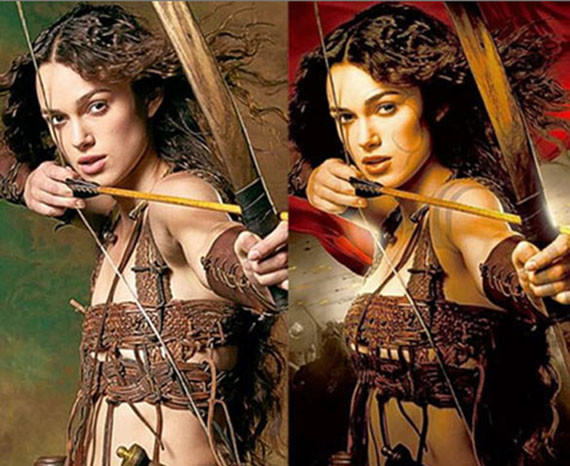 Something other than a confusing face tattoo was added to this 2004 "King Arthur" poster. Keira responded to her brand-new bossom with complete honesty, telling Us Weekly, "Those things certainly weren't mine." Interestingly enough, the change came after Knightley told the Guardian her archery practice for the role left her "chest flattened even more."
Kelly has long spoken out about refusing to conform to the Hollywood ideal. The fact that she got this digital diet specifically after talking about her "total body confidence" only makes this September 2009 chop job all the more grim.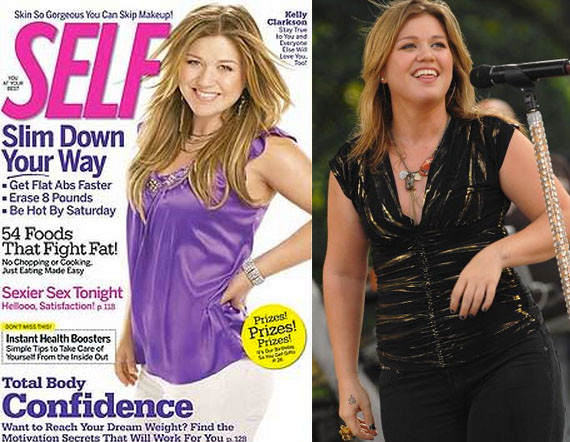 When "ET" asked Self editor-in-chief Lucy Danziger about the cover, Danziger blatantly admitted to the alterations, saying:
"Yes, of course we do post-production corrections on our images," Editor-in-Chief Lucy Danziger tells ET. Airbrushing images is an industry standard, and the mag stands behind its decision. "SELF magazine inspires and informs our 6 million readers each month to reach their all around best," Lucy adds. "Kelly Clarkson exudes confidence, and is a great role model for women of all sizes and stages of their life. She works out and is strong and healthy, and our picture shows her confidence and beauty. She literally glows from within. That is the feeling we'd all want to have. We love this cover and we love Kelly Clarkson."
As Jezebel put it, "...but only if she's skinny."
Before You Go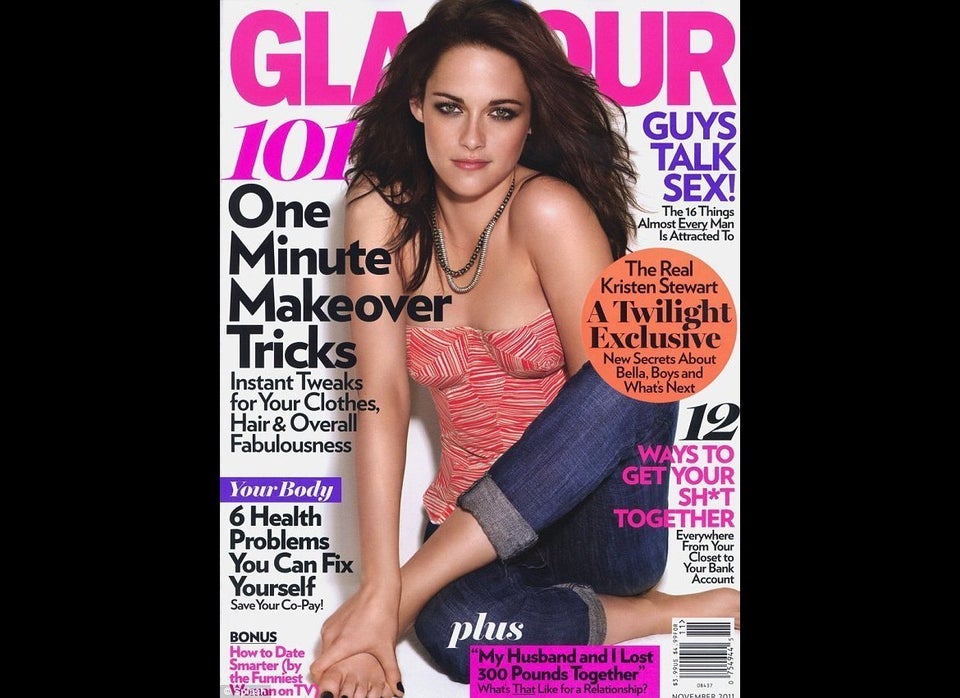 When Photoshop Goes Wrong...
Popular in the Community