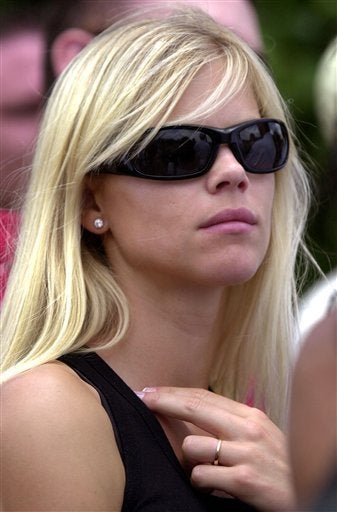 It's said that revenge is often a dish best served cold--but, sometimes, serving it up in the heat of the moment will drive the point home harder. When exacted at just the right temperature, revenge can even be the best recipe for a ruptured marriage. What happened between Tiger Woods and his wife--and what is continuing to happen in that celebrity family drama--may be living proof of that.
Woods is a sports icon on par with Michael Jordan, Babe Ruth and Wayne Gretzky. He made more money than any athlete in history ever has. There are people who know more about him than they do about President Obama, or any president for that matter. He was idolized, a superstar, a god. But just as when Zeus cheated on Hera, all of this crumbled when faced with the wrath of a woman scorned.
The gods of irony blessed us when Woods' wife, Swedish model Elin Nordegren, allegedly demolished his SUV's back windshield with a nine-iron as he attempted to flee from a fight triggered by his extracurricular activities. What she did may seem like a cliche in the revenge world: property damage, especially to a car, is one of the most common forms of revenge. But whether or not you condone what Nordegren did, it was undeniably effective. As we now know, it shattered so much more than a back windshield.
Woods had always kept his private life off the public's radar screen. And he looked like the polar opposite of John Daly, the "Wild Thing" of the golf tour. But the secret sexcapades of Tiger have been a ticking time-bomb waiting to explode. Like a triple-bogey on the 18th, Woods was forced to admit to hitting into these hazards publicly as woman after woman came forward with salacious details, shredding his "perfect game."
As shocking to contemplate as these revelations were at the time, there's something even more startling: those immediate fireworks may have done more to clear the air than any masquerade of marital harmony. His wife has had him by his golf balls since that fateful day, but--almost unbelievably--Woods may have a chance of preserving some of his image and family.
There are two places below the belt that hurts a man the most. One gets him into trouble with women, and the other place gets him out. At a big price, of course. Rumors circulated that Nordegren's received $5 million to stay with him, sit through counseling sessions and let him continue fathering their two children. You'd think nothing could mend a marriage better than oversized checks. Her pre-nup was also being revised, introducing some staggering new numbers. But then Nordegren took off, hiding out with family and friends, divorce rumors circulating, with her understandably unable to handle the insultingly ludicrous list of "lovers" coming out of the woods.
Now we're hearing that Nordegren is taking divorce off the table due to Woods' attempt to rehabilitate himself and his sexual "appetite" in a sex addiction center. Nordegren is reported to be reconsidering mainly because she doesn't want her children to grow up without a father; she herself grew up with divorced parents. And she may even believe that Woods is really sincere about changing his wayward ways.
By doing this, Nordegren no doubt realizes that she, too, is paying a price. Her life, one she managed to keep private despite her famous husband, will now be a major stop on the professional paparazzi tour, as it has been ever since she threw that club into that SUV. She will always be aware that everyone else now knows her man's clubs have been in many other women's warmers. But what everyone will also know is that she did not let him get away with it.
Plenty of celebrities, especially politicians, have seen their marriages exposed on the public stage with embarrassing details. Often, the wife will stand by her man, hold her tongue and not act on any revenge impulses in order to retain her dignity ... until the spotlight fades, and the marriage crumbles.
But with this incident, maybe that's changing.
Let's put the spotlight back on the cheating Governor of South Carolina, Mark Sanford and his wife, Jenny. It wasn't clear at first how they would resolve the matter. Jenny didn't attend her husband's degrading press conference, but she didn't denounce him immediately either. She now not only has filed for divorce, but she is coming out with a book, getting her name and face out there (she's one of Barbara Walters' Most Fascinating People of 2009) and is also supporting another candidate to succeed him as governor.
Or take Veronica Lario, the wife of the Italian Prime Minister Silvio Berlusconi, whose dalliances have been playing out on the front pages like a Fellini sex-infused soap opera. Lario is seeking a divorce and demanding he fork over approximately $65 million a year for humiliating her.
Maybe the lesson is that sometimes revenge can be the right course of action in order to be able to move on. It may be about timing, it may be about going with instinct, it may be about luck, but, in some cases, impulsive revenge may be less painful and damaging than calculated revenge.
The Tiger Woods saga will continue to play out, with the sex clinic stopover only the latest chapter. But at least he still has his family, for now. And he even has a couple sponsors left. But until the media blitz finds another victim (not even John Edwards' "love child" confession has managed to overshadow the Woods saga), Tiger will be hitting out of heavy rough, all because he played the wrong holes.