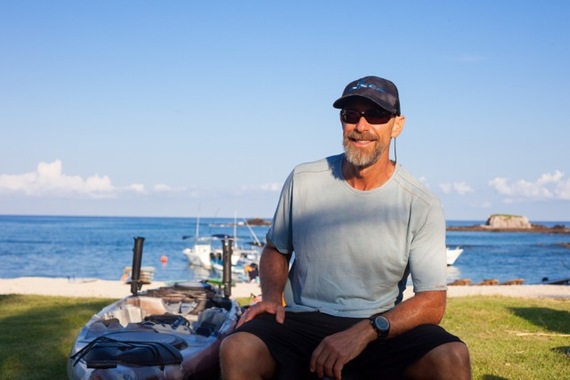 I've never been a celebrity gawker.
So when the St. Regis Resort's public relations director asked me to sign a non-disclosure agreement, I didn't think twice.
I would always be in favor of protecting someone's privacy. Particularly if the luminary had children in tow. Or maybe the star in question was on his or her honeymoon.
No photography-laden tweets would be forthcoming from me.
I was checking in to a luxury hotel just north of Puerto Vallarta on the Pacific coast of Mexico. The Punta Mita Beach Festival promised small group sessions with experts in sports like stand up paddle board, scuba and surfing, paired with fine wine and gourmet food, compliments of regional chefs.
The ink on my NDA was barely dry when my friend and I sauntered in to the opening poolside cocktail party and immediately heard the rumble. The celebrity in question was in our midst.
As bulky bodyguards protected her from conceptually overzealous fans, I was mystified. Where was all that legally protected concern for privacy?

We sipped exotic cocktails, as the hotel General Manager introduced the festival's guest chefs who had prepared culinary works of art now on display with the tropical sunset as backdrop.
We clapped for Scott Chandler, a super star pro surfer and Ana Paula Dominguez, Director of the Mexican Institute of Yoga. And we put our hands together for Dr. Kenny Broad, an environmental anthropologist and a National Geographic explorer. He was on tap to lead participants on a snorkeling adventure in the nearby Marietta islands. While the spotlight was directed elsewhere, our resident reality star slipped out.
As the days unfolded, the celebrity most well known for her ......celebrity, began posting bikini-clad selfies on Twitter and the tabloids began reporting her whereabouts.

I guess this is how the celebrity publicity game is played. Fein interest in privacy. Then, fan the whisper campaign about your whereabouts. A global game of hide and seek.
This felt all wrong. How did our cultural priorities get so catawampus?
Shouldn't those newshounds be reporting that a world-class scientist was in the house sharing stories about climate change and the future of fresh water?
Didn't they want to know that Dr. Broad explores the meaning of blue holes and deep caves and was discussing the inequity in natural resource management and the use and misuse of scientific information? We're talking the future of our planet stuff here.
Sure, the reality star is married to a rapper who shares her initials and their child is named after points on a compass.
But, hey, Dr. Broad's first name begins with a K, too. And he's married to a fellow scientist, Dr. Amy Clement, who also chases clues about climate change and shares her knowledge with students on college campuses.
Would their work reach a wider audience if they teamed up as Kenamy or Broadent?
On the final night of the Beach Festival weekend, images from Dr. Broad's National Geographic explorations flashed on a large screen while participants dined on fresh seafood. He shared a few stories with the crowd about deep cave diving and how Red Saharan dust makes its way across the Atlantic.
After he returned to his seat, three young teens shyly approached the scientist. No bodyguards intervened. No cameras flashed.
Rather, Dr. Broad encouraged the boys to explore and follow their dreams and provided his contact information if they wanted to ask follow up questions.
I have nothing personal against KK. But, as I see it, in the real world, the work of KB, Dr. Kenny Broad, and his fellow scientists and explorers should garner center stage. Don't they deserve the bright light of our collective interest?