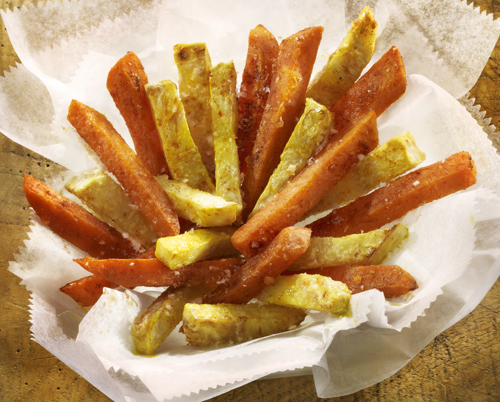 Baked Spiced Celeriac and Yam Fries
Photo by David Bishop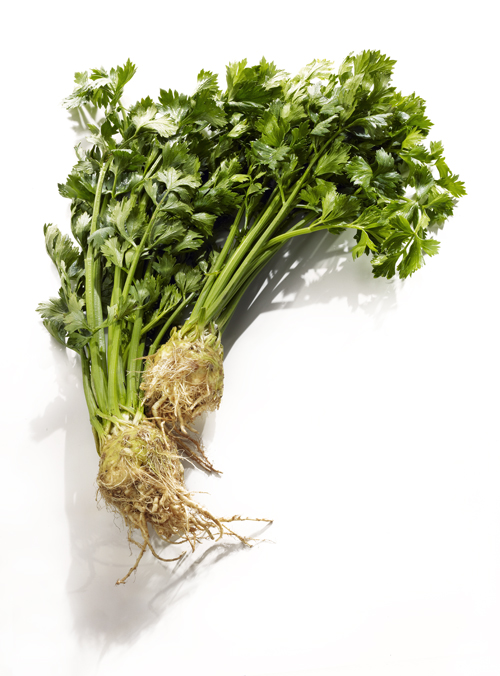 Photo by David Bishop
Celeriac, or celery root, is a kind of celery in the parsley family cultivated for its flavorful and nutritious qualities, and can be used as a substitute for white potatoes, though it stands well on its own. Celeriac has less than half the calories of mature white potatoes. See Wikipedia for more information and history.
It differs from most root vegetables in that it is not very starchy, is low in carbs and calories,
low in saturated fat and cholesterol, and is known to lower blood cholesterol, lessen the risk of stroke heart attack and obesity, and reduce irritable bowel syndrome. It is high in Vitamin C, Vitamin K, Phosphorus, Potassium, Dietary Fiber, Vitamin B6, Magnesium and Manganese. All of which amounts to greater all over health and weight loss. See About.com and www.asiaonline.com/vegetables
I have included four recipes and modes of preparing celeriac here for your pleasure and health, with the added benefit of beauty and style for entertainment.
Recipe for Baked Spiced Celeriac & Yam Fries Serves 4
Ingredients:
1 medium celeriac root
1 medium orange fleshed yam

2 Tablespoons fresh squeezed lemon juice

About a 1/4 cup extra virgin olive oil
Turmeric to taste
Paprika to taste
Flaked Sea Salt to taste
Directions:
Preheat oven to 375"F
Peel the yam with a vegetable peeler
Peel the celeriac bulb with a paring knife
Cut both root vegetables into large juliennes, about 3" X 1/2"
In a bowl, toss the celeriac juliennes with the lemon juice
Boil the celeriac juliennes for about 20 minutes and drain well
Boil the yams for a bout 15 minutes and drain well
Dry both root juliennes well and toss with just enough olive oil to coat the fries
Line 2 sheet pans with parchment paper
Lay the celeriac onto one pan, single file and the yams onto the other
Sprinkle the celeriac strips with turmeric and the yams with paprika, turning to cover all sides lightly.
Sprinkle all of the juliennes lightly with flaked sea salt on all sides
Bake in a the oven for 20 minutes, turning the fries over about 1/2 way through to brown all sides
Serve immediately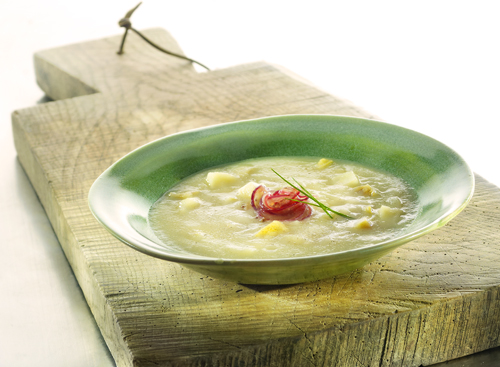 Celeriac and Pear Soup with Pickled Red Onions
Photo by David Bishop
This Recipe for Celeriac and Pear Soup is delicious served hot, cold, or at room temperature, making it a truly versatile starter, snack or lunch. The pickled red onion adds a sweet, tart, salty zazz that punches the flavor level up to excellence, balancing and harmonizing with the celeriac, pears and shallots.
Recipes for Celeriac & Pear Soup with Pickled Red Onions Serves 2-4
Ingredients for Pickled Red Onions:
1 small red onion, peeled and sliced very thinly
1 cup white grape juice
1/2 cup of red wine vinegar
1/4 cup honey
1/2 teaspoon sea salt
1/4 teaspoon mustard seeds
1/4 teaspoon coriander seeds
1/8 teaspoon celery seeds
Directions for Pickled Red Onions:
Combine all ingredients in a quart size sauce pan
Boil for about five minutes
Remove the onions with a slotted spoon to a plate to allow to cool, laying them out as separately as possible
Ingredients for Celeriac & Pear Soup:
1 quart of free range chicken broth
2 medium celeriac bulbs, peeled and diced into one inch cubes
2 ripe pears diced into one inch cubes (I used the Bartlett variety for their sweetness and golden blushed pink skin)
2 shallots, peeled and sliced thinly
1/4 teaspoon freshly ground black pepper
1/8 teaspoon ground nutmeg
Directions for Celeriac & Pear Soup:
Boil the celeriac and seasonings in the chicken broth for about 15 minutes or until just tender to a fork and bite
Add in the pears and continue to lightly boil for another 5 minutes.
With a slotted spoon, remove about a cup of the solid pieces in the soup to a small bowl and reserve
Puree the remaining soup in a blender or with a stick hand blender
Add back into the soup, the reserved solid pieces and stir to incorporate
Serve into shallow soup bowls and garnish with Pickled Red Onions and chives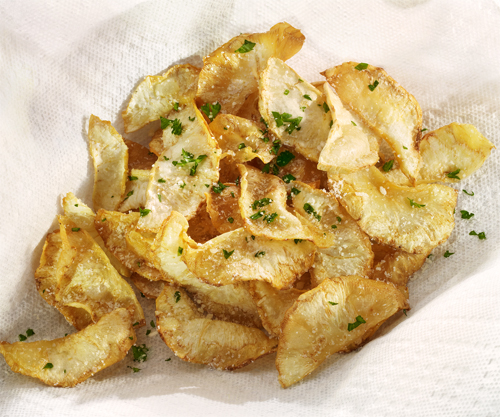 Herbed Celeriac Chips
Photo by David Bishop
Celeriac chips as a substitute for potato chips is a very smart choice in so many ways. First there is the calorie count. Raw, celeriac has 66 calories per cup while white potatoes have 142 calories per cup. Celeriac is high in both soluble and insoluble fiber, which is essential for not just colon health, but the all over health of the body, including diabetes reduction, lessening the threat of heart attach, stroke, obesity and irritable bowel syndrome. See http://www.webmd.com/diet/fiber-health-benefits-11/insoluble-soluble-fiber Dietary Fiber: Insoluble vs. Soluble
Recipe for Herbed Celeriac Chips Snacks for 2
Ingredients:
2 quarts canola oil
2 small celeriac bulbs, peeled
1/4 cup freshly minced flat parsley
Sprinkle of grated romano cheese to taste
Flaked sea salt to taste
Directions:
Heat the canola oil in a fryer or a deep pot to to 375"F.
Keep track of the temperature with a good insertion thermometer. If you are using a pot on your stove, keep a lid nearby in case a spill causes a fire in the oil. Putting a lid on the pot immediately will extinguish a flame.
Cut the peeled celeriac root in half to make it easier to shave
Shave the celeriac root with a vegetable peeler, or cut it very thinly with a really sharp knife
Fry the slices until they are golden brown on the edges, in small batches. Do not crowd the fryer
Drain the crisps on paper towel lined baking sheets
Sprinkle immediately with flaked sea salt
Sprinkle with minced parsley and grated Romano cheese if desired

Mashed Celeriac with Apples Serves 4-6

Ingredients:
2 quarts salted boiling water
4 medium bulbs of celeriac diced into one inch cubes
1 medium sweet apple, chopped into about 1/4 inch pieces
1 medium onion medium finely chopped
1 minced shallot
1/4 teaspoon turmeric
1/4 teaspoon cayenne pepper
Sea Salt to taste
Directions:
Boil all the ingredients except the apple until they are nearly soft enough to mash
Add in the apple and boil for another 5 or so minutes
Drain the cooked vegetables, reserving the liquid
Mash the vegetables in a bowl with a hand masher or fork
Garnish with chopped scallions, sea salt flakes (if needed) and perhaps another dash of spice for eye appeal.
Celeriac is also wonderful grated raw into salads. Have fun creating your own renditions with this intriguing, delicious and healthful vegetable.
Also see my first blog foodfloozie.com and my professional web site at marilinda.com
REAL LIFE. REAL NEWS. REAL VOICES.
Help us tell more of the stories that matter from voices that too often remain unheard.