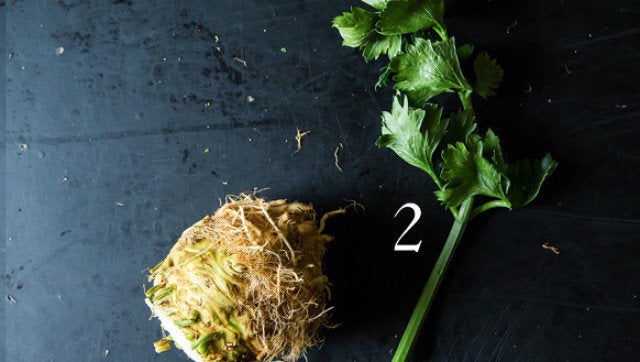 Every week we get Down & Dirty, in which we break down our favorite seasonal fruits, vegetables, and more by the numbers.
Celeriac -- also just called celery root -- has got to be the craggiest, least lovable plant there is. Covered in hairy roots and clods of dirt, it's like the hobbit of the vegetable world. Give it some time, though, and it'll pay you back: celeriac has all the mellow, vegetal flavor of celery and none of the stringy wateriness.
1. A Faux Root: Celery "root" is a misnomer -- it's actually a bulbous hypocotyl, which is the name for the area of a plant between its stem and roots. (In celeriac's case, the true roots are those feathery hairs all over its surface.) All varieties of celery will produce these bulbs when left to grow for long enough, but the celeriac you find at market is particularly chosen for its less prominent stalks and well-developed hypocotyl.
2. The Stalks: Because the plants are grown for what's underneath the soil, not above it, the stalks of celeriac bulbs are stringy and tough. Instead, skip ants on a log and use them to flavor stock, where they make a perfect stand-in for conventional celery in a mirepoix.
3. Celeriac, Unmasked: When it comes to celeriac, you have to be ruthless -- using a sharp knife and then a vegetable peeler, hack away at that tough skin until its pretty white flesh emerges. (You can even watch A&M demonstrate how on video!)
Like many of its root vegetable brethren, celeriac is wonderful both roasted and pureed. And of course there's the classic French céleri rémoulade, in which thinly sliced raw celeriac is tossed in best-quality aioli. What's your favorite way to cook with celeriac?
First 3 photos by James Ransom; last 3 by Sarah Shatz