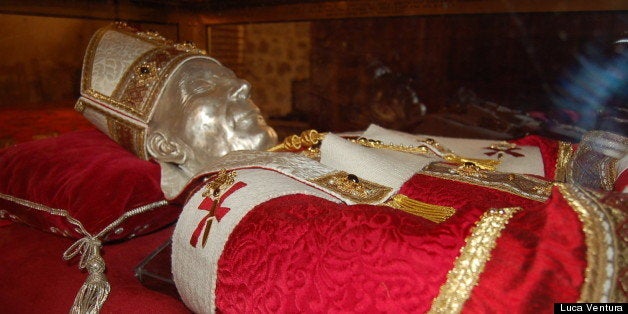 Pope Celestine V was an elderly, possibly frail man. After living as a self-flagellating hermit in Italy, he served as pontiff for only five months before resigning at the end of the 13th century. Since his death, the so-called "Hermit Pope" has been the subject of much speculation and intrigue, with legend holding that the he was murdered by his successor, Boniface VIII.
During examinations of Celestine's remains, a small, mysterious hole found on his skull led some to believe he died from trauma to the head. But a recent examination of the pope's skeleton suggests this murder theory might be false. Instead, Celestine may have died slowly from natural causes as he languished in Boniface's castle prison, where he was locked away soon after his resignation prompted fears that two popes could cause a schism in the Church.
Dr. Luca Ventura, a surgical and anatomic pathologist at the San Salvatore Hospital in L'Aquila who performed the latest examination on the pope's skeletal remains, said he has followed the Celestine case for decades. In fact, medieval murder mysteries kind of run in the Ventura family.
"I became interested in this case about 25 years ago, when Celestine's remains underwent a survey after being stolen and subsequently recovered," Ventura told The Huffington Post in an email. "That survey -- carried out by my father, a pathologist too -- renewed [murder] rumors concerning the hole on the skull. ... Since then, I have been ... looking [at] pictures, reading books and hoping to be allowed to directly examine [the] bones one day."
The younger Ventura's tests revealed that Celestine stood 5 feet, 5 inches tall, and suffered from a variety of illnesses, including parodontopathy and vertebral arthritis herniations of the intervertebral disc, according to Discovery News.
What Ventura did not turn up, however, was a definitive cause of death. The hole in Celestine's head was most likely caused during one of his multiple reburials and definitely did not occur around the time of death, Ventura says.
"Contemporary sources cite signs of pneumonia and a possible hemiplegia during his last days," Ventura told HuffPost. "We cannot clearly establish the real cause of death, but we are not able to rule out the possibility of murder planned by Boniface. It is a matter of fact that Celestine was imprisoned by his successor, and kept for almost a year in the fortress of Fumone, where life conditions might have worn him out."
The Italian researcher, who spends his days studying the remains of Catholic saints and leaders of the Italian Renaissance, said Celestine's bones are in relatively good shape. However, he noticed that the protective wax mask covering Celestine's face was in need of repairs.
A team of researchers led by Sergio Tiberti, of the L'Aquila University, and Giulio Sacchetti, of Rome's University Tor Vergata, have since reconstructed a handsome new silver mask for Celestine. "The result is the serene face of a nearly 90-year-old man who can still inspire emotions," Marino Di Prospero, an artist who works on funeral masks of mummified saints, told Discovery News. "That was quite an artistic task."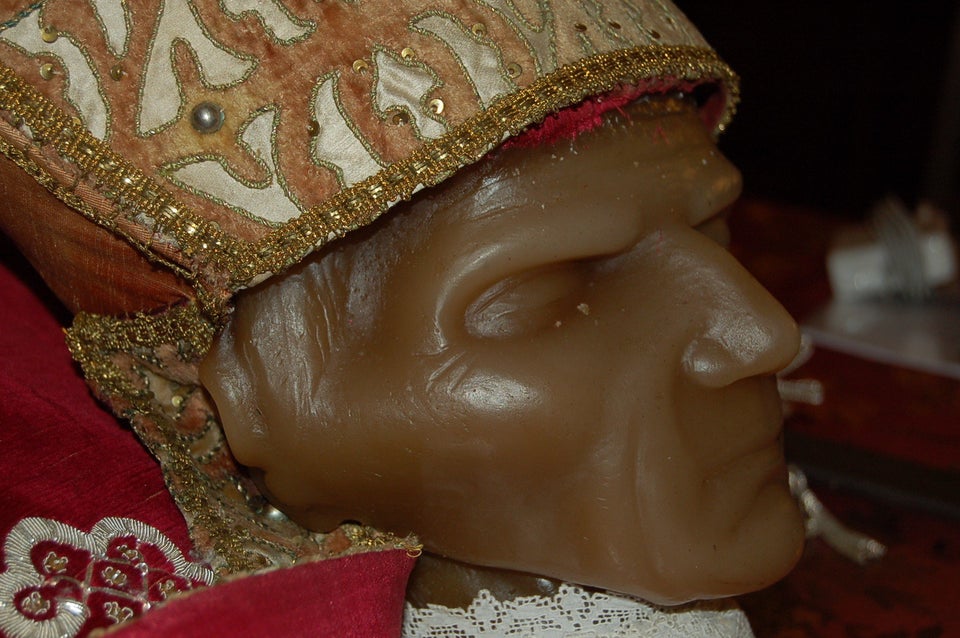 Hermit Pope Celestine Vs Bones Examined