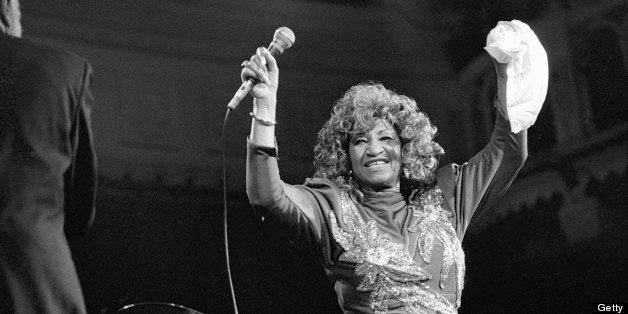 She's talented. She's flamboyant. She salsas. Her colorful dresses, her outrageous stilettos and her wild wigs could make cross-dressers of the straightest men. And she's incredibly hot. Move over, JLo, Shakira or any Latina performer in the history of contemporary Latin music. The stage is hers, and hers alone.
But unfortunately, Celia Cruz has been dead for a decade, though it doesn't seem that way when you consider her living influence on Latin music, which celebrates the 10-year anniversary of her death July 16.
"Cruz is indisputably the best known and most influential female figure in the history of Cuban music," Billboard Magazine once wrote about Cruz, confirming what everyone already knew.
She was born Úrsula Hilaria Celia de la Caridad Cruz Alfonso de la Santísima Trinidad, and full disclosure here: She is the only person I've ever interviewed of whom I've asked for an autograph –- and that includes my boyhood hero Mickey Mantle who I later met, played golf with for some time and wrote a book about.
"Dime que este no es para ti," Celia Cruz said, flirtingly it seemed, as she signed a photograph for me at the Fairmont Hotel in 1973. She didn't believe I was having it signed for my mom who had seen her perform several times.
She was 47 at the time but still gorgeous, still hot, and I could imagine her as my Mrs. Robinson, if there had been the opportunity or inclination on her part to get involved with a nerdy man in his mid-20s.
At the time she had just recorded the electrifying "Quimbara," that took her to the top of the salsa world, and she told me the story of how she was getting a new education in music.
"Dicen que es algo que se nombra 'multitrack,'" she said, and she didn't understand it.
Since breaking into music as a replacement for the lead singer of Sonora Matancera, Cuba's most popular orchestra, in the 1950s, Cruz had always sung live with all the musicians in tow, even when recording.
But in the new technology to which she had recently been introduced, recordings were being made with instruments on separate tracks — congas on one track, timbales, trumpets and piano on others.
Cruz said she was being asked to sing listening to the music mixed together into her headphones with no accompanying musicians in the studio.
"It feels so artificial," she said. "I don't really hear the music as the band is playing it. I'm just singing to music that's already been recorded. It's so mechanical, so unfeeling. I feel like I'm making music by numbers!"
But it continued to work for her, and the salsa boom of the 1970s made her bigger than ever, even until her death in 2003 at the age of 77.
Celia Cruz came alive on stage
Celia Cruz, though, was the consummate live performer who lived for the thrill of the stage and of live audiences.
Her performances were known for her trademark cry of "Azucar!" that she used, often as a punchline for jokes, but as much to recognize the best known product of her beloved Cuba where she was born Oct. 21,1925, the second of four children in an impoverished home.
While on tour in Mexico in 1959, Cruz and Sonora Matancera defected to the United States and became a U.S. citizen two years later, leaving Castro's Cuba behind.
Cruz later married one of Sonora Matancera's trumpeters, Pedro Knight, who became her manager when she broke off as a solo artist.
Cruz earned 23 gold albums and, though she came to be known as "La Guarachera de Cuba" and the "Queen of Salsa," she said she preferred another title.
"Why just queen of salsa?" she said. "Why not La reina de musica?"
The life of Celia Cruz: 10-year anniversary of her death
REAL LIFE. REAL NEWS. REAL VOICES.
Help us tell more of the stories that matter from voices that too often remain unheard.