 Celia Rowlson-Hall is a star. And I mean as in the old-fashioned glowy moment-before-discovery sort of way. With an infectious joy in her smile and a quirky openness in her dancer's step she radiates a fresh and distinctly female voice in film, with a touch of throwback faithfulness to the classic Hollywood greats.
Having trained in dance since childhood, Rowlson-Hall went on to get her BFA in modern dance and choreography before a New York relocation led to performing in and choreographing music videos, igniting her passion for filmmaking. She describes her pieces as "film and dance spectacles."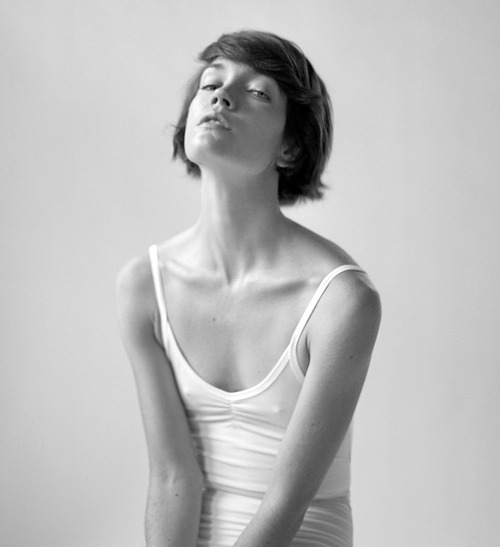 photo by Jody Rogac
"I think of filmmaking as choreography," she explains, "because even if it isn't 'dance,' there is so much movement: How does the camera move? What is the quality of the movement? Should the movement be soft, harsh, etc. to best tell the story? How do the performers move? When I begin editing, there is an entirely new set of choreography: What is the pacing, timing, breath? Film is a dance for me."
Although she is gaining popularity as a music and fashion video director, a certain provocative magic happens when she is her own subject, and Prom Night is one of her most popular pieces for this reason. With the ultimate pleading drumbeat of the Ronettes' "Be My Baby" thumping on loop in the background, she takes us through a transformative journey of iconic female sexual representations. Its brilliance is in the cinematic references: Specifically directed at the male gaze, and bewigged as a waxy peroxide blonde, she moves seamlessly in flirtatious display from the madonna/virgin to the hypersexualized busty Baywatch babe, with more than a few recognizable characters in between. The fun in watching is seeing where she goes from one personae to the next, but the raw emotional honesty in her final solo performance is what remains haunting.
"I made this film in the throes and in the wake of identifying myself. How do I want to be seen? How do I want to see myself? Who do I want to see me and how? And 'whomever' they are- Will they care? Will they pay attention? Ultimately, I discovered in the making of Prom Night that no matter what, I am left with only myself. I am not Madonna or Lolita, but I am something, something that at least I should pay attention to."
In The Audition, another willing metamorphosis takes center stage, this time almost to the point of total selflessness. It's a fearless commentary on the cruel and fickle nature of the entertainment process and one gets the feeling there's nothing cringe-worthy she won't try. In that respect, it's both a love letter to those who pursue the craft but also an admission of her own volition to bare all for her art.
The choreographed single take is powerful with her physicality. Goody! Two Shoes, a fashion video made for the design label Keller, is another example of such effective simplicity. She explains her movements:
"I love shooting one-takes because they are innately quite theatrical... bouncing from one world to the next with a simple transition. For this piece, it's all about levels in space: First I am standing, so the emphasis is on my feet... Godzilla! Then I am on my knees with shoes in front (I love that gag) so... it's a Broadway show! And then I am crawling so they are on my hands... Tiger in the jungle! But wait- I get shot- so I use the last pair of shoes... as a defibrillator to save my life! But I die and become a ghost."
Rowlson-Hall's body of work is quickly growing as film festivals and fans take notice and her celestial it-girl star begins to burn brighter... and I for one am looking forward to seeing what she could do with an epic budget of Zeigfeld chorus girl proportions!
Calling all HuffPost superfans!
Sign up for membership to become a founding member and help shape HuffPost's next chapter