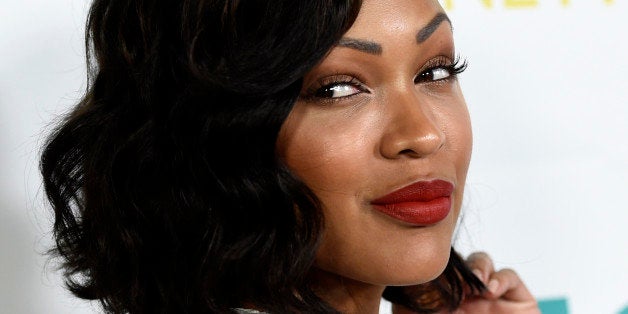 I'm not gonna lie. As a sex-positive, queer black fem(me)inist, I was drawn into interviews with actress Meagan Good and husband DeVon Franklin--authors of the recently released book TheWait--because Good is fine. Listening to her talk about deciding to postpone sex with her husband until their wedding night, I entertained some decidedly un-celibate thoughts about the beautiful Good.
But despite myself, I learned something important from what she had to say: Celibacy--like any other sexual choice--is a black feminist issue.
As I followed conversations around the actress, I realized that not taking her message about celibacy seriously would put me in some pretty conservative, misogynoir company. Lots of internet space has been taken up discussing the sexual choices of Good and singer Ciara, who publicized her decision to refrain from sex with boyfriend Russell Wilson until they marry. Sadly, blogosphere buzz demonstrated that committing to celibacy offers these black women no protection from slut-shaming.
When Good and Franklin visited One Church in Los Angeles for Valentine's Day, an audience member rebuked Good for appearing in magazines with her "breast showing" and instructed her to "cover up," prompting Franklin to come to his wife's defense while Good mutely shook her head. Even more dramatically, after Ciara and Wilson announced their relationship Ciara's ex, Future, took to social media to let everyone know that she had been very sexually active with him before marriage and questioning her mothering--until Ciara recently filed a $15 million lawsuit against him for "emotional distress, embarrassment, humiliation, stress, anger, mental pain and suffering." Apparently, even when a black woman announces she's not having sex outside marriage, folks are eager to jump up and point out all the ways she's been too sexual, with no thought for the social and emotional toll such accusations take.
Proclaiming celibacy also doesn't protect black women from assumptions that we should always and everywhere be heterosexually available, either. When Ciara appeared at the 2016 Grammys in a low-backed, high-slit gown, TMZ ran a story entitled "Russell Wilson, Your Penis Hates You Right Now." Meaning--if a black woman is looking good, some man should be having sex with her or he's betraying manhood. People called Franklin crazy, too, when he talked about his celibate courtship. But why have spectators been so fixated on what they think Wilson and Franklin should be doing to get sexual satisfaction, and not on what else Good or Ciara are doing in their relationship besides choosing celibacy?
Slut-shaming and hypersexualizing black women are black feminist issues: Not only when they relate to publicly sexually adventurous women like Amber Rose or Blac Chyna, but when they relate to celibate sisters too.
After taking all that in, I did what Good wanted me to do from the beginning. I sat down to read TheWait. And I found that in their own way, Good and Franklin are framing their wait as a sex-positive choice. "Sex, is as much spiritual mystery as physical fact," they write, and it offers proof that our "bodies were made for God-given and God-modeled love." If Good claims she's writing to help women find more deeply satisfying, divinely good sex, shouldn't black feminists take her sexual politics seriously? As Janet Mock wrote of her feminist awakening: Our duty is not to police black women, "our duty is to use feminism as a tool to check systems that uphold racism and slut shaming and sex worker erasure and anti-trans woman bias and general policing of other people's choices."
Being sex positive isn't just about saying yes to sex all the time. It's about championing black women's right to make sexual choices that leave us feeling positive about our sexuality and our lives. So I'm a sex-positive black feminist saying: respecting black women's celibacy is also part of loving black women's beauty, self-definition, and sexuality. Meagan Good, you do your thing and I'll do mine.
Support HuffPost
Every Voice Matters
Popular in the Community