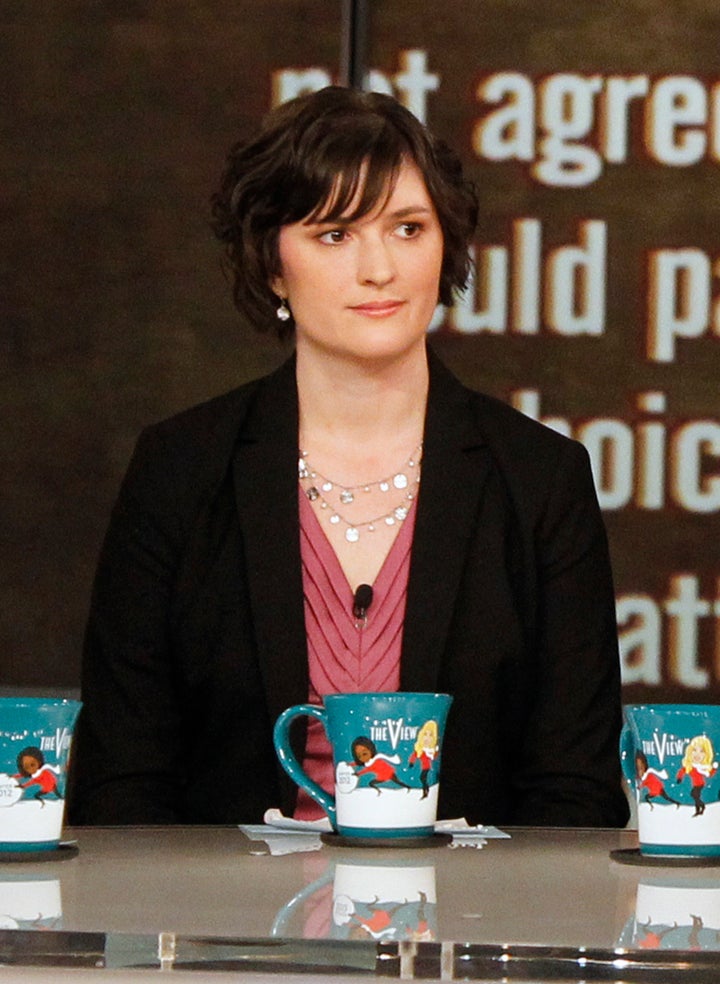 Pollster Celinda Lake responded on Friday to the rumblings of conservative commentators who claim the Obama administration planted Georgetown law student Sandra Fluke to distract from Republican opposition to its birth control rule.
"I appreciate the paranoia and conspiracy theory -- coming from the land of black 'helicopters,'" Lake wrote in a comment Friday on a WND.com "exclusive" report. "I am also really flattered by the perception of our influence and strategic involvement. That said, we had nothing to do with organizing the Sandra Fluke incident and reaction."
"Actually, Rush Limbaugh and Congressman Issa created this," she said. Lake Research Partners, which is led by Lake, confirmed that she wrote the comment.
Fluke became the subject of attacks after she testified to House Democrats about birth control, following a ruling by the Obama administration that contraception be covered by employer insurance. Democratic Rep. Carolyn Maloney (N.Y.) originally requested that Fluke testify in front of the House Oversight Committee, but she was rejected by Chairman Darrell Issa (R-Calif.), who said she was unqualified. Fluke would have been the only woman on the panel. Republicans said that the administration's rule violated religious freedom under the First Amendment, and some targeted Fluke specifically for pointing out the many health-related uses of birth control.
The religious freedom argument quickly became overshadowed by comments on Fluke's personal life, particularly those from conservative radio host Rush Limbaugh, who called her a "slut" who wanted the government to pay for her sexual activity.
The president reached out to Fluke last week and said Tuesday that he reached out because he wouldn't want his daughters "attacked or called horrible names because they're being good citizens" for speaking their minds.
Conservatives responded by questioning whether the president, and Democrats in general, were using Fluke to advance their position on contraception.
In the WND.com article, "Is This Why Sandra Fluke Went Public?" Aaron Klein wrote that Fluke's testimony was pushed by Rep. Maloney, who has been a client of Lake, as has House Minority Leader Nancy Pelosi (D-Calif.). The proof cited was that Lake "recently ran extensive polling in an effort to gauge voters' reactions to including birth control or contraception in insurance coverage."
Klein also wrote that Fluke was defended in an open letter by Georgetown University students and faculty, including a woman who served as adviser to Undersecretary of Defense Michèle Flournoy. Klein added that John Podesta, the former head of the Center for American progress, is currently a visiting professor at Georgetown.
Limbaugh and Fox News hosts Bill O'Reilly and Eric Boiling said this week the Obama administration is behind Fluke's testimony.
"Now, late today we found out that Ms. Fluke is now being repped by the progressive PR agency SKDKnickerbocker where Anita Dunn, the former Obama communications director is the managing editor ... A-ha!" O'Reilly posted to his Fox News page on Thursday. "So, this whole deal comes back to the White House, at least indirectly."
UPDATE: 4:15 p.m. -- After this story was published, Lake reiterated to HuffPost that neither she nor the other Democrats accused were now conspiring to protect the president. She said Republicans are in a bad place because language like "slut" and "whore" would turn off women voters in general, even those who disagree with the birth control rule.
"I'm flabbergasted. I think it's bizarre," she said of the conspiracy claims. "All I can say is they're trying to deflect because they won't condemn Rush Limbaugh. They can't cut their losses and so they're trying to deflect, but they sound like raving maniacs. ... I don't think it's going to even remotely work."
Mike McAuliff contributed reporting.
CORRECTION: This article originally misspelled Fluornoy's first name. We have corrected the error.
Popular in the Community