Paris prosecutor François Molins revealed new details Wednesday about last week's devastating terrorist attacks that left at least 129 dead and hundreds more injured. 
Five days of investigations have yielded "a total war arsenal" of Kalashnikovs, ammunition and knives, Molins said at a press conference. Authorities have also found cell phones, including one discovered outside Paris' Le Bataclan, where 89 people were killed.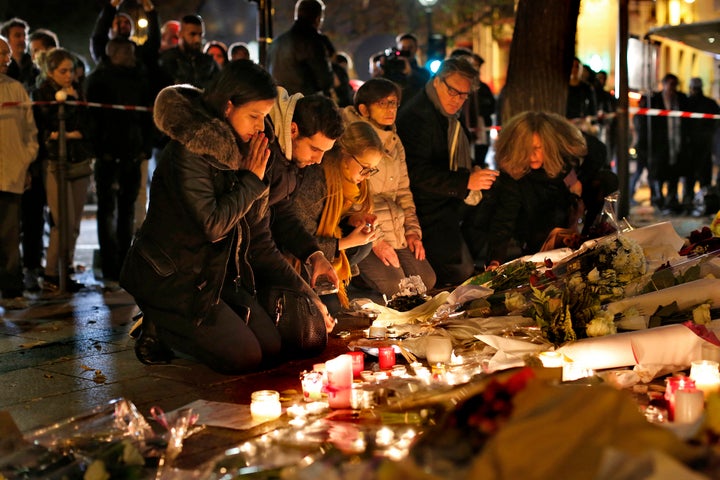 A phone found in a trash can nearby and suspected of being connected with the attacks showed a text had been sent Friday night that said, "Let's go, we're starting."
Authorities are still determining whom the text was sent to.
Molins also shared information on the hideouts used by the attackers. Two rooms in a hotel-residence in Alfortville were rented to Salah Abdeslam from Nov. 11 to 17. Another hideout in Bobigny was rented in the name of Brahim Abdeslam from Nov. 10 to 17.
Of the seven assailants who died during Friday's attacks, two have yet to be identified (one who was at Stade de France and one who was at Le Bataclan), Molins added.
The attackers made their way into France from Belgium on Friday in three rental cars. Salah Abdeslam rented a Volkswagen Polo and Renault Clio, while his brother Brahim rented a Seat.
Salah Abdeslam drove back into Belgium early Saturday driving a VW Golf. Border police stopped him and then let him go. At that time, his name had not yet been flagged to authorities, Molins said. 
Molins also said Abdelhamid Abaaoud, the alleged ringleader of the attacks, was not one of those arrested in the more-than-seven-hour standoff early Wednesday at a suburban apartment building in Saint-Denis, north of Paris. Another suspected attacker, Saleh Abdelsalam, was also not among those captured. Molins stopped short of identifying the two people killed in the ordeal, but said one of them was a female suicide bomber. The arrested suspects have not been identified.
Authorities fired more than 5,000 rounds in the firefight.
Read More Paris Coverage
PHOTO GALLERY
Messages Of Solidarity For Paris
Calling all HuffPost superfans!
Sign up for membership to become a founding member and help shape HuffPost's next chapter