As Hurricane Sandy battered the East Coast, flooding homes, submerging cars and taking lives, Colleen Marron could only wonder if her family was safe.
From her college in Maine, Marron, 20, couldn't reach her parents, two brothers and sister -- who declined to evacuate their Long Beach, N.Y. home -- because cell service in the Long Island community had failed.
"It was scary because you don't know what is going on," said Marron, a student at Unity College. "You feel helpless."
One year after Hurricane Sandy triggered a communications blackout across the country's most populous region, city governments, federal regulators and wireless carriers are still grappling with how to keep cell phones working in a disaster. Phone companies have come under pressure to ensure they can provide service in emergencies, and while they have taken steps to bolster their networks, many question whether it will be enough for the next big storm.
The search for answers has become increasingly urgent as storms grow in strength and frequency and rising numbers of people ditch their landlines. Today, almost 40 percent of households use only cell phones, relying on wireless networks to contact family, friends or 911 in an emergency.
Sandy exposed the weaknesses of wireless in a crisis. With electricity out for days, cell towers ran out of backup power. Sandy knocked out one-fourth of towers in the Northeast, leaving thousands unable to make calls.
The Marron's seaside home in Long Beach is wedged between the ocean and the bay. Colleen watched TV images depicting the streets of her hometown being transformed into rivers, but couldn't reach her family by phone for three days, leaving a series of increasingly concerned voice mails, she said.
"I didn't know if the water got so bad they had to get evacuate," she said. "I didn't know where they were or what was going on and that was the scariest part."
She went on Facebook to ask whether someone could check on them. She wrote: "My whole family should be there and I haven't heard anything from them all day ... I just want to know they are okay and safe and what their plans are."
Colleen's father, John, said he wanted to tell his daughter that despite 6 feet of water in their basement and three cars lost to floodwaters, they were fine.
"But there was no cell phone service for anybody," he said. "No matter who you had: Verizon, AT&T, Sprint. It was like being in the dark."
"Thank God we didn't need to make any emergency calls," he added.
Others weren't so lucky. Without cell service, one Long Beach resident walked nearly two miles to City Hall after the storm to notify someone that her mother had just died of natural causes, according to city manager Jack Schnirman.
Since Sandy, many have argued that the Federal Communications Commission should require phone companies to install more backup batteries at cell towers.
"After Sandy hit, far too many impacted residents struggled to get service because far too many cell towers were rendered inoperable," Sen. Charles Schumer (D-N.Y.) said at a news conference last year. "In an age where many people only have cell phones, the bottom line is we must fix that problem ASAP."
But the wireless industry sued to fight off mandates for longer-lasting battery power after Hurricane Katrina. And today, carriers maintain that their towers have enough backup power and requiring more would be of little use if towers or lines connecting them to the network are damaged in a hurricane.
Instead, the Federal Communications Commission has proposed that carriers be required to publicly disclose how many of their towers stop working after storms. The new rule, if adopted, would help consumers choose which provider is most dependable in severe weather and "shame companies into beefing up their infrastructure," said Howard Feld, senior vice president at Public Knowledge, a public interest group.
The wireless industry, however, says it has already spent the past year strengthening its networks to ensure cell service after the next hurricane.
AT&T, Verizon, Sprint and T-Mobile told The Huffington Post they have taken a variety of measures, investing in more generators and portable cell towers, upgrading cables that connect towers to the network, and expanding capacity so networks don't jam when millions of people try to make calls at once.
But some remain skeptical that phone companies have done enough.
"I don't have a lot of confidence because there is no requirement for carriers to disclose to us what they have done," Feld said.
"They can advertise massive improvements they have made, but at the end of the day, 'Trust me, we got it next time,' is not very reassuring,'" he added.
One person in need of reassuring is Schnirman, the Long Beach city manager. In the days after Hurricane Sandy slammed into Long Beach, the city of 33,000 people was "in complete communications darkness," he said.
Every cell tower in the Long Island community stopped working and representatives from wireless companies were nowhere to be found, he said.
Schnirman said he spent a week after the storm trying to persuade a wireless carrier, which he declined to name, to deploy a portable cell tower -- known as a "cell on wheels" -- to restore service in Long Beach.
"We reached out to the carrier's customer support to ask about getting a cell on wheels and the voice on phone said 'You might want to look that up on Internet. I don't know what that is,'" he recalled. "Of course, we had no Internet."
Schnirman rated the carriers' performance after Sandy "somewhere between a D- and an F."
Still, he remains hopeful. He said he met with Verizon representatives this year and the company has improved service in some hard-hit areas of town.
"That was very heartening to see," he said.
More than one-third of Long Beach residents rely on cell phones as their primary form of communication, he said, highlighting the need to make wireless service more resilient when the next hurricane crashes into their seaside town.
"If we live in a world where people use mobile phones as a primary source of communication," he said, "then we must expect them to work in a time of crisis."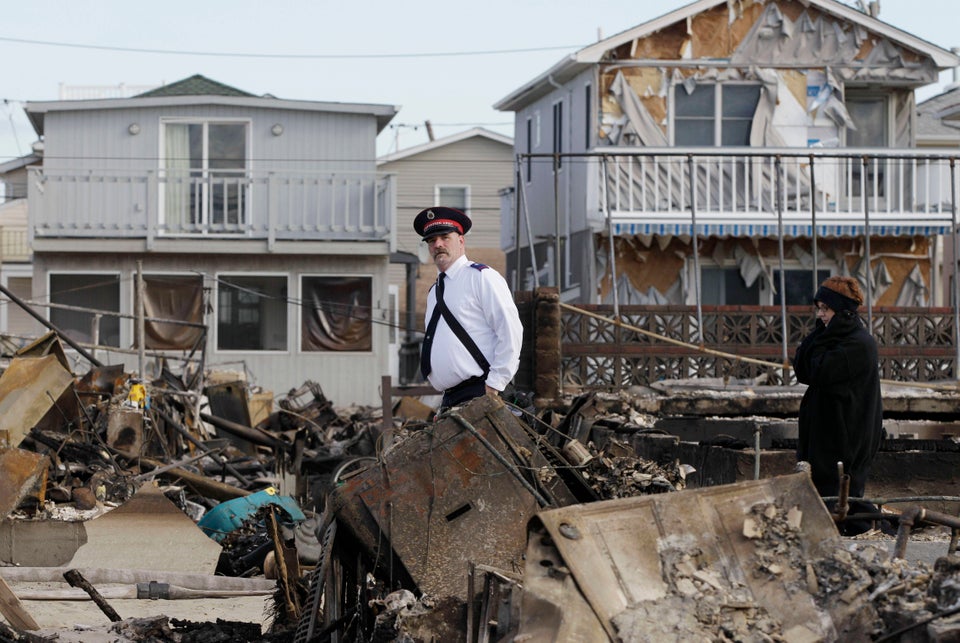 Hurricane Sandy
Popular in the Community