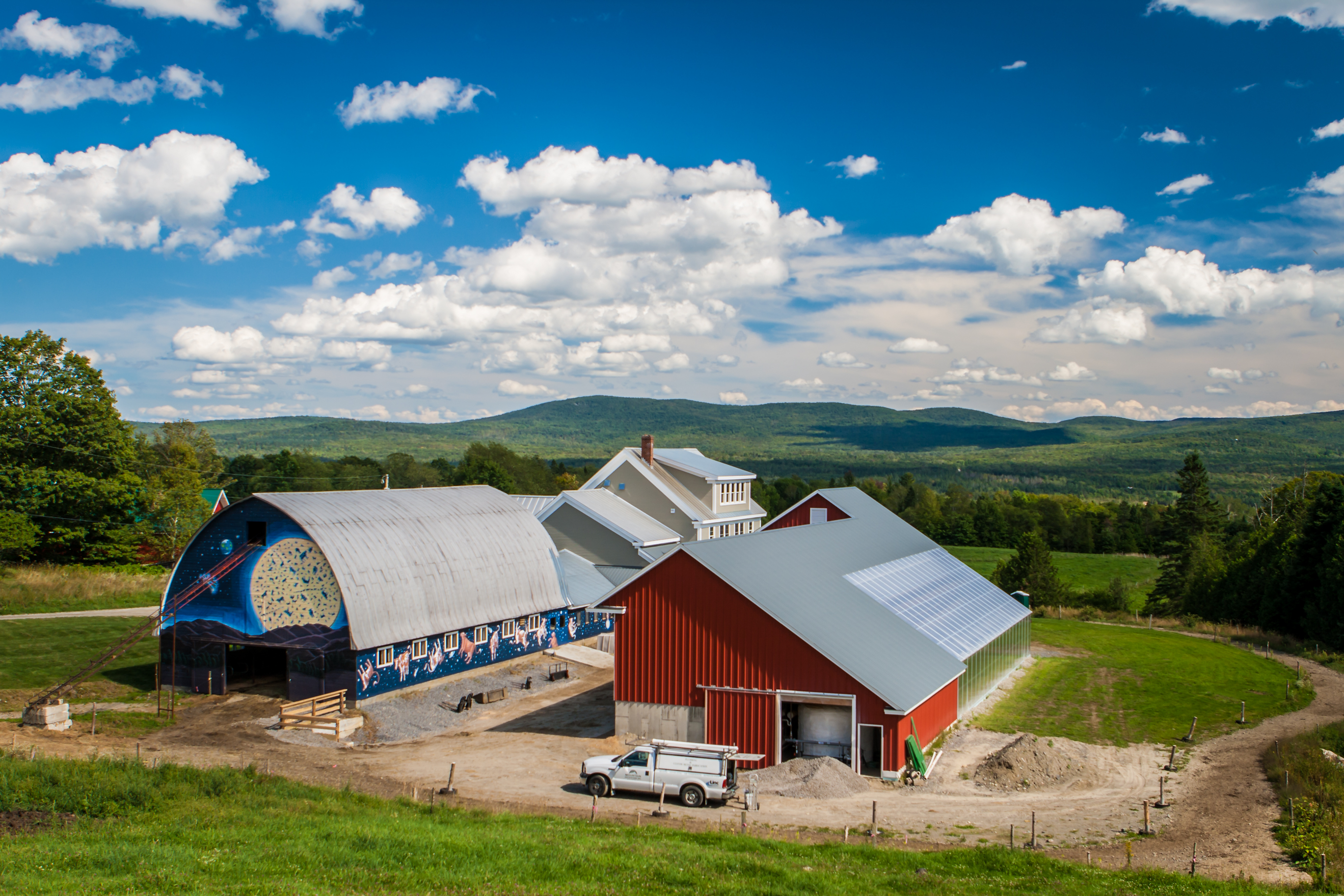 The Cellars at Jasper Hill in Greensboro, Vt., won "Best of Show" for its Winnimere at the 28th Annual American Cheese Society (ACS) Competition on Aug. 3, 2013. The results were announced in a ceremony in Madison, Wis., followed by ACS's signature event, the "Festival of Cheese." It would seem brothers Andy and Mateo Kehler, the founders of Jasper Hill Farm and later the Cellars at Jasper Hill, are the crowned princes in cheesemaking, beating out a record-setting 1,794 entries for the same top award they took home in 2006 with Jasper Hill's Cabot Clothbound Cheddar.

"Winnimere represents the soul of our business, and the award is recognition for the hard work of so many people," said Mateo Kehler.
A washed-rind cheese wrapped in bark cut from the spruce trees on Jasper Hill Farm, Winnimere is known for its complex flavor, texture and strong aroma. The cheese is produced during the winter months from the farm's herd of 45 Ayrshire cows as their fresh, raw milk achieves peak richness. The washing part of the process takes place when the rind is sprayed or rubbed with brine, beer, or another liquid to encourage the growth of certain microorganisms on the surface. The cheese then matures for about 60 days in a cool and very humid environment. Batches of Winnimere vary from a smoky, sometimes fruity, sometimes mustardy, to sometimes meaty flavor.
The farm sits on 263 acres of land the Kehlers purchased in Vermont's Northeast Kingdom, an area where visionary agripreneurs and farmers have set the bar for the rest of the real food-loving world. The brothers bought a bulk of the land in 1998, built the cheesehouse in 2002, and began making cheese in 2003. The brothers settled on Ayrshire cows (their herd ranges in size from 40-45 depending on the time of year), because their milk is high in butterfat and has small fat globules, which break down evenly which is helpful to the development of a great cheese.
"We often say we're cheese makers who make milk, not dairy farmers that make cheese," said Vince Razionale of Jasper Hill. This year the farm will make around 135,000 pounds of cheese. However, while that might sound like a lot, it's actually a tiny amount of cheese when compared to industrial production, but much bigger than say an "artisan" hobbyist cheesemaker who makes cheese in a pot on their stove.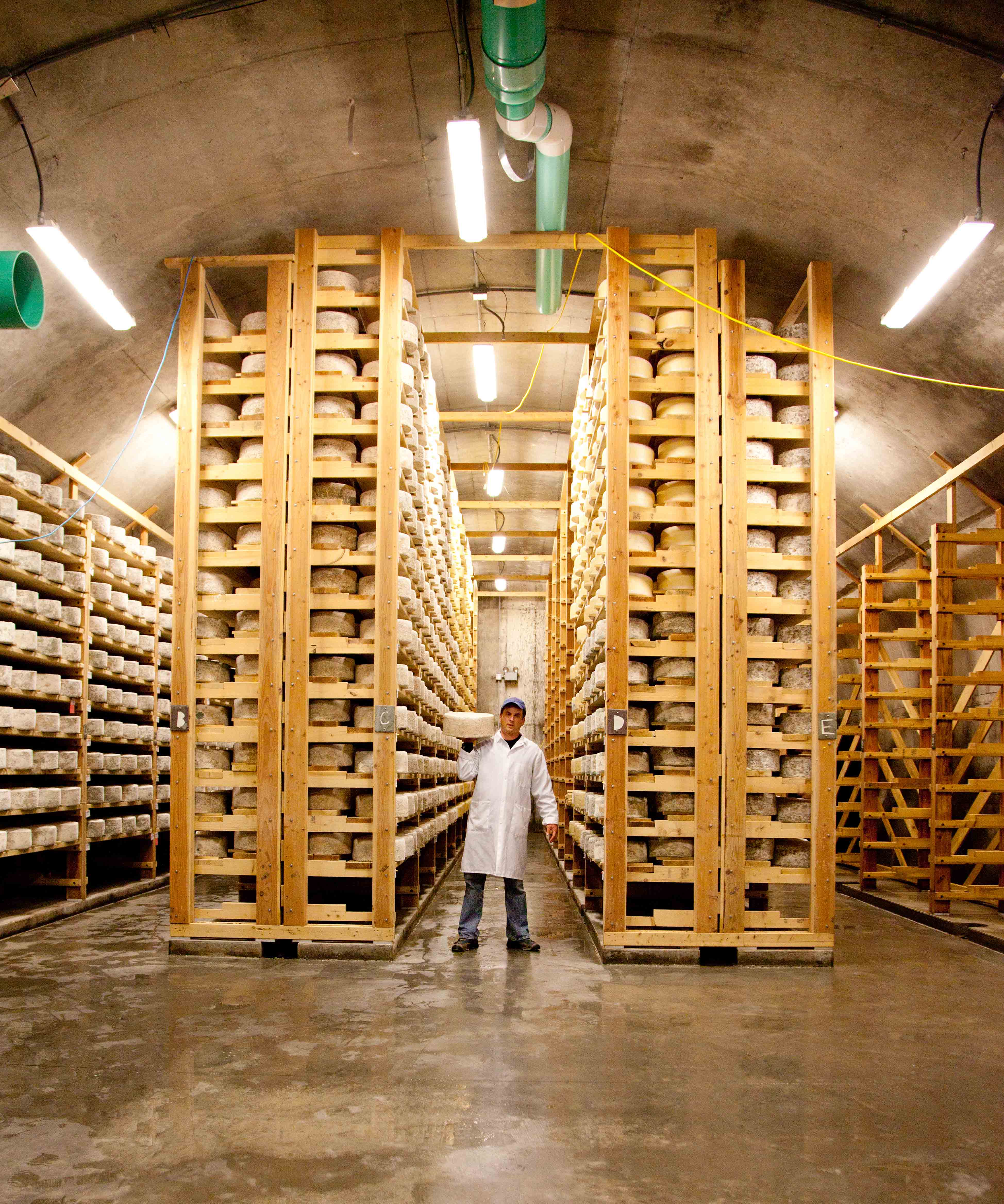 All of that cheese is aged in The Cellars at Jasper Hill, a 22,000 square foot underground network of seven concrete vaults (or cheese maturing caves) the Kehler brothers built into the hillside across from their barn and cheesehouse in 2003 for $3.2 million.
Each vault (or cave) creates a particular environment for growing rinds on cheeses. Each vault is naturally cool and humid, because it is underground.
"We are also able to calibrate them to specific consistent temperatures and humidity for different styles of cheese," said Razionale. "We work really hard to make the vaults have a really positive charged microbial environment to grow the rind of cheeses. All good stuff, no pathogens. The way to grow the best rind is to have it in a space where there's mold growing on the walls that can inoculate it and the best cheese around it that can help inoculate it. Creating a really healthy environment makes the best rind that makes the most consistent product."
During the ripening process, batches are tasted multiple times before getting wrapped-up at their target age profile.
Local dairy farmers and cheesemakers benefit from the Cellars as well, with cheeses from Cabot Creamery, Landaff Creamery, the von Trapp Farmstead, and the Scholten Family Farm maturing next to Jasper Hill Farm's cheeses in the vaults. The Kehler's architectural model is to build a collection of cheeses that are different styles made by different cheesemakers from different milk sources, really reflecting the landscape of the cheesemakers themselves through the cheese.
"I can look at a wheel of their cheese and know, right at first glance, that it's made with high quality milk and extreme attention to detail and care," said Shannon Tallman, Cheese Buyer for Whole Foods Market in Portland, Maine. "Over the past six years, in the time that I've really gotten to know their cheeses, I've seen the quality and flavor profile of the cheeses just get better and better. You can tell that there's a passion and respect for the craft in their wheels and it's something that has earned them quite a loyal following not only in New England, but beyond."
Images provided by the Cellars at Jasper Hill.
REAL LIFE. REAL NEWS. REAL VOICES.
Help us tell more of the stories that matter from voices that too often remain unheard.