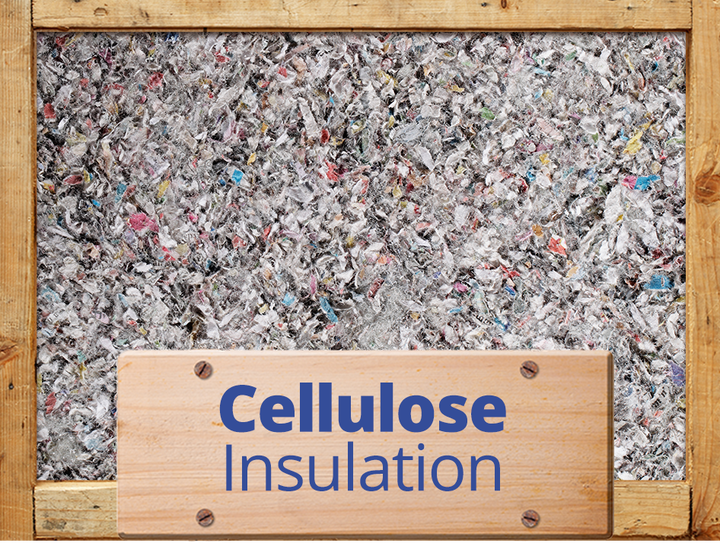 Many consumers don't spend a lot of time thinking about the insulation behind their walls, but they're often directly exposed to it. Insulation comes in a wide range of materials – from fiberglass to foam, and even denim.
Over the past 20 years, one variety in particular has outpaced the growth of the alternatives. Cellulose insulation, manufactured from recycled newspaper among other inputs, has been increasingly heralded as the premium choice by the environmentally conscious.
Driven by this eco-friendly perception, many of those building new homes are choosing cellulose insulation. In fact, it now accounts for around one-fifth of the total home insulation market and its growth is expected to continue.
It's not just the private sector getting on board with the purported benefits of cellulose insulation. It has become the preferred product in taxpayer-funded weatherization programs, with a host of state administrators promoting cellulose over the alternatives that prompted a directive from a U.S. Department of Energy administrator to cease and desist favoritism towards a specific product.
Now, however, in what could be a Lumber Liquidators-esque consumer deception when that brand was found to be selling flooring products containing harmful levels of a proven carcinogen, it appears the environmental benefits publicized by the industry have been called into question. And more alarming than marketing mistruths, cellulose may in fact present a multitude of risks.
The National Advertising Division, the Better Business Bureau's investigative arm, issued findings that dispute several key efficiency claims made by Applegate Insulation, one of the primary offerors of cellulose. Additionally, NAD recommended that the company discontinue the use of three studies utilized to support their claims. In its report, NAD indicated that many of Applegate's major selling points are unsubstantiated – among them, that cellulose outperforms fiberglass, saves consumers up to 40 percent in energy costs, and quiets a home better than fiberglass.
Applegate isn't the only one pushing these proven falsehoods. A number of cellulose manufacturers promote the same claims and point to the very same studies – which the NAD has found are faulty or misleading. These reports, now decades old, are featured front and center in promotional materials by the Cellulose Insulation Manufacturers Association and many of its members.
In 2015, Regal Industries, another large cellulose manufacturer, closed their doors and stated that the use of recycled newsprint made it more difficult to produce a consistent cellulose insulation product, which raised more questions about the quality of cellulose insulation's first ingredient – it seems unlikely that the variance of recycled newsprint differs significantly between manufacturers.
In addition to efficiency and performance claims, NAD recommended that Applegate discontinue several unsupported claims regarding safety and toxicity that the industry has been touting for years.
One of these erroneous assertions is toxicity associated with cellulose insulation. Cellulose manufacturers claim boric acid, 20 percent of the final product, is "six times less toxic to humans than table salt." However, boric acid is classified as a hazardous substance under the Hazard Communications Standard. NAD recommended that Applegate refrain from making categorical "non-toxic" claims and discontinue unsupported claims that boron might lower the risk of some cancers and.
Cellulose insulation is regulated by the Occupational Safety and Health Administration as a nuisance dust, defined by irritation of eyes, skin, and mucous membranes. The National Institute for Occupational Safety and Health recommends respirators, and other protective gear be used when handling cellulose insulation.
Despite cellulose insulation's designation as a nuisance dust, GreenFiber, a major cellulose manufacturer, has failed to take necessary precautions to protect its workers and has a track record of putting employees in grave danger. A federal agency recently cited GreenFiber with violations and levied a $66,600 penalty, alleging that workers were exposed to combustible dust and other safety hazards.
Claims made by cellulose insulation manufacturers of its superior fire retardant qualities have not held up to scrutiny. The Consumer Product Safety Commission regulates cellulose insulation as a fire threat. To warn of this danger, CPSC requires manufacturers to label all containers of cellulose insulation with "CAUTION POTENTIAL FIRE HAZARD." However, many manufacturers do not comply. In the past year, cellulose was found partially responsible for numerous fires around the country.
The NAD's investigation, subsequent independent studies, and real-world examples reveal cellulose manufacturers have succeeded in laying down an entirely false set of claims regarding their product's quality, purity, environmental benefits, and performance, fostering its tremendous growth in popularity through deliberate misinformation.
Not only is boric acid-infused cellulose insulation adding toxins to homes rather than making them "greener" – it poses significant, and until recently, unrecognized threats. Claims that the product is "green" and superior are largely unsubstantiated and disregard inconsistencies in composition; claims that cellulose is non-toxic overlook multiple studies, government guidance to the contrary, and frankly, "science" in general; and claims that the product is fire retardant ignore government guidance and the numerous cases of home damage and destruction.
While cellulose insulation sales continue to climb and manufacturers rake in the benefits of their false advertising, millions of Americans and taxpayers are left with the bill.
Related
Popular in the Community