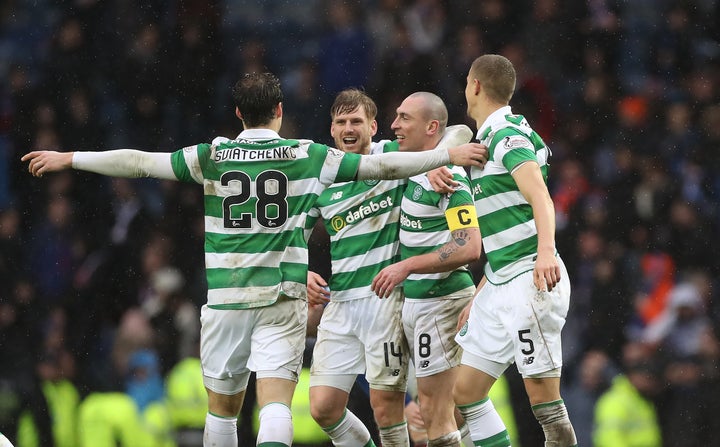 A lot has been said of Celtic Football Club in the last week. The Scottish champions have enjoyed an undefeated run of 23 matches in the Scottish Premier League this season, winning 22 and drawing once and have 67 points after 23 game weeks. They're ahead of second-place by 25 points. And some of their top players were subjects of speculation in the January transfer window.
Celtic, under Brendan Rogers, have given their Champions League opponents a run for their money this season, drawing 3:3 with Manchester City in Glasgow in a thrilling match, drawing them again 1:1 at the Etihad, drawing 1:1 with Mönchengladbach in Germany but losing to Barcelona twice. Very impressive for a team with 1/8 of the finances of Man City and 1/14 of Barcelona's budget.
Celtic routinely dominate the Scottish Premier League and qualify for the Champions League, though seldom do they make it out of the group stage. The question though, must be asked. Has Celtic outgrown Scotland and should they play in the Premier League?
Certainly the club would welcome the media buy which would inject significant cash into their transfer budgets. And, many players from the Premier League and EFL Championship make their way up north, and vice versa. Today, for example, Chelsea reportedly made a £30m bid for 20-year old French striker Moussa Dembélé of Celtic. They're even going after Celtic's 33- year old keeper Craig Gordon.
The Scottish Premier League is not competitive. Occasionally, Rangers and Aberdeen find victory against the Bhoys but no one else seems to be able to. Imagine if Celtic played Southampton, West Brom, West Ham or Stoke regularly? Not to mention the EPL's big boys. Another top team like Celtic would make Champions League qualification even more competitive in England, which is a good thing.
Welsh clubs already have broken into England's top flight. Swansea and Cardiff have both made it into the Premier League in the past four or five years, with the latter avoiding relegation. With a club of Celtic's size, one would reasonably expect them to do well in England, probably fighting for a top four spot. Not to mention their manager, Brendan Rogers, previously managed Liverpool and so he knows all about the Premier League.
Celtic's fanbase is huge too. It's not just in Scotland. Celtic are a very popular team in the UK and Republic of Ireland and would probably be able to expand their stadium to accommodate even more loyal supporters for Premier League matches. The stadium already seats 62,000, making it one of the biggest in the Premier League already. And then there's the atmosphere. Celtic Park is electric on game-day and the fans create such a wonderful noise throughout the 90 minutes of football. It's magical.
There really aren't any good reasons to keep Celtic out of the Premier League. Logistically, it's quite simple. If they get relegated, they go back to Scotland and the top side in the SPL goes to England. Just like with Welsh clubs. Though I doubt we would ever see that. Premier League competition would expand their global status, bring in millions of pounds in revenue and give Celtic players a chance to face some real competition on a regular basis, like Manchester United, Liverpool, Chelsea or Arsenal, just to name a few. There might not be Champions League football every season, but it's something to fight for. To earn. Much more of an accomplishment instead of a given.
And, Premier League clubs, I'm sure, would love to go to Glasgow for matches. It's a great atmosphere and a wonderful city. Not many Premier League players get up to Scotland for any reason in their time in England. It would give the PL audience something new to look forward to and Celtic fans would be able to get to Old Trafford, Emirates, Stamford Bridge etc more often.
The only negative is that the Scottish Premier League would lose its biggest club. But then Rangers, Aberdeen and Hearts would be the big clubs, but that would allow them to compete for Champions League spots instead of Celtic monopolising the top spot.
Celtic would be competitive in the Premier League and would make a run for European positions, get more money from media buys, and be able to show the footballing world their ability in the best league in Europe. It should happen.
REAL LIFE. REAL NEWS. REAL VOICES.
Help us tell more of the stories that matter from voices that too often remain unheard.