If the people of Brigadoon traded in their Brogue for a wee bit of Gaelic and an electric fiddle, chances are you'd discover the members of Celtic Woman in its magical mist. The all-female Irish music ensemble has extended the timeless appeal of the Emerald Isle's celebrated music to arena-sized audiences with rock star-like bravado now for ten years. Currently finishing up the U.S. leg of their anniversary tour through June, the ladies of Celtic Woman are looking forward to spreading these traditions further and without concern, banking on the eternal trend that what is old is always new, again.
Excitedly, with my obsession for all imports from the British Isles, I went to a private meeting with the ladies of Celtic Woman on the set of London-based Punchdrunk's creepy immersive theater smash, Sleep No More. They were in New York promoting concert stops on the East Coast, and at Sleep No More's "set", the McKittrick Hotel for a photo shoot in the upstairs lodge. With their warm and welcoming personalities, however, the creepy-factor of Sleep No More dissolved, instead it was like visiting rock star friends at their ironically cozy country cabin. I giggled a bit -- each one is so unique, the current cast featuring four members [Máiréad Nesbitt, Meav Ni Mhaolchatha, Máiréad Carlin and Susan McFadden]. They celebrate the traditional music of Ireland, but beyond their superior musicality, their magic is also as a magnetic girl group. It's as if the "Spice Girls" have transformed into "Spice Woman."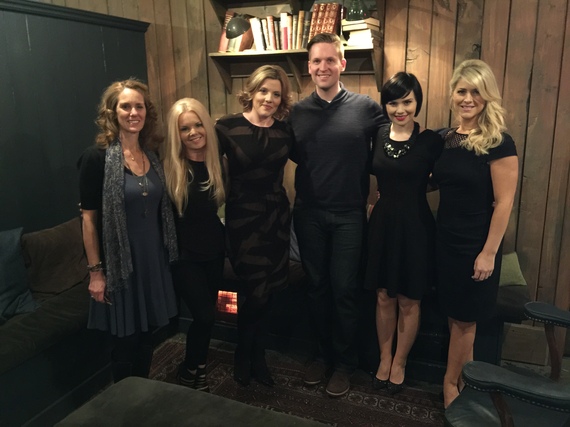 Musicians Mairead Nesbitt, Meav Ni Mhaolchatha, writer Steve Schonberg, Mairead Carlin and Susan McFadden of Celtic Woman Pose for a Private Photo Shoot at The McKittrick Hotel, Joined by Tour Publicist, Renee Pfefer (far left)
"We're celebrating ten years of Celtic Woman," Máiréad Nesbitt said, who was an original member of the group and recently returned, with her background as a fiddle champion. "We're very, very excited... It's been quite the journey from that first night at the Helix Theatre in Dublin, and here we are ten years later, and the show has changed so much," she added. "I think it's a very dynamic show and a great experience."
Dynamic indeed. Successfully riding the coattails of mega-stage shows like "Riverdance" and "Lord of the Dance," as well as successful crossover stars like Enya, Celtic Woman amplifies the already dramatic, beautiful melodies of traditional Irish tunes and blasts it at captivated audiences in giant arenas at a million miles an hour. These show are similar more in energy to shows by contemporary pop stars than anything "traditional," in well, the traditional sense.
Celtic Woman on NBC's TODAY Show in 2014, Promoting their "Emerald Musical Gems" Album
"What day is it?" Máiréad Nesbitt added jokingly, referring to their extensive touring around the world. "We know where we are when we wake up, or where we get to," Susan added, mentioning that the U.S. leg of the tour has extended for four months, or "nine, ten?" with a wink.
Grueling tour demands aside, it's clear that Celtic Woman's energy is rooted in more than talent and an existing body of time-tested (albeit rock-modified) music, but the fact that these ladies also appear to be having fun. Working so closely together, they undoubtedly form a sisterhood with energies that playfully riff off of one another.
Most group dynamics dictate there be one labeled as "the quiet one." Chit chatting away, I zeroed in on the beautiful brunette, Mairead Carlin, sitting on the end who I realized hadn't said a word in an otherwise healthy banter. "So, are you the shy one?" I asked abruptly cuing laughter from the group and a sly look from Máiréad herself-- a solo performer, as well, who has been recognized for her talent by Carly Simon and Hillary Clinton, and toured in the U.S. with Don McLean.
"She's like Martha Stewart," Susan interjected. "She arranges the flowers on the bus, and lights the candles and makes it really homey. She really takes care of us" "Well, that's an easy job, I have to say," Máiréad, a responded.
This banter seems like insignificant small talk, but it's actually another clue into the larger picture of the entity known as Celtic Woman. Unlike traditional groups or bands, it has rotated members over the last decade. Each new member comes in with an existing, and highly successful professional background, all adding to the dynamics between these women and the resulting and constantly-evolving performance on stage. Therefore each person's talent and personality make a major impact on the current quality and cohesiveness of Celtic Woman.
Promotional Video for Celtic Woman's 10th Anniversary Tour Featuring Current and Past Members
"Myself and Máiréad [Nesbitt] were in the first show," Méav explained, who is herself a solo singer and Billboard World Music Top 10 recording artist. "Initially because it was just put together very quickly, it was quite formal... but since them it's really evolved," she continued. "I've been out of the show for awhile [so] coming back in at this point, it's very exciting to see how much more fluid the show is... with dancers and percussionists. It's more pacey than it [was] in the beginning, so that's more fun."
Susan on the other hand has been with the show for the last three years, having previously won the ITV reality competition "Grease is the Word," a starring role as Sandy in the West End production of Grease, and Elle Woods in Legally Blonde (the musical). She said how this evolution is personal, as well benefits the group overall, for her as an actress as she transitioned from playing a character to being herself on stage. "I came from a musical theater background, where I was always playing a character," she shared. "So for me, it was a daunting sort of prospect coming into a show where for the first time ever I took [to] the stage as myself," Susan added. "I think I've probably grown within myself in that sense... I've learned a lot about the technique of performing and that way of performing, and that's been good for me."
Looking to the future and continuing their incredible success, Máiréad Nesbitt added that "obviously what the fans know and love from us is the actual vocal Celtic Woman blend, which no matter who comes in, we work very, very hard to maintain." Plus, similar in a lot of ways to a jazz vocalist conquering the Great American Songbook, even after ten years of celebrating the classics, there's always more ground to discover. "There's still so many traditional Celtic, traditional Irish songs that we haven't even touched upon yet," Susan added. "So we're looking forward to getting some brand new material out there... and like Máiréad said, pitting the Celtic Woman sound on them."
But, "like any tradition, it has to evolve," Méav interjected, sharing a slightly different perspective, yet apparently rooted in the same goal. "The music does not stay stagnant... we've done it [similar to other Irish musicians], tried different things and different combinations, but there are still certain instruments that are associated with our sound." she added.
Whatever the combination is, the "special sauce", it works and Celtic Woman continues to be a smash success. They shared that in Brazil, the crowd recently rushed down to the stage (much to their surprise and excitement, even after ten years), and in the U.S. they experience a truly American sound. "In the U.S., you have people 'whooping,'" Máiréad Nesbitt shared with another laugh. "the first couple of notes go and you can hear people ready to party and you're like, 'calm down! We have a long way to go yet!'"
"Another two hours to go!" Méav chimed in.
"Calm yourself!" Susan added playfully.
"Yeah, they're brilliant here," Máiréad Nesbitt continued. 'We have the most amazing followers, [they are] really supportive in the U.S. and all around the world. We're very, very grateful."
Calling all HuffPost superfans!
Sign up for membership to become a founding member and help shape HuffPost's next chapter