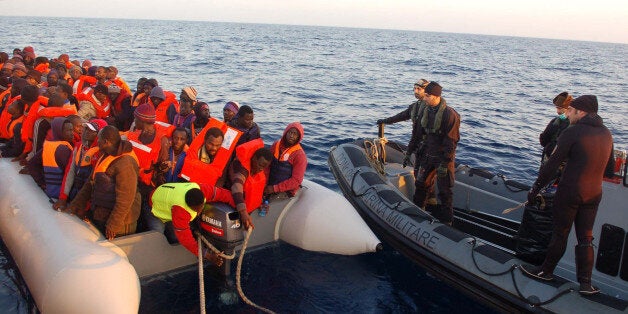 Last Tuesday, a baby boy was born on an Italian Navy ship in the Mediterranean. The mother, a young Eritrean woman, was among 430 refugees picked up in the Straight of Sicily, as she made the dangerous trip to Europe from Libya. The boy was baptized by the on-board chaplain and with the mother disembarked on the island of Lampedusa. Unfortunately, many boat refugees are not that lucky. Migrant deaths in the Mediterranean are now approaching 3,500 in 2014, new numbers show. In November alone, defying autumn storms, 10,000 people arrived by sea in Italy, adding to the more than 160,000 people who have arrived in the country throughout the year. It's difficult to understand that it's only a year ago that a "shocked European Union president, José Manuel Barroso, laid roses on the coffins of hundreds of dead Eritreans refugees on Lampedusa and said that he would step up efforts to save people in distress on the sea. "The E.U. cannot accept that thousands of people die at its borders," he said. Yet the effect of fresh images of refugees on the Mediterranean, holding up their babies on the high seas in the hope that at least the children will be shown mercy, has not prompted response - rather, the effect has been numbing. The suffering and death are, to a growing extent, viewed as inevitable and perhaps a necessary evil that Europe has accepted as the warrant of its own continued prosperity.
The tragedy on the Mediterranean is becoming the strip tease of European humanism, to paraphrase Jean-Paul Sartre's famous preface to Frantz Fanon's The Wretched of the Earth. The strip tease of a special variant of European postcolonial humanism that Sartre called, "an ideology of lies, a perfect justification for pillage: its honeyed words, its affectation of sensibility were only alibis for our aggressions." These aggressions are perhaps most clearly echoed in the rhetoric of the English Home Secretary Theresa May, who argued that the U.K. would not support the new FRONTEX Triton rescue operation on the Mediterranean because rescue operations only attract more refugees. Apart from being an unsubstantiated and dangerous narrative, the moral and political message is clear: The natives understand only one thing and that is excessive violence. Let them drown in the sea and before long, the rest of them will understand that Europe shows no mercy. Though startlingly brutal, this position is in fact a quite logical response to the challenge of the "migration crisis." It's a reversion to the old colonial narratives that are perhaps not as deeply buried as Europe would like to think.
For the migrants, these deadly sea journeys -- though not political acts per se -- are powerful acts of iconoclasm that break with the limitations put on their lives. To them, these journeys give hope in the sense that for all the might and power of Europe and the private security companies, it is still possible to transgress the borders that keep them imprisoned in poverty or conflict. The journeys give hope that it is possible to practice the unthinkable and to one day live in peace and respect despite all the disproportionate obstacles and hurtful discourses.
Even our increasing compassion fatigue can't completely eliminate a sense of unease at the thought of dead bodies piling up on our doorstep. Perhaps deep down, we sense that their journeys are justified -- that they have the right to seek their fortune or to escape conflict because we have plundered their continent or brought about the very wars they flee from through misguided military interventions or eroded local lives through alliances with damaging industries. Or simply because we recognize that in order to become the person you have to be, and that you have the right to be, as we keep telling them, you have to reject what others make of you -- whether it is illegal immigrant, terrorist, slave or animal.
When Jean-Claude Juncker earlier in the year ran for president of the European Commission, he argued that, as a Christian democrat, he would never "accept that people drown in the sea trying to reach Europe's shores." He said he would be "big on big issues and small on small issues" -- immigration being one such big issue. His first opportunity to live up to those words has not been promising. When Juncker took over the Italian rescue mission Mare Nostrum, he cut the budget by two thirds and restricted the operation to Italian waters. At the most crucial time, Juncker chose to be small on big issues.
Because Europe has abandoned people on the high seas, the rescue of refugees and migrants is now the responsibility of Mediterranean nation states that, like Malta or Libya, are clearly not cable of managing their vast search and rescue zones -- or in the hands of the merchant fleet. But migrant boats are often filled with people who need urgent medical attention, pregnant women or even newborn babies, as in the example from last week. Even if many merchant captains take their responsibility seriously, rescuing up to 200 freezing and traumatized refugees on the high seas is clearly not an appropriate task for an oil tanker or a fishing vessel.
As refugees drown by the thousands because they have no safe or legal means of travel, a divided and reluctant Europe has no answer to this moral crisis that defines our time except to look away. But a strategy of avoidance will not work; migrants and refugees will keep coming when the weather calms down in the spring because the reasons for fleeing are as strong as ever. Europe has to decide whether the Mediterranean Sea should be a place of life and hope or an even deeper graveyard where, eventually, also European humanism will be laid to rest.
REAL LIFE. REAL NEWS. REAL VOICES.
Help us tell more of the stories that matter from voices that too often remain unheard.