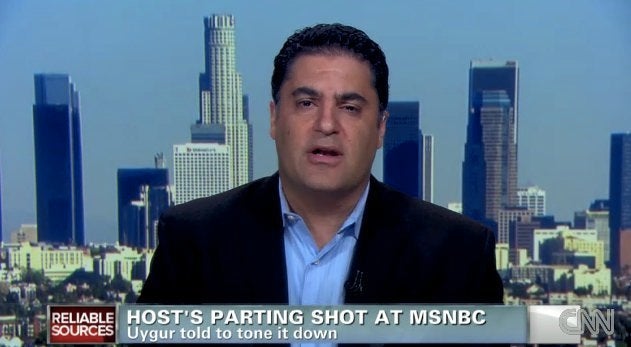 Cenk Uygur continued his anti-MSNBC tour on CNN's "Reliable Sources" Sunday--and he suggested that he was getting replaced because Al Sharpton, the man all-but-certain to succeed him as the network's 6 PM host, is friendlier to the White House.
Uygur left MSNBC very publicly last week, claiming that the network implied to him that his anti-Washington "tone" was not in keeping with the "establishment" bent that MSNBC was trying to cultivate. MSNBC has strongly denied the claims, insisting that it was just giving Uygur television style tips.
Speaking to a slightly skeptical Howard Kurtz, Uygur repeated his charges. Kurtz said that Uygur seemed not to have any direct evidence that MSNBC was caving to political pressure by admonishing him. Uygur replied that he didn't know who the "people in Washington" that MSNBC Phil Griffin said had a problem with him were. Then, he turned to Sharpton.
"A friend of mine just suggested that I watch the '60 Minutes' piece from a couple of months ago on Al Sharpton," he said. "And I found that to be very curious because Lesley Stahl said there, and here I have the quote for you: 'Sharpton says he has decided not to criticize the president about anything.' So the guy who was criticizing the president is out, even though he had really good ratings, and the guy who has decided not to criticize the president about anything is in. That's interesting."
Sharpton has indeed been a loyal and steadfast ally of Obama's, and has vocally defended him against criticism from other prominent black leaders. Most memorably, he had a scorching debate with Prof. Cornel West about Obama back in April. The setting for that argument? MSNBC.
WATCH:
Related
Popular in the Community