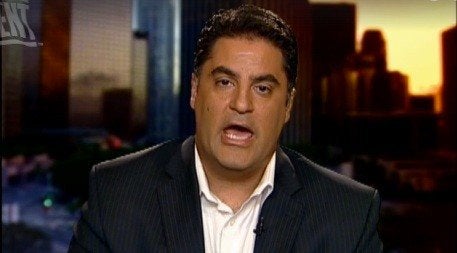 Former MSNBC host Cenk Uygur appeared on "Countdown with Keith Olbermann" on Thursday night to talk about his departure from the network.
Speaking to Olbermann, Cenk Uygur expressed his skepticism that producers would complain to the network president, who would then pull him into a meeting "because my booker didn't want me to move my arms that much." When Uygur asked, "Who can believe that?" Olbermann -- who experienced his own stormy exit from MSNBC in January -- smiled and responded, "I'll just pass on your rhetorical question." (It is not the first time that Olbermann has happily let someone talk about their falling out with MSNBC on his Current show.)
Uygur insisted that his decision to leave MSNBC (he turned down an offer for a weekend show) and his remarks about the network were "not personal," but called out the media and the press in general, for "trading honesty and truth and information that we're supposed to gather, for access."
When asked to clarify his remarks that he was asked to have more Republicans on the show, but that he wouldn't treat Republicans with kid gloves, Uygur acknowledged that no one told him to treat Republicans softly, but asserted that the main message from the network was "take it a little easier on Washington in general."
Uygur also recalled "pervasive subtle pressure" on the tone and content of programming, describing, "It's not that they don't let you say things, but when you do, somebody gets a call saying 'Really?'" He said they let him say what he wanted, but at times "it felt like somebody was taking notes."
WATCH:
Calling all HuffPost superfans!
Sign up for membership to become a founding member and help shape HuffPost's next chapter