Yesterday afternoon, University of Alabama freshman Nojan Radfar learned a hard and fast lesson about the absurdity of campus censorship. Like countless others across the nation, Radfar wanted his fellow students to represent their beloved school by putting a unique University of Alabama twist on the "Harlem Shake" phenomenon currently enthralling our country.
Before we go any further with Radfar's story, here's the obligatory "Harlem Shake" primer for those readers over the age of 25 and/or living in a cave: The "Harlem Shake" is a song by Baauer, a DJ/producer from Brooklyn who released the track last year on Diplo's Mad Decent record label. Earlier this month, comedian Filthy Frank uploaded a YouTube video featuring four costumed dudes dancing to the song -- and as of this morning, that video's been viewed 12,187,371 times.
Since Filthy Frank's version went viral, The Daily Beast estimates that more than 40,000 "Harlem Shake" videos have been uploaded to YouTube, garnering more than 175 million views. Everybody from the cast of the TODAY Show to the Norwegian Army has gotten in on the act, but -- surprise, surprise -- college students across the globe have been especially eager to don weird costumes and dance on camera. Shocker, I know. Here are a few of the outstanding collegiate efforts thus far: the University of Texas at Austin's massive turnout; the University of Oregon's duck crowdsurfing; the University of Georgia's men's swimming team's underwater version; the University of Florida's gator writhing around on a basketball court; and so on and so forth. Seriously, there are many, many hours worth of video featuring college students dancing to the Harlem Shake. (Side note: College students, be happy you're on campus in the year 2013. In the '50s, the big fad on campus was "hunkerin'.")
So Radfar's aim was to record the University of Alabama's own Harlem Shake, one that would outshine the efforts of Alabama's SEC rivals. To that end, he organized a video shoot for yesterday afternoon, spreading the word via flyers and a Facebook group. But with a crowd of students massed in the university's Quad and ready to go, the cops pulled the plug, slapped Radfar with a ticket for not having obtained a permit for the gathering, and warned him to keep his mouth shut.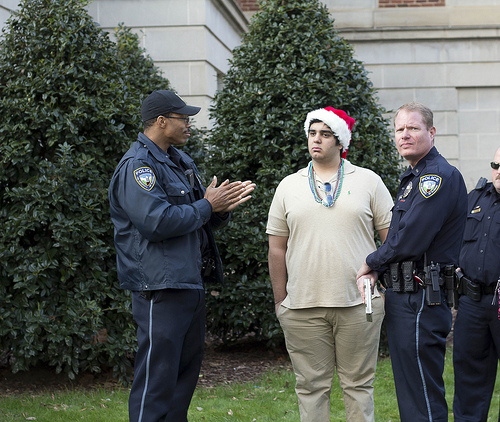 Photo by Austin Bigoney, The Crimson White. Used with permission.
UAPD ticketed the student organizer of Monday afternoon's Harlem Shake filming, saying the organizers lacked official University permission to assemble.

"They told me not to talk to the press," Nojan Radfar, a freshman who organized the event, said. "As of right now, I just have a ticket, but I'm worried I could be expelled."

Radfar was pulled aside in front of Gorgas Library to speak with UAPD and University officials for nearly half an hour. He later returned to address the crowd, asking them to go home.
Here's The Crimson White's video of Radfar breaking the bad news to the crowd:
As you can see, the disappointed students made their displeasure with the outcome plain.
As a First Amendment attorney who works to defend student and faculty speech, my first reaction after learning of the event's cancellation was: "Wow. That's lame." My second reaction was to ask whether UA's response was constitutional.
UA's "Grounds Use Policy" (PDF) states that the majority of UA's campus is only available for student use when booked by a registered student organization, which presents a serious problem right off the bat. Under UA's policy, individual students aren't allowed to organize their own rallies, discussions, meet-ups, or any other kind of expressive activity on campus. It's very difficult to understand what UA's justification might be for this broad, illiberal restriction. At a public university, students have a First Amendment right to speak their minds, organize their fellow students, and assemble peacefully on campus--and the university can't require them to obtain the backing of a registered student organization to do so.
What's more, the policy is so dense, long, and legalistic that students--perhaps especially freshmen new to campus, like Radfar--might have a hard time ascertaining precisely what the rules are at all. Forcing students to navigate four pages of legalese just to film a Harlem Shake video on campus is no good.
Moving on, the policy requires student organizations to reserve use of "grounds under the control of the University" with a signed, written application. And when student organizations want to use amplified sound on campus, they're required to obtain permission to do so 10 days in advance of the event. So Radfar seems to have been ticketed because he wasn't sponsored by a student organization, he didn't obtain permission to use loudspeakers, and he didn't reserve use of UA grounds for the filming.
The Supreme Court of the United States' 1989 decision in Ward v. Rock Against Racism made clear that government actors like the University of Alabama may enforce reasonable time, place, and manner restrictions on speech in traditional public forums, like a university quad. Under the First Amendment, these restrictions are permissible as long as they're content-neutral, "narrowly tailored to serve a significant governmental interest," and leave open "ample alternative channels" for the speech in question.
The First Amendment generally doesn't allow government actors to shut down speech because they don't like the message it sends. UA's "Grounds Use Policy" doesn't single out certain messages for censorship, and I haven't seen any evidence that Radfar and his fellow Harlem Shakers were shut down because UA administrators or cops simply don't like the song or dancing. So in the absence of a clear double-standard ("Hey, you let the Gangnam Style guys dance without a permit!"), UA's probably in the clear for content neutrality.
Ensuring that a public university can teach its students and get on with its academic business is a significant governmental interest. But are ten whole days -- 14 days, factoring in weekends -- really necessary for UA to brace itself for students using amplified sound? That doesn't seem narrowly tailored to me, especially when we're talking about students recording a Harlem Shake video, not holding a homegrown Electric Daisy Carnival. And I'm not sure that forcing students to film a smaller video somewhere else -- say, a dorm room -- or wait 10 days is an "ample" alternative channel.
But let's set aside First Amendment doctrine for a minute and focus instead on common sense. By choosing to ticket Radfar, warn him against speaking to the press (a serious problem worth its own blog post), and deny hundreds of eager participants the chance to support their school by dancing on camera for a few minutes, UA has taught students a depressing lesson in censorship, bureaucracy, and heavy-handed regulation. Even if UA's response was constitutionally permissible -- and that's arguable -- it's counterproductive and at odds with the university's interest in fostering student involvement, interaction, and school pride.
As Director of Legal and Public Advocacy for the Foundation for Individual Rights in Education (FIRE), a nonpartisan, nonprofit organization dedicated to defending student and faculty rights nationwide, I see these kinds of administrative overreactions all the time. Take the State University of New York Maritime College, which sternly warned students against recording any Gangnam Style videos last fall.
My advice to college administrators? Take a deep breath before shutting down student speech. If students aren't disrupting the college's operations, let them do the Harlem Shake.